A Philippine Embassy official in Bangkok called out a local newspaper for a headline labeling the Philippines as the "Land of Covid-19".
This comes after the Philippines saw its highest single-day surge in coronavirus cases with 6,958. The country's total cases of infections soared to 136,638, the highest among Southeast Asian nations.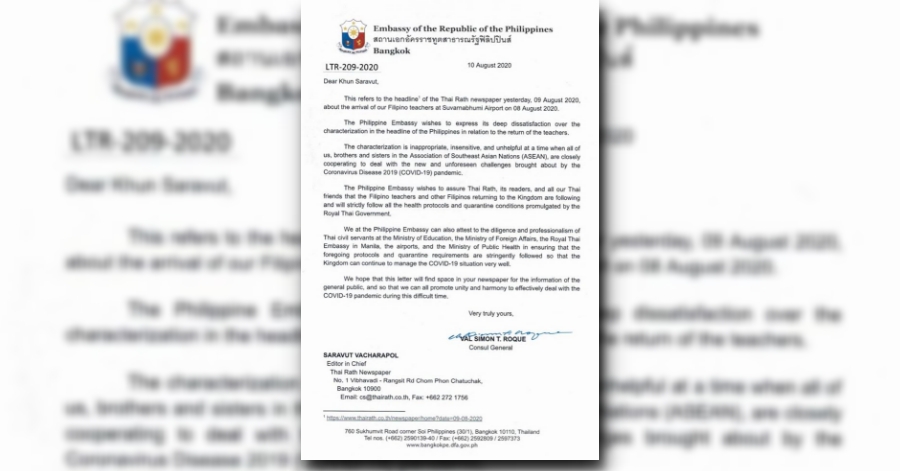 PH Official Calls Out Thai Newspaper for Labeling Philippines as "Land of COVID-19"
In a letter addressed to Thai Rath editor-in-chief Saravut Vacharaphol, Consul General Val Simon Roque expressed dissatisfaction, pointing out that "the characterization is inappropriate, insensitive, and unhelpful" during this time when all members of the Association of Southeast Asian Nations (ASEAN) are working together to solve the problems caused by the COVID-19 pandemic, reported CNN.
The story swiping at the Philippines' COVID-19 situation was released with the return of over a hundred Filipino teachers there.
Meanwhile, Presidential spokesman Harry Roque tried to understand where the statement came from. He explained that the situation of the media in Thailand is different from the Philippines. 
Given the Philippines' vibrant democracy, Roque explained that the Thai headline should be simply be considered as part of the "free market of ideas."
In a televised press briefing on Tuesday, Roque shared: "Wala kasi talagang kalayaan ng malayang pamamahayag at pananalita diyan sa Thailand. Pag pinulaan mo yung hari, pupuwede kang makulong (There is no freedom of the press and expression in Thailand. If you criticize the King, you can be sent to jail)."
"Sa tingin ko po, dahil marami silang hindi pupuwedeng pulaan sa Thailand, pinulaan na lang nila tayo (I think because there are many things they cannot criticize in Thailand, they opted to criticize us)," he added.
The Presidential Spokesperson also addressed the topic concerning the return of over a hundred Filipino teachers in Thailand and pointed out that the teachers strictly followed health protocols and quarantine rules set by the Thai government.
165 Filipino teachers on Saturday (August 8) arrived at Suvarnabhumi Airport to supplement the country's shortage of professionals. The story was reported by Thai Rath newspaper on Sunday, and described the Philippines as the "Land of COVID-19″.
Meanwhile, Thailand has recorded fewer cases compared to other nations. It currently has 3,351 cases with 58 deaths based on the global tracking made by Johns Hopkins University.
ALSO READ: Top 10 Countries with the Most Number of Jobs for OFWs