Those who are planning to work in the United Arab Emirates as domestic helpers, it is important that you are aware of your rights and entitlements in terms of work hours, vacation leaves, sick leaves, medical insurance, etc. Sheikh Khalifa Bin Zayed Al Nahyan, UAE President, had signed a new law benefiting domestic helpers and their employers.
Related Post: Rights of Domestic Helpers in Qatar
The signed law indicates a harmonized work condition between an employer and their hired domestic helper. This is established by setting standards and coordinating with Abu Dhabi's legislation and with the international labor law.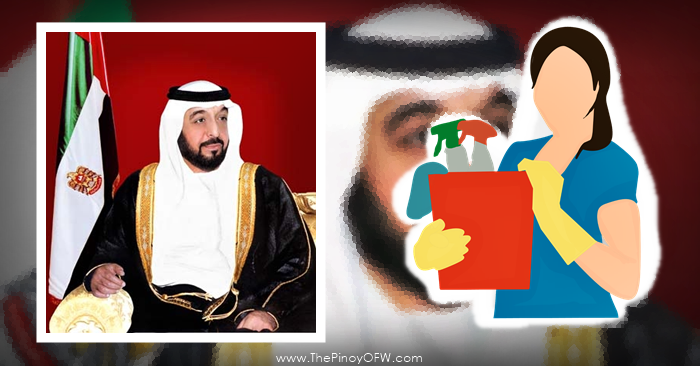 UAE President Approves New Law on Domestic Helpers
According to Saqr Ghobash Saeed Ghobash (Minister of Human Resources and Emiratisation) said that the law would aim to have a good work-relationship between workers and their employers, giving social protection to both parties and also gives entree to the Ministry and courts in Abu Dhabi.
Ghobash additionally said "The law, moreover, reflects the UAE's commitment to supremacy of law and to aligning the local legislation with international labour standards". He also announced that the Ministry of Human Resources and Emiratisation will soon finish the job contracts and the executive regulations before the approved law will be implemented.
Related Post: How to Avoid UAE Employment Ban
Entitlements of domestic workers
As per the law, domestic workers are entitled to:
Payment of wages, as set out in the standard contract, within ten days from the day they are due;
1  day of paid rest per week;
12 hours of rest per day, including eight hours of consecutive rest;
Medical insurance provided by the employer;
30 days medical leave per year;
A round-trip ticket home every two years;
A decent accommodation;
Decent meals at the employer's expense;
Clothing, if required by the employer, at the employer's expense;
Possession of their personal identification papers such as passports, IDs etc; and
Either the employer or the worker can refer a dispute to the Ministry of Human Resources and Emiratisation. The ministry will attempt to resolve the dispute amicably within a period of two weeks. If no resolution is reached, then the matter will be referred to a court. Under this law, cases filed by workers are exempted from court fees at all stages of litigation and must be heard in a speedy and prompt manner.
Legal prohibitions
The law prohibits the following:
employment of anyone under the age 18;
exposure to physical harm' and
assignment of tasks that are not covered under the contract.
The conditions indicated in the contract aligned with the law is a regular weekly day-off, at least 12 hours of rest, ability to keep personal documents and 30 days of paid annual vacation leave. The regulated law requires at least 18 years of age where it parallels with the international labor law which is against working children.
It has been settled that recruiting agencies are required to educate the employees of their job contracts which shows the nature of their work, environment, compensation or salary and their scheduled rest days that goes hand in hand with the law.
Tadbeer (new centre) will replace the recruiting agencies by the end of the year. Their purpose is to train domestic helpers and guide them with their new workplace with a guaranteed good visa.