Remember the Filipina who called for help via Facebook Live when she was attacked by an Iraqi man? She was able to go home with the help of Philippine authorities. She still plans on working abroad in order to provide for her family.
A life of an OFW is never easy, they put a lot of effort in working and earning money away from their families. We have heard many different stories from our fellow OFWs who are either blessed or unfavored by luck. A Filipina OFW was assaulted by her Iraqi co-worker. Despite of her experience of being threatened for her life, she still shows determination to working abroad.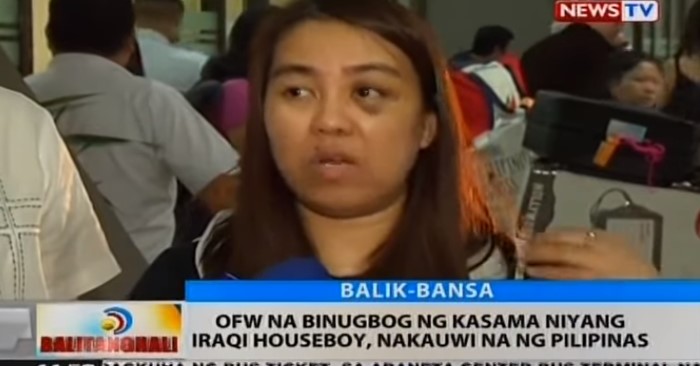 Pinay Assaulted in Iraq Still Plans to Continue Working as an OFW
A video had gone viral in Facebook about a 39-year old Filipina being attacked by an Iraqi houseboy, it showed how terrifying working outside the country is. She immediately got help, after she was secured, she returned back in the Philippines. A day after the incident, she was reunited with her family and was so happy. She had been working for 6 years and is also excited to see her children. Even though she got harmed, she still yearns to go away from her hometown for a living and for her children as she is the only person supporting them.
A report from GMA's News TV "BALITANGHALI" displays the return of Alice Aguilan at the airport. She explained that the Embassy of Iraq had assisted her quick departure from Iraq to Philippines. Alice was asked why she was beaten, and she made clear that it was just like any other normal day, that there was no conflict between her and her Iraqi co-worker.
The reporter asked Alice if she's planning to go out of the country. She answered YES, because she needed money to support her children and that she's already a widow. "Opo, kasi -kailangan ng mga anak ko suporta, byuda na ako- ako lng mag isa…"
Alice admitted that she was an undocumented OFW which may be a problem in getting her privileges as an OFW, according to the news report, it had been 6 years since that she was referred from another Filipina to go to Iraq from Ammon, Jordan. Even though she's not a legal OFW, the Overseas Workers Welfare Administration ensures that she will get her benefits.
OWWA plans to offer Alice seminars and training for her to be ready. So she will not have any difficulties when she leaves the country again.
Brigido Dulay (Deputy Administrator of OWWA) hopes that if she goes out again, she will undergo proper training again so that she will be skilled and will get her benefits as an official OFW.
VIDEO: