A Filipina domestic helper used her social media account to show the abuse she received from her employer's relative in Iraq. Her plight caught the attention of several netizens and sought the help of the Philippine Embassy who immediately took action and rescued the helper.
According to a report from Inquirer.net, the victim is Alice Soriano Aguilan, 39 and a mother of four from Sta Cruz Laguna, broadcasted the abuse through her Facebook Live in the video below. The distraught worker captures how she was allegedly beaten by a man, Hammode Alsamawi, who at first was seen praying but suddenly turns to her and hits her in the face leaving her with bruises on her right eye. Prior to this, she was allegedly mauled by Alsamawi and this prompted her to film the incident.
Related Post: Raffy Tulfo Rescues Filipinas Abused by Employers Abroad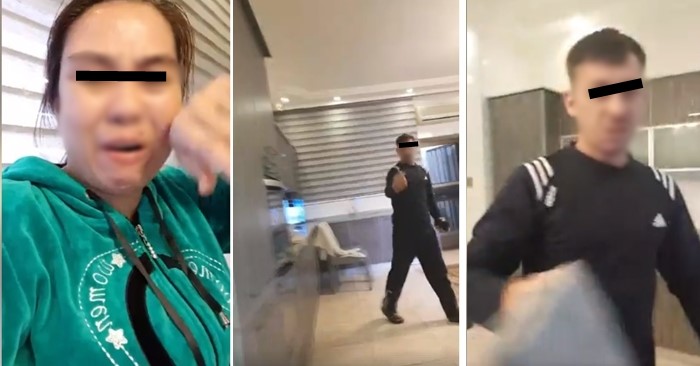 Pinay OFW Films Abuse Through FB Live, Rescued by the Philippine Embassy
The perpretrator, Almasawi, is her employer's relative. In the video, the abuse would have continued if not for an Iranian boy who intervened and stopped Almasawi. It was then that they left the house and Almasawi was seen making a throat-slitting gesture pointing to Aguilan before they left. Aguilan sought the help of her employer when they arrived but according to Aguilan, they were pre-occupied because they had a visitor. She then decided to contact the Philippine Embasy through Facebook messenger and asked for help. Fiifteen minutes later, she was rescued.
Although her employer did not want her to leave, she is left with no choice but to move out of the house for her safety. According to Aguilan, her employer was generous enough to shoulder the cost of her plane ticket going back to the Philippines. She is currently in the Philippine Embassy and is awaiting repratriation. She was also taken to the hospital to have her bruises and injuries checked. According to her medical reports, she suffered minor injuries in her head.
Her next steps would have been to file a police report and press charges against Hammode Almasawi, unfortunately she does not have a working visa and only has a passport with her. In Iraq, you can end up in jail if you're proven to be employed without a valid working visa.
Here's the FB Live video taken by Aguilan.
Here's an update below from the Philippine Embassy in Iraq about the status of our fellow Kabayan who is now safe.