The internet has had a few of its own share of viral posts and sensationalized stories, but sometimes, it's the simple things that somewhat catch the attention, if not the hearts, of netizens.
Such was the story of the 13-year-old boy who posted a selfie with his birthday spread – the classic Filipino spaghetti. You know it's a Filipino birthday celebration when there's spaghetti. But this story is not the typical boy-wishes-for-something kind, well… sort of.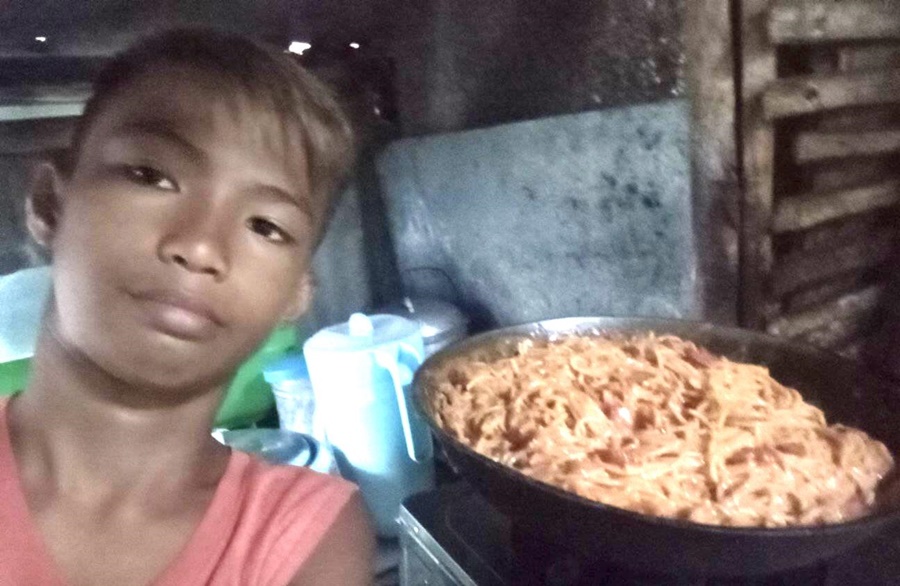 Birthday Boy in Viral Post Shares That His Mom Spent Last Php 300 for His Spaghetti Amid Typhoon
The boy in the viral post, 13-year-old Delio, who hails from Cabucgayan, Biliran, shared that all he wanted for his birthday was to eat spaghetti and share it with his friends. On that day, however, their town was hit by Typhoon Bising, GMA News Online reported.
Apart from the typhoon, his mother, Rhea, only had Php 300 on her. This, however, did not stop her from making her son's birthday a memorable one – for both of them!
"Kahit malakas ang ulan, lumabas po ako para lang bumili ng pansahog ng spaghetti (Even if it was raining real hard, I went out just to buy the ingredients for the spaghetti)," she said.
With what little amount she had, Rhea tried to fit everything in her budget. She cut the pasta and used one pack of tomato sauce and a can of condensed milk. She also bought ¼ kilo of sliced hotdogs because she did not have enough money for ground pork.
Knowing how much trouble his mom went through to cook for him his spaghetti, Delio has this to say: "Masaya ako kahit may bagyo dahil nakapagluto ng spaghetti si mama at nabigyan ang kaibigan ko. Kuntento na ako sa spaghetti. Salamat, mama, masaya na ako sa spaghetti. Mama, I love you! (Mom still made spaghetti for my birthday. I was able to share it with my friends. I'm really happy. Thank you, Mama. I love you!)."
While there's no denying that his mom's efforts made the dish special already, there was another reason why this birthday meal was important to Delio and his family.
Delio revealed that this was also the first time that they would be celebrating his birthday without his father, who died from a heart attack last April 2.
He shared that his mother used her late husband's recipe, who used to cook spaghetti for them.
Rhea, a public school teacher, lamented how difficult her life became after her husband passed away.
"Sobrang hirap dahil wala akong katuwang kasi pagdating namin sa bahay, meron na kaming pagkain. Pagdating ko, kumpleto na, kakain na lang ako (It's hard because I don't have a partner. Before, whenever I'd go home, there would be food on the table. Everything's all set, all I have to do is eat)," she said.
Rhea also revealed that during this time, their debts have further accumulated after her husband passed away.
Rhea also has her daughter, Glydel, 28, with cerebral palsy, to take care of.
So with all their expenses and debts, Rhea shared that preparing spaghetti for her son's birthday was already a luxury.
For all his mom's sacrifices, Delio promised that he would study hard to make up for her efforts to make his birthday truly a happy and memorable one.
Their fortune soon changed after Delio's birthday selfie with his mom's spaghetti went viral. Help came pouring their way, which included cash, food, and even a brand-new tablet from generous donors.
Moreover, the local government unit of Cabucgayan in Biliran gave him a scholarship and a new bicycle, while the KMJS team offered additional financial assistance to their family.
A bakeshop also sent a birthday cake for Delio.
For all the unexpected blessings he received, Delio said: "Salamat sa ibinigay ninyo sa amin ni Mama. Ipambili namin ng kandila para kay Papa (Thank you for everything you gave us. We will use it to buy a candle for Papa.)," he said.
Even now, when life seems too hard for everyone, there's always a glimmer of hope waiting to unravel in the hearts of people who understand others' present difficulties, and still, choosing to help them get through it, with what little or how much they can offer. And this is the kind of virus that we'd hope to see more in our world today.
Catch the full video feature below posted by KMJS / YouTube:
READ NEXT: Filipino Couple's Tragic Love Story Featured on New York Times