An Overseas Filipino Worker (OFW) based in Bahrain took to Facebook and shared about a disappointing experience with her "kumare" (close female friend) in the Philippines.
On June 16th, Ruby posted a conversation between her and an unnamed friend, who was asking Ruby to sponsor the clown for her son's birthday party. The boy happens to be Ruby's "inaanak" (godson). Keep on reading to know more about what happened…
OFW Disappointed w/ "Friend" who Tried to Borrow Money
According to Ruby's friend, sponsoring the clown would cost PHP 3,000. Ruby replied that it was too expensive, and offered to send PHP 1,000 instead. However, the friend commented that the amount was small compared to Ruby' savings, insisting that she could afford it.
In response, Ruby explained that she was saving for her upcoming vacation to the Philippines. She suggested that if her friend could not afford a clown, then they shouldn't hire one at all. Ruby also mentioned that her own child hadn't even seen a party clown.
Upon realizing that Ruby was not willing to send more than PHP 1,000 — the "friend" reacted negatively and blocked her on Facebook. Disappointed with her "kumare," Ruby vented her frustration by posting the conversation on her Facebook timeline.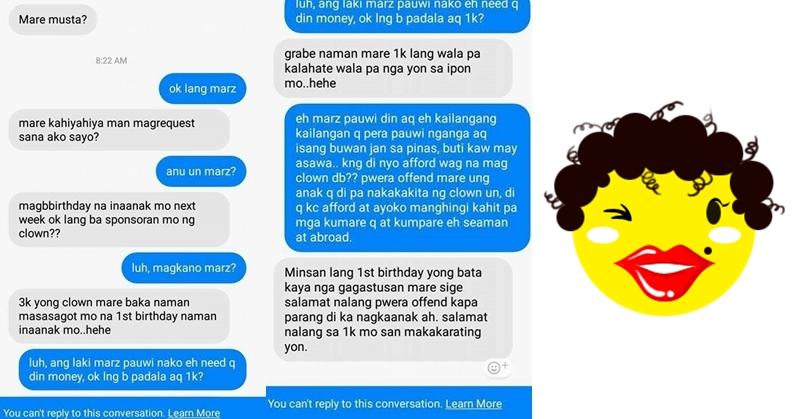 "Sa mga kumare ko out there, at magiging kumare pa, nagkukusa po ako mag-regalo (To my friends out there, and would-be friends, I give freely)," Ruby posted.
"Huwag kayong demanding. Anak ko nga 'di pa nakakakita ng clown at 'di pa nakakahawak ng PHP 1,000 na pakimkim (Don't be demanding. My own child has not seen a clown nor received PHP 1,000 as a present)," she added.
Ironically, even if Ruby's friend was the one asking for money, she was clearly demanding and ungrateful. This just comes to show that not everyone who says "kumare" is a true friend. How about you? Have you had an experience similar to Ruby's? Share it with us in the comments!
Check out the full conversation below: