Do you wish to work as a dairy farmer in Japan? If so, then one way you can do so is by applying through licensed and reputable agencies. The following article looks at one such agency that can help you become a dairy farmer in Japan.
Also Read: How to Apply as a Factory Worker in Japan
Dairy farming is one of the most in-demand skilled labor jobs available in Japan. That's because dairy products are a staple product in the country. As a dairy farmer, you will most likely land a job in the Hokkaido Prefecture where most of the milk supply and other dairy products come from. If you want to know more about this job, read on.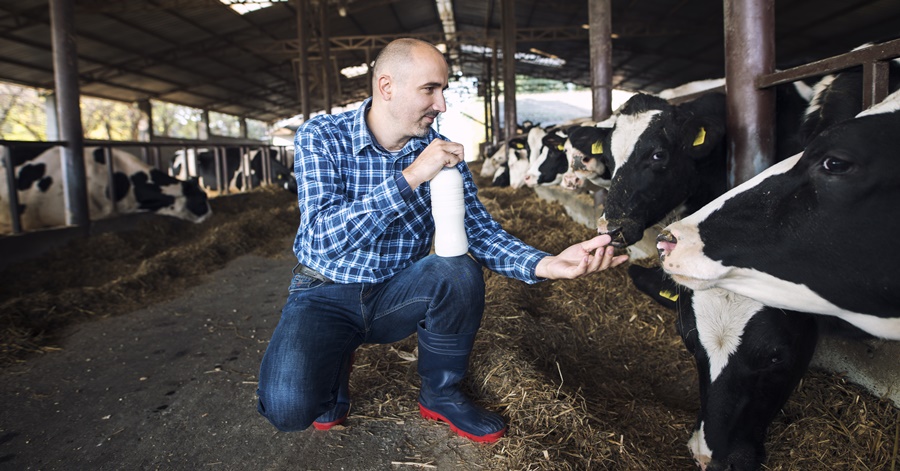 Disclaimer: The information posted here is based on the personal experiences shared by the OFW in the video below. Please let this post serve as a guide only. If you have specific questions, you may ask the OFW by commenting on their video on their accounts.
Filipino Shares Experience Applying as a Dairy Farmer in Japan Through an Agency
The information shared below is from an OFW Dairy Farmer who has worked in Japan. He shared his experiences through his YouTube channel named Buhay Dongskie. If you want to watch the original video, then click on the link below:
The vlogger mentioned that the above video is one of his most requested from among his viewers. In particular, his viewers are interested in knowing how to apply as a dairy farmer in Japan. They wanted to learn more about the agency he applied in as well. That's why these two topics are the main focus of his video. Before we get into the details though, let's learn more about the roles of a dairy farmer in Japan
Roles and Responsibilities of a Dairy Farmer
As a dairy farmer, you will be doing various types of jobs, but most of these will be repetitive over some time. As a summary, your roles will include the following:
Maintain and monitor the livestock
Milk the cows
Manage and preserve the facility
Optional: tour guide
As a dairy farmer, it is your role to inspect a barn and determine if there are any health concerns among the cows. You are responsible for keeping the cows healthy by giving them the right food and nutrition at the right time. This also means vaccinating them and giving them medicines when they get sick.
Dairy farmers also sort out which cows are ready for milking. Then, milk extraction occurs, whether manually or by the use of a device. The milk harvested is then processed, and even then dairy farmers may be responsible for ensuring that this transaction runs smoothly.
Dairy farmers may also be tasked to clean the area, restock supplies, replace damaged materials, and more. Keeping the barn clean is an incredibly important job. Livestock can easily get sick if the surroundings are not clean enough.
In Japan, some dairy farms can become tourist attractions as well. In this case, a dairy farmer can act as a tour guide, informing the visitors about facts they might find interesting in the farm.
Applying Through an Agency
The vlogger mentioned that he applied as a dairy farmer in Japan back in 2011. The first thing he did was apply through an agency called the UNO Overseas Placement Inc. This agency still has an active Facebook page which you can find through the search option.
To apply through the agency, you have to go to their main office in Manila. It is located in front of UST. The vlogger said that it is just a walking distance away from the PRC. It's full address can be found in the company's Facebook page.
UNO Overseas Placement Inc. is a recruitment agency that has been sending Filipinos to work in Japan since 2010. The vlogger said he belonged to the first batch of Filipinos who were sent by the company when it became an agency.
So aside from dairy farmers, what other jobs in Japan are they offering? These are the following:
Agriculture jobs including Vegetable farmer, Dairy/livestock Poultry farmer
Hog raiser – only accepting male applicants
Construction – only accepting male applicants
Carpenter
Framing Works
Scaffolder
Steelman
Plumber
Heavy Equipment Operator
Welders
Spray Painting – only accepting male applicants
Wood works – furniture maker
Metal press operator – only accepting male applicants
Plastic molding injector operator – only accepting male applicants
Machine maintenance and assembly
Industrial packaging – only accepting male applicants
Food processing and manufacturing, including Fish slicer, fish paste maker and baking and pastry – only accepting female applicants
High speed sewing – only accepting female applicants.
Laundry
If you are skilled in any of the above-mentioned jobs, then you should seriously considering apply to work in Japan through the agency.
Application Process
So what are the steps involved during the application process? Well, to successfully apply through this agency, you need to go through all of the following steps:
Orientation to Selection
Orientation and application – orientation about the program and submission of initial requirements
Screening – applicant takes written tests and initial interview for desired skill category
Completion of requirements – submission of necessary documents
Final interview – the Japanese employer interviews the lineup of applicants. Some employers conduct skill tests
Selection – the Japanese employer makes their selection from among the applicants
The first thing you need to do is go to the agency's office in Manila. You need to bring several documents with you, including your CV (curriculum vitae) or your resume. The full details on what you need to bring to the agency are written below.
Upon arriving, you will be asked to attend an orientation. Next is you will be screened. During the screening process, you will take a written test. You will also be interviewed.
The vlogger mentioned that both the written test and the interview are easy, so you don't have to worry. If you worry, that will show in your performance. That is the last thing you want, since you really need to be confident during both steps.
You have to be confident. You have to sell yourself and convince the interviewer that you really want to work in Japan and you have the right skills and attitudes to be an asset to their company.
Your confidence will come in naturally if you have the work experience for that particular job category. Even if you have but a few months of dairy experience, or even if you only had technical training in the dairy farm industry, those are usually enough to produce some sort of confidence in you.
If you pass the written tests and the initial interview, then you have successfully completed the orientation phase.
The next phase is the completion of requirements. Then, there will be a final interview, this time the Japanese employer will conduct the interview, along with an interpreter of course.
You need to be just as good, or even better, in this phase as your initial interview. Here are some tips that you need to remember when being interviewed by the Japanese employer:
Maintain eye contact
Be confident
Be straightforward with your answers
Smile
Dress neatly and appropriately.
If you do all of these things and more, then chances are you will get the job. The Japanese employer will then make a selection from among the many other applicants. If you get chosen, then congratulations!
Learning the Japanese Language
Now that you have been chosen by the Japanese employer, the next step is to complete the documents. After doing this, you will be endorsed to learn Nihongo.
The Japanese language training will be done for about 3 to 4 months at a Japanese language school here in the Philippines. You will most likely be staying in a dormitory within the school for this duration of time. They will provide you with daily allowance and sometimes even free meals.
The vlogger recommends that you really focus on your Nihonggo studies during this time. Make sure that even if you're still in the Philippines, you are already good at the basics of the language. This will be your edge when you arrive in Japan.
In Japan, only a few know how to speak fluent English. When you finally meet your boss in the dairy farm, they will begin giving out instructions in Nihonggo. They will teach you about the tools you need, the different types of cows available in the farm, and what your roles are and how you can go about performing these roles.
The vlogger said that your boss will really get angry with you if you don't understand him. If they tell you to do something, they expect you to know what they are talking about. What's the point of hiring you if you can't communicate properly with them?
That's why it is really important that you learn the language by heart. Study hard, and listen to the suggestions and pointers of your teachers.
In fact, the vlogger mentioned that when he was studying Nihonggo, he decided to quit his job to devote full time in learning the language. He said it was worth it.
Working as a Dairy Farmer
When he finally arrived in Japan, his Japanese speaking and listening skills were already quite good, so there were no problems at all with his employer. The fact that he can perfectly understand them also meant that his performance at work wasn't compromised.
He said that essentially, your job in the dairy farm will be repetitive. That's why if your employer tells you to do something new, you have to write that in your list. If you can, keep a notebook of all your tasks so that you don't forget them. Chances are whatever new thing your boss tells you to do, you will do that in the following day as well.
General Qualifications
So who is qualified to apply at the agency and find a job in Japan? Well, according to the video, here they are:
You have to at least be a high school graduate.
You need to be 20-30 years old
You should have at least 1 year of experience in the job / skill category that you are applying for.
You should not have any tattoos
You should be presently employed in the same job or skill category that you are applying for.
You should not have undergone any major medical operation.
You should not have been to Japan as a technical intern
As you can see, the academic requirement to be a dairy farmer
Having a tattoo in Japan is legal, but the stigma around it still remains in society. In fact, there are places you can't go to if you have a tattoo. These include bath houses, beaches, gyms, hot springs and pools.
In fact, tourists with tattoos often need to cover their tattoos when riding trains or being in public, because some Japanese might be offended.
Documentary Requirements
If you pass all of these qualifications, then the next step is to complete the following documentary requirements:
Resume
Original Passport
PSA Birth Certificate – if late registered or it has error, supply a Baptismal certificate or a PSA Marriage Certificate instead
Two 2" x 2 " latest picture with white background.
Aside from these documents, you will probably prepare others as well. You just have to ask the agency if there's anything else they would want from you. Perhaps, there are other documents related to acquiring a working visa. Perhaps, your employer needs to prepare documents as well. You should be aware of all these things.
There you have it. If you are a dairy farmer who wish to try your skills to Japan, then all you have to do is follow the steps above. With the help of an agency that is recognized both the by the Philippines and the Japanese government, you are sure that all transactions are legitimate. If you do your part, you will find yourself working in Japan in no time.