Are you a teacher wanting to work in Thailand? You probably know that Thailand is a popular destination for foreign teachers, and especially among Filipinos. There's tons of reasons for this, including the fact that Thailand has a wonderfully divers culture, great food and is really a popular tourist destination around the world.
Another reason why teaching in Thailand is so popular is because the cost of living is quite inexpensive. You will initially think that your salary is low once you hear about it, but considering how cheap the cost of living is, you will definitely live a comfortable life.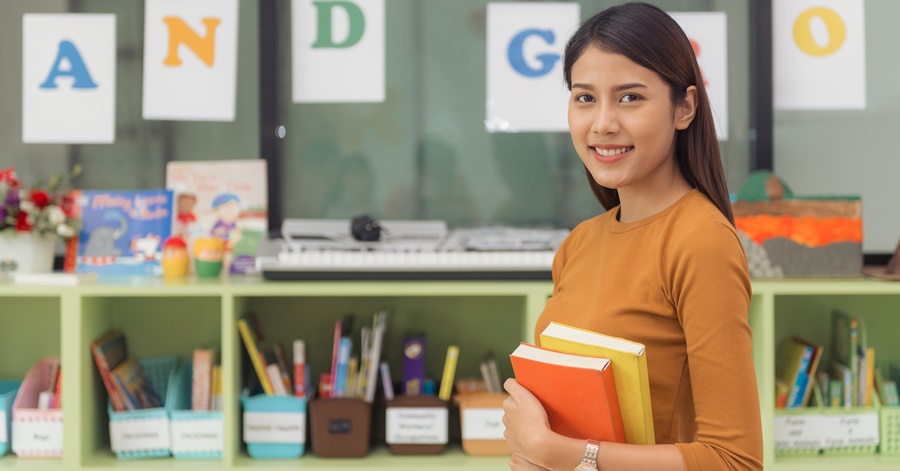 Disclaimer: The information posted here is based on the personal experiences shared by the OFW in the video below. Please let this post serve as a guide only. If you have specific questions, you may ask the OFW by commenting on their video on their accounts.
Going to Thailand Before Applying for a Teaching Job
This article is a summary of the information presented by OFW YouTuber Rona Sales. In this video, Rona talks about a lot of things, but all these mainly revolve around the questions on how she went to Thailand, and how to apply there and become a teacher. You can watch the full video in the link below:
Teaching Life in Thailand
Before she starts talking about the main focus of the video, she first answers some of the questions that her viewers asked her regarding life as a teacher in Thailand.
The first question asks her where she is in Thailand. Well, she lives and works in a province that is one hour and a half away from the main city. That means it's not really far away from the city and she can just go there any time. It's not like in the North and South Thailand where going there takes 12 hours by bus from the city.
She's been working in Thailand for one year as of the time this video was released. This was also her very first school, and is a government school. The name of the school is quite lengthy, and she even mentioned in the video that it took her some time before being able to memorize the name of her school.
Just like in the Philippines, there are many different types of schools in Thailand, but they can all be categorized as either government school, international school or private school.
Another viewer asked her if a fresh graduate with no experience can still apply and be hired as a teacher in Thailand. She answered this question based on her experience, and says that yes. It is possible, and indeed she knows some people who got in despite their lack of teaching experience.
More than that, she also knows some people who got a teaching job even if they are not education graduates. The important thing is that you are a graduate of a 4 or 5-year course. With this credential, you are already qualified to teach English in Thailand.
In her case she is education graduate with a major in math, so that's what she teaches in Thailand.
Finally, another viewer asked if the students in Thailand are naughty or pesky at her, especially since she is of a different nationality. In response, she mentioned that in many ways, teachers in Thailand experience many of the same difficulties faced by public teachers in the Philippines. Moreover, teachers in Thailand and the Philippines are both well respected by society.
Having said that, she mentioned that the paperwork is much easier where she works now in Thailand compared to the paper work DepEd teachers have to do.
When it comes to naughty and pesky students, she said they are everywhere, and some can be hard to deal with as a teacher despite the nationality. Based on her experience, she said that while there are naughty students in Thailand, she said it's easy to tell them off and make them behave.
How to Apply in Thailand as a Teacher
Our YouTuber firmly decided that she wants to pursue working abroad back in December 2018. By February 2019, she already booked a flight going to Thailand for April 12 to April 14. That means she booked a round trip ticket even if she had no plans of going back to the Philippines.
The plan was to purchase a round trip ticket, hoping to convince the immigration that she, along with another friend, will just be going to Thailand for vacation and sightseeing for three days. However, the plan was to stay for much longer, look for teaching jobs, apply and ultimately work there.
While waiting for the flight schedule to arrive, she was already applying online for teaching positions. She applied online through the Ajarn website.
She contacted a couple of schools, and received a couple of responses, but most if not all of them told her that they are not really interested in hiring teachers who are not yet in Thailand.
They advised her to go to Thailand first and apply from there. This implies that they prioritize the Thais or those who are already in the country.
Passing Through the Immigration
She mentioned that before you even start thinking about which school to apply and how, you should first think about how you can pass through the immigration officers of the Philippines.
She's heard a lot of stories about unfortunate cases where Filipinos had to be offloaded. That means, they were not allowed to board the plane going to Thailand, despite having bought tickets already.
This got her really nervous, and in fact, before her flight on April 12, she barely had any sleep. The thought of getting offloaded really bothered her. In the first place, preparing to go to Thailand has been an expensive experience. If she doesn't make it through immigration, all her effort, money and time she spent will go to waste.
On top of all this stress, she was also constantly reminded of the fact that she resigned from her teaching job in the Philippines.
She read and heard about immigration officers that they look for the following documents during the interview:
Bank certificate
Certificate of Employment (COE)
Authority to travel
In addition, if you have someone with you, she heard of stories that say the interview will take turns interviewing a person and asking them what the other person's birthday is.
In some cases, she heard that the immigration officer will even take your phones and read the conversations in them.
As a consequence of this fear, she decided that the best course of action is to be ready, and prepare all the documents they might possibly ask from her. She also memorized the birthday of her friend who was with her. In fact, she was so nervous that she couldn't eat.
When it was their turn in the immigration, they observed the different options they have in terms of which immigration officer they wanted to line up in. To be specific, they observed the cues and looked for one that was a fast moving line where people quickly moved in and out. In other words, they lined up where the immigration line is short.
During her turn, she greeted the immigration officer with a smile and the words, "good morning, sir." She was a little bit disheartened when the immigration officer didn't smile back, so she had to make sure that she's exuding confidence. In her mind, she had to convince herself that she wouldn't get offloaded.
Her goal is then to convince the immigration officer that she is just touring Thailand for three days. As it turns out, she says that she got lucky with the questions she was asked during the interview. The immigration officer asked her the following questions:
Is it your first time to go abroad?
Do you have a job in the Philippines?
To both questions, she responded with a simple "Yes, sir." As a word of advice, answer only what is asked. Keep it short and direct to the point, and the interviewer will appreciate the fact that you're not taking too much of their time answering questions.
For the second question, she had to present her PRC ID and her school ID, which, fortunately enough was still valid when the officer checked its date. She finally breathed easy when the immigration officer finally stamped approval and she was allowed to travel to Thailand.
As you can see, getting off loaded is a real possibility. Once you get out of the Philippines and make it to Thailand, then the process of finding a teaching job becomes a lot easier.
Getting to Thailand
She arrived in Thailand on April 12. As mentioned, she bought a round trip plane ticket with a return on April 14, but she never used that ticket. She had no intention of going back to the Philippines until she finds a teaching job.
She didn't find a job right away once she landed in Thailand. In fact, for one whole week, she along with her friend just toured as many places as they can. It is, after all, her first time as a tourist in another country.
She then started applying for a job online. Aside from the website mentioned above, she also tried Facebook pages like Sawadee Kapamilya where they regularly post job offerings.
Part of the application process includes sending out application letters, resumes and other important documents. By April 18, a school called her up to demo. In fact, two schools called her, with one of the schools having lots of Filipinos. She chose to apply on the school which had fewer Filipinos as that is her preference.
Just 10 days after applying for that school, she was hired. To her, this is a blessing from God, as the whole process seems quite easy on her end. In fact, even after she got hired, other schools continued to contact her.
While her experience of getting a teaching job in Thailand is relatively easy, there are Filipinos as well that are having a hard time to apply. Even those who have an education degree or are graduates of a 4-year course. She says that the best thing you can do when applying is just to stay positive and hope that things work out as planned.
Tips When Applying as a Teacher in Thailand
She mentioned that frequently transferred from one place to another. In fact, she stayed at a hotel for one month. Then, she moved to Winning tower which has a huge Filipino population. Finally she transferred to an actual house.
How much pocket money did she need going to Thailand? Well, when she went to Thailand, she bought PhP 50,000, not including the airfare ticket. This wasn't enough in her case, however, it was supposedly enough based on her prior estimation.
What she didn't foresee was that the apartment she transferred in asked for two months' deposit. Her father actually had to help her by giving her money to pay for the deposit.
She mentioned that supposedly, PhP 50,000 is enough as pocket money since the food in Thailand is so, so cheap.
So how should you prepare for your job applications in Thailand? Well, she says that you have to bring a skirt, white top, and she adds that during your teaching demonstration, the Thais like it if you involve your demo students through dance, singing or games. Even if you are smart and knowledgeable in your field, you can't be the boring type and just discuss in front of the students.
Another important tips is that when you get to the airport, you have to buy a sim card immediately. Also, their primary mode of communication is not through Messenger like in the Philippines, but through a similar app called Line. In fact, she mentioned that she submitted all her applications and resumes through this app.
There you have it. I hope these tips helped you learn more about applying as a teacher in Thailand. It is, after all, one of the most in demand jobs for Filipinos.