Do you want to be a teacher in Japan? We know about Filipino teachers that have found work in other countries, perhaps most notably Thailand, but did you know that we have kababayans who teach in Japan as well? This article actually features the experiences of one of those Filipinos, as she narrates, among other things, how she became a teacher in the land of the rising sun.
If you are a teacher, then you should seriously consider starting a teaching career in Japan. One of the reasons for doing so is the salary; you will be paid more than you are earning in the Philippines. Moreover, Japan is well known for having one of the best educational systems in the world. Your career will definitely flourish if you choose to pursue it in Japan.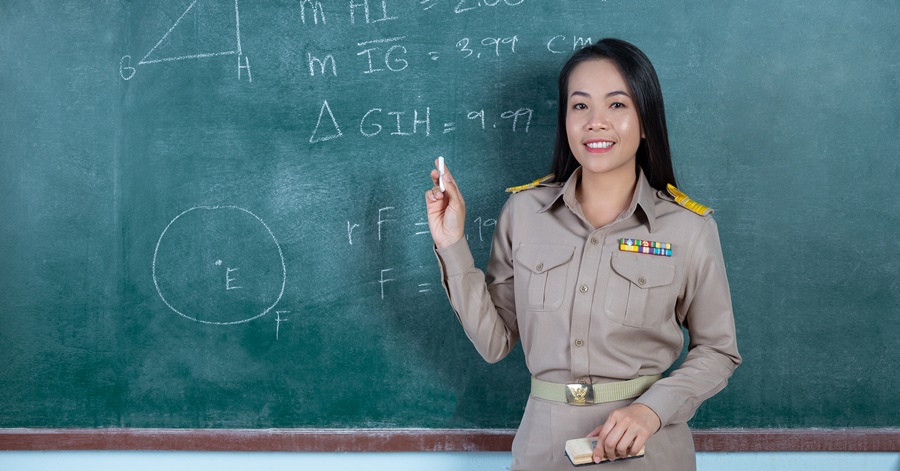 Disclaimer: The information posted here is based on the personal experiences shared by the OFW in the video below. Please let this post serve as a guide only. If you have specific questions, you may ask the OFW by commenting on their video on their accounts.
Tips for Starting a Teaching Career in Japan
As mentioned above, the information below is from a Filipino teacher working in Japan. Her name is Jillian, and she shares the following tips on how to get a teaching job in Japan through her YouTube channel named Jill. You can watch the full video below.
Jillian working in Japan for two years now. For a while, lots of people have been asking her questions, including the following: How to be teacher in Japan? What are the requirements? What is the salary? She hasn't answered this in full in previous videos, but in this video, she shared everything she knows, from her own experience, her friends actual experience, and what she read when she was still in the Philippines and when she's already in Japan.
As an overview, here are the tips that Jillian shared:
Find out what you really want
Find a trusted or accredited agency.
Prepare.
Be mentally ready.
Each tip will be mentioned in detail in the following paragraphs.
Step 1. Find out what you really want.
Finding out what you really want refers to the kind of job you wish to pursue in Japan. If you already know this part, then this helps you decide which kind of visa you need to get.
There are two major types of visas you can get for this matter, both of which allow you to actually work in the country.
Working visa
Non-working visa
Working Visa
The working visa is one of the most common visas issued to foreigners who wish to work in Japan. Careers that require you to get a working visa include the following:
Engineer – software / system engineer, computer / game programmer, etc.
Humanities – accounting, economic analyst, HR, etc.
International Services – foreign language teacher, PR, fashion / interior design, etc.
Since this video mainly focuses on getting a teaching job in Japan, then now you know that teachers need to get a Working visa to purse this dream. In particular, a lot of Filipinos get a teaching job in Japan by teaching English in private companies.
Types of Working Visas for teachers
International Services Visa – as mentioned above, a lot of professions fall under this visa, but it is most commonly associated with teachers wanting to teach English and other languages in private companies. This is the kind of visa that the vlogger had on her first year in Japan.
Instructor Visa – this visa is for instruction at educational institutions, whether, elementary, junior high school, senior high school, etc. In her second year, the vlogger already had this kind of visa since by then she started working in a high school already.
Specified Skilled Worker
Another type of working visa is for foreigners looking to work in Japan as specified skilled workers. These include those that work in nursing care, interior building cleaners, those that work in the accommodation industry, and more.
Specifically, these are the kinds of jobs that fall under the specified skilled workers category:
Nursing care
Economy and trade industry
Welding
Paint
Industrial Packaging
Machine Inspection
Hospitality services such as working in restaurants or in the front desk of hotels.
So what are the requirements to become qualified as specified skilled workers in Japan?
N4 level Nihonggo ability
Work experience
Degree alignment not necessary
More than 18 years of age.
For specified skilled workers, the requirement of Nihonggo ability is quite strict. You need to reach N4 level, which makes sense since with the kind of jobs you have, you need to be able to converse fluently in Japanese and read all the different types of characters in Japan.
If you are working in the front desk, for example, you can't just nod your head in silence to be effective; you need to talk to the clients in Nihonggo. In Japan, it is rare to meet someone who speaks English, that's why learning the country's national language is really important.
As mentioned above, there is no particular requirement in educational background. Even if your degree is not aligned with the job you want to work in, that is okay as long as you have the work experience to prove you can do the job.
Non-working Visa
You can also find work even if you have a non-working visa, albeit with limitations. For example, you can be a student working in Japan through a student, but also do a part time job. Here are two examples of non-working visas you can have in Japan:
Student visa
Technical training visa
The vlogger said that when she studied Nihonggo in the Philppines, most of her classmates were applying for a student visa through an agency. In this case, agencies take care of many of the processes required to go to school in Japan.
However, she was surprised at how expensive it was to go the agency route. She heard that the students had to pay something around 250,000 – 500,000 pesos. The catch is that once you get to Japan, you can get all of this money back by doing part time work while studying.
The technical training visa is also known as the "trainee visa". It is the kind of visa you will need if you want to work in Japan if you want to work in Japan as:
Construction worker
Factory worker
Laundry worker
Farmer, etc.
Professional Type vs. Trainee Type of Visa
In the video, these two types of visas were compared and contrasted according to the following:
Requirements
Holidays
Salary
Requirements
For a trainee visa, here are the following requirements (or lack thereof):
You don't need work experience
You don't need to be fluent in Japanese
Getting a trainee visa also means being in a technical intern training program. You don't need to have work experience, although it would be advantageous to you if you had one. She cites the example of her friend who works in the laundry industry. It's not like she's washing the clothes traditionally; there are machines and all she had to do is put the clothes in, press some buttons, remove the clothes, flat iron and steam press them and more.
For professional type visa, you need the following requirements:
Relevant work experience
Educational background, but not as important as work experience.
As a teacher who wishes to work in Japan, you need a professional type visa. You just need to have teaching experience back in the Philippines so that you qualify for this visa.
Holidays
Here are some of the differences between trainee visa and professional visa holders when it comes to holidays.
Trainees have shortened holidays
Professionals sometimes have no holidays, although this really depends on the company that hired you.
Professional get paid leaves or sick leaves.
Professional teachers get paid summer breaks, some in full, some 60 percent, but others none at all.
The vlogger mentioned that in the private company where she works, they follow all the holidays. These holidays include the following:
Summer break
Winter break
Spring break
Birthday of the emperor
And more
Salary
When it comes to salary, these are the important things to remember for trainee visa holders:
Trainee visa holders typically have a net salary of 70,000 to 80,000 yen per month (33 – 38,000 php/month)
Trainee visa holders can earn more through overtime. In busy seasons, they can earn as much as 120,000 – 200,000 yen (56,400 – 94,000 PhP).
On the other hand, when it comes to professional visa holders, these are the important facts you need to know:
Professional visa holders, like teachers, earn a minimum gross monthly salary of 220,000 yen (104,000 PhP).
After deductions, and with no overtime work, this reduces to a net monthly of 150,000 yen (70,500 PhP).
For both trainee and professional visa holders, you get transportation fee pay of 10,000 to 15,000 yen per month.
Through overtime, professional visa holders can earn as much as 300-350,000 yen per month gross monthly income (141-165,000 PhP). After deductions, that is around 270,000 yen (127,000 PhP).
Step 2. Find a Trusted or Accredited Agency
There are lots of agencies in the Philippines. Make sure they are legally registered in POEA. There are agencies located in the following places in the country:
Intramuros
Pasay
Laguna
Cebu
Davao
And more
Here are some of the steps you need to take in order to find a job in Japan through an agency:
Search for job opportunities online. You can visit the Work Abroad website
If possible, contact the employer to express interest in the job.
You must then find a reputable agency that will help you through all the processes and requirements to leave the Philippines and get a job in Japan.
In the past, direct hiring is still okay. You find a job, contact the Japanese employer, and they will directly get you to work for them. But now, everyone goes through an agency, so this is really important. Most agencies to Japan don't ask you to pay for a placement fee, so that's an asset.
Step 3. Prepare.
Usually, here is where people stop. once they know what you have to prepare, they get overwhelmed. As a word of advice, don't look at it as a whole. Take it one step at a time.
Slowly you are satisfied that you are accomplishing things little by little, and all of a sudden, the whole thing is finished.
Most , if not all jobs in Japan require Nihongo certificate. It's not like u need to pass a test. Just provide a proof that you studied Nihongo.
So what are the advantages of being Fluent in Nihongo:
You can apply to lots more work
Your salary is higher.
Some agencies require you to stay at their training center. You work there and stay there for 4-6 months. You can either pay for your work or stay but if you're lucky your employer in Japan already pays for your learning the language.
Agency explains to you what you need to submit . This depends on your work but usually you submit the following:
Passport
Application form
Med certificate
Birth certificate
Marriage certificate
Nihongo certificate or proof that you studied
And more
Eventually you will get the COE (certificate of eligibility) – evidence that you meet the conditions for landing in Japan.
Step 4. Be mentally ready.
When she got her COE and Visa, she was then told she is set to travel to Japan on October 2017. So in September of that year, she resigned from her job. Turns out that several delays were made, and she ended up having a final date of travel on May 1, 2018. This devastated her, because she waited so long and for 7 months she had no work. During that time she just got by doing part time event hosting.
Because of this experience, she recommends not being complacent, and only believe you are really going to Japan once the flight ticket arrives.
On the other hand, she later realized that this experience actually prepared her for the many challenges she would face in Japan. It got her mentally prepared for the work culture that she didn't really expect.
In fact, during the first day, she and her friend got lost in the train station, and so they were late coming in to work for just a minute. Even if it was just a minute late, the owner of the company shouted at them. Nobody has ever shouted at her like that before. She said that if she wasn't mentally prepared, she would have just cried and called her mother to go home to the Philippines.
There you have it. These are the initial steps you need to take in order to get a teaching job in Japan.