If you're one of the many overseas Filipino workers who will soon be coming back to the Philippines, whether temporarily or permanently, you'll be happy to know that you may now open an Asia United Bank OFW Savings account. This is something that was previously unavailable to you. Because the government made it a priority to simplify the process of transferring and sending money for all overseas Filipino workers, the number of savings accounts held by OFWs continues to rise.
In line with this, the Asia United Bank OFW Savings Account is an easy and hassle-free way to deposit money with the added bonuses of zero balance transfer fee and no separate cheque book. Check out this post to know its benefits.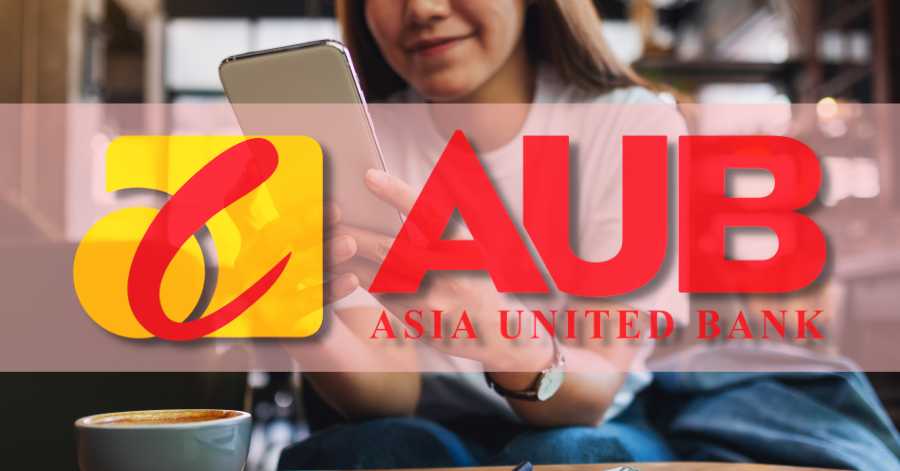 What is an Asia United Bank OFW Savings Account?
An Asia United Bank OFW Savings Account is a personal bank account that can be opened by foreign workers and their dependents. This includes those who work in Malaysia, Singapore, Hong Kong, etc.
The Asia United Bank OFW Savings Account is specifically designed for Overseas Filipino Workers (OFWs). These are people who travel overseas to work and earn a living. They may be employed as caregivers, domestic helpers, construction workers and other professions that require them to leave their home country.
Features
Asia United Bank is a Philippine-based bank that delivers banking services to Overseas Filipino Workers (OFW). The bank has its main office in Metro Manila and branches in Davao, Cebu and Laguna. Asia United Bank was established in 1988 and became one of the Philippines' leading banks in just a few years. It is also one of the country's top ten money lenders. In addition to providing financial assistance to OFWs, Asia United Bank also offers a range of products and services for domestic clients including checking accounts, time deposits, checking accounts and internet banking services.
As an OFW, you can open an Asia United Bank OFW Savings Account online or at any branch nearest you. You can use this account for your financial requirements like paying bills or receiving remittances from family back home.
Minimum Initial Deposit: N.A.
Minimum Maintaining Balance (ADB): Php 5,000
Interest Earning Balance (ADB): Php 500,000
Interest Rate: 0.100% p.a.
Withholding Tax: 20%
Term/Repricing Cycle: N.A.
Interest Credited: Quarterly
Fund Access: Interbranch transactions, ATM, Internet and Mobile Banking
Transaction Record: Passbook
What are the Various Deposit Products Offered by Asia United Bank Savings?
Asia United Bank offers a wide range of deposit solutions to its customers, allowing them to select the one that best meets their needs. Savings accounts, checking accounts, money market accounts, and certificates of deposit are all instances of these financial instruments. Customers can choose the account that best meets their needs by choosing from among these products, each of which offers a distinct set of features and benefits.
They provide the following deposit products:
SAVINGS
Preferred Peso Savings. You can earn interest on your savings in a variety of ways, such as through your ATM card, online banking, electronic statements, mobile app and more. You can also make free transfers among accounts within the same bank or even with other banks.

An account that earns interest and provides the ability to make deposits and withdrawals in person using a passbook, through the use of an ATM card, or through the use of the Phone Banking Service.
Transactions can be completed in person, through an automated teller machine (ATM), or over the phone using a banking facility.
Keeping track of transactions requires the use of a passbook.
Deposits can be insured by the PDIC for a maximum of P500,000 per depositor.

Preferred Peso Savings Plus. The Preferred Peso Savings Account is Asia United Bank's most popular savings account. With this account, you will earn an interest rate of 1% per annum on all deposits, and you can withdraw funds anytime without any penalty or charge. This is a very attractive rate for a savings account as there are no minimum balance requirements and no monthly service charges.

A separate savings account for businesses.
A passbook investment account is one that has a predetermined deposit amount and is maintained for a predetermined amount of time at a predetermined interest rate.
The interest rates are more generous than those offered by the Preferred Peso Savings account while being comparable to those offered by our Time Deposits.
The passbook also serves the purpose of a certificate of deposit.
Deposits can be insured by the PDIC for a maximum of P500,000 per depositor.

Starter Savings. This is the bank's starter savings account and it's perfect for those who are just starting out on their personal finance journey. The account offers a higher interest rate than most banks and has no fees or minimum balance requirements. If you're looking for an easy way to start saving money, this is the savings account for you!

A savings account that may be accessed by ATMs and does not require a minimum balance.
Deposits can be insured by the PDIC for a maximum of P500,000 per depositor.
CURRENT
Preferred Peso Checking. The preferred peso checking account is a savings account that pays interest on your deposits and allows you to use the funds in any way you want. This is ideal for those looking for a regular source of income without the hassle of investing or managing an investment portfolio.

An interest-bearing checking account that provides the account holder with additional banking conveniences that are not accessible with normal checking accounts in addition to increasing the purchasing power of the account holder's funds by accruing interest while checks are being issued.
Both in-person and using an automated teller machine can be used to conduct transactions. When keeping track of transactions, a passbook is required.
Deposits can be insured by the PDIC for a maximum of P500,000 per depositor.
TIME DEPOSIT
Preferred Peso Time (Time Deposit). This is a time deposit scheme wherein the client can invest their money for a certain period of time and earn additional interest on top of the principal investment. The client can choose to invest for one year, two years or three years, which will determine the maturity date. This product has no minimum amount requirement and it earns low interest rates.

Certificate of deposit (in pesos) with the Bank for a fixed period of time, in return for a fixed interest payable at the end of the term.
Who can open an Asia United Bank OFW Savings Account?
You can open an Asia United Bank OFW Savings Account if you are an OFW, a family member of an OFW, or a representative (aka power of attorney) of an OFW. In addition, you should be at least 21 years old and have a valid passport.
Requirements in Opening an Asia United Bank OFW Savings Account
One (1) Philippine government-issued ID or additional Supplementary IDs as may be required.
Philippine government-issued IDs:
Philippine Passport
Philhealth ID, digitized
Professional Regulation Commission (PRC) ID
Seafarer's Identification & Record Book (SIRB)
Pag-IBIG Loyalty Card, digitized
Maritime Industry Authority (MARINA) ID
Postal ID, digitized
OFW ID issued by Philippine Overseas Employment Agency (POEA)
Firearm's license
SSS ID, digitized or UMID
Voter's ID, digitized
Driver's license
GSIS ID, digitized
Supplementary IDs:
National Bureau of Investigation (NBI) clearance
Certificate of Marriage issued by National Statistics Office (NSO)
Police clearance
Bank credit cards
Barangay clearance &/or ID
Company ID with photo & signature
Certificate of Live Birth issued by National Statistics Office (NSO)
Student's ID
TIN ID
Where can I apply for Asia United Bank Savings OFW Savings Account?
You have the option of opening an Overseas Financial Worker Savings Account with Asia United Bank either in person at any of the bank's offices or by submitting an application for the account online.
How to Open an Asia United Bank Savings OFW Savings Account?
It is highly possible that opening a savings account or other type of deposit account, in addition to the procedures for doing so, will be essentially identical across the board for all Philippine banks. In addition to verifiable personal information, the usual method requires a small amount of paper work, photo identification cards, and a number of additional criteria.
Prepare and bring the following requirements:
two (2) valid id's such as: Company ID School ID Driver's license Barangay Clearance/Certificate Postal ID or any valid id's [list of valid id's]
two (2) pieces 1×1 colored photo
Bring at least P5,000 for initial deposit
Make a trip to the bank.
If you want to open an account, let any member of the bank's staff in the New Account division know that you want to do so.
A member of the bank's staff will hand you some application forms for you to fill out.
Wait for the bank officer to complete the verification.
Frequently Asked Questions
Here are some of the most frequently asked questions regarding the process of opening an Asia United bank OFW Savings Account.
What is the minimum deposit required to open a savings account?
To open a savings account, a deposit of P 500.00 is required at the very least.
How do I make deposits?
At any of our locations, you can make a deposit using cash, a check, or an electronic bank-to-bank transfer (BDT). When you come to see us, please make sure to have a valid photo identification card or passport, as well as the transaction slip or deposit slip that was issued by our teller. As forms of payment, we are able to process BDO Deposito Express as well as BDO Smart Deposito Express transactions.
Can I make withdrawals from my savings account?
You can withdraw funds from any of the bank's locations or via a bank-to-bank transfer, so there is no need to worry. However, there will be a charge of P 20 for each withdrawal made at their main bank in Makati City, and there will be a charge of P 40 for any withdrawals made at any other branches. A surcharge of P2 will also be imposed for every P100 that is withdrawn through electronic fund transfers (EFTs), which include internet banking, mobile banking, and transactions conducted at ATMs.
What are the benefits of having a savings account with Asia United Bank Savings?
The largest bank in the Philippines is called Asia United Bank, and one of its subsidiaries is called Asia United Bank Savings. It is widely acknowledged as being one of the most reliable banks in the country and is stocked with a wide variety of investment options.
The benefits of having a savings account with Asia United Bank Savings include:
Free ATM withdrawals at all ATMs in the Philippines, except for those belonging to other banks.
Free online banking and mobile app banking services.
No monthly maintenance fee for accounts with Php10,000 or more.
Free credit life insurance policy of up to Php100,000 coverage for monthly interest earnings of Php1,000 or more.
Tips on Opening an Asia United Bank OFW Savings Account:
Investigate the Account Types Available
You should familiarise yourself with the many kinds of bank accounts that are accessible to you before opening your first bank account. This will help you make a choice that is based on accurate information. Which sort of bank account, a checking account or a savings account, do you find more convenient for keeping your money? You never know, you might find that participating in a wide variety of activities gives you a sense of fulfilment and satisfaction. It is usually to one's advantage to be prepared for the unanticipated. It is almost always to one's advantage to be well-prepared for any situation that may come. You are required to undertake the necessary research and analysis to analyze the merits and cons of the various other choices, regardless of which of the many accounts you choose to use as your primary account. You are required by law to initiate an investigation into the current status of your funds and to assemble the required evidence in order to satisfy this obligation.
Learn how to keep your account up to current at all times.
Several distinct financial institutions are in the process of developing deposit policies, and each of these organizations will have their very unique regulations. During the time that the transaction is being processed, it is possible that you will not have immediate access to the cash. In the event that this happens, we ask that you please be patient with us. This is as a result of the necessary amount of time spent processing. You should give some serious consideration to engaging in additional research on this topic! There is also a requirement for a "minimum balance," which is a form of restriction that is utilized by a wide variety of distinct kinds of financial institutions. In the event that the balance in your account drops below that threshold, you may be subject to fees or have your ability to use your debit card or visit an ATM restricted. It's possible for you to achieve not one but both of these goals at the same time.
Make sure you ask the bank about the fees.
Before you get started, there are a few things you need to think about before establishing a relationship with a financial institution, such as a bank. Because certain banks do not always inform their clients of fees as soon as they become aware of them, the consumers of some banks do not always receive early warning of the fees charged by their bank. A few examples of these costs include overdraft fees, ATM fees, bank fees, fees associated with maintaining a minimum balance, fees associated with maintaining a minimum usage or activity, monthly or annual account fees, and fees associated with maintaining a minimum usage or activity. Expenses associated with maintaining a minimum balance also fall into this category. One example of an additional cost is the imposition of fines for exceeding predetermined activity or utilization thresholds. It is likely that the overall cost of all these fees will end up being far higher than originally anticipated. It is in your best interest to familiarize yourself with these charges so that you are not caught off guard when you receive your bill.
When it comes to opening a bank account, don't go with the first financial institution you come across.
You are not required to open your first bank account with the first financial institution that comes to mind; rather, you are free to open your account with anybody you like. There is no requirement that you open a bank account. When it comes to choosing a financial institution, the decision is entirely up to you, and you have unrestricted discretion in this regard. You have access to a comprehensive menu of supplementary alternatives from which to make your selection. It is strongly recommended that you investigate several other suitable financial organisations or banks as options to meet your needs. You will be able to obtain information from the many bank branches that you visit by doing nothing more than going to those branches. Investigate the financial institution where a member of your family, a close friend, or even a passing acquaintance may have had a long-term relationship as a customer. If the financial institution learns that you were suggested to them by a customer who has been doing business with the organisation for a very long time, they will almost certainly offer you additional perks if you choose to do business with them.
Search for digital outlets.
The capacity to carry out monetary dealings through the medium of the internet is among the features of modern technology that provides the greatest potential benefits. There is a possibility that some financial institutions will be unwilling to offer this service, despite the fact that the overwhelming majority of financial institutions are excited to offer it. You should educate yourself as much as possible regarding this equipment, and then get it checked out as soon as you possibly can. Put this at the very top of the things you need to get done today. The ability to pay bills and transfer money across accounts are just two of the many advantageous features that come standard with internet banking. When you do your banking online, you have access to a wide selection of other helpful features that are already integrated into the service. People who are juggling a hectic day and a full schedule may find that having the ability to do financial transactions online can save them a significant amount of time. You may still be able to engage in responsible financial management even if you are prevented from going to the bank as frequently as you would want. This is the case in spite of the fact that achieving this objective would be more challenging for you.
Consider the Numerous Benefits
It is vital to educate oneself on the advantages offered by a financial institution in order to acquire a comprehensive understanding of the issue. In addition to offering free checking and savings accounts, a number of different financial institutions also provide their customers a variety of other bonuses and perks. Among these advantages are the availability of free checks, the use of automated teller machines and debit cards, the removal of the requirement for paper invoices, and the supply of free checks. The opportunity to use alternative payment methods and the removal of the obligation to print paper invoices are two additional perks. Other advantages include the same things. Before you decide to do business with a financial institution, it is in your best interest to educate yourself about the products and services offered by the organization. This is especially true if you are considering doing business with the institution.
Take charge of your financial situation.
One of the most confusing circumstances that might arise in the field of finance is when the owner of an account loses control of that account. It's not uncommon for things like this to take place. Keep in mind that as a young adult, you are expected to accept responsibility for both the acts you take and the decisions you make. Keep in mind that this is the situation at the moment. You are going to have to make use of your mathematical skills in order to fulfil the task of checking the balance, and you are going to have to learn how to do so in order to finish the assignment. Bring your cash register with you, and if you already have one, check to see that it is functioning properly. Bring your cash register along with you wherever you go, even if you don't have a debit card. Never put yourself in a position where you do not know how much money is in your account, and never put yourself in a position where you do not have control over how that money is spent. Both of these predicaments should be avoided at all costs.
The Asia United Bank Savings OFW Savings Account could be ideal for you.
The Asia United Bank OFW Savings Account might be the most suitable choice for you if you are looking for a savings account that is straightforward to open and uncomplicated to maintain on a regular basis if you are an overseas Filipino worker (OFW). The Overseas Financial Worker (OFW) Savings Account offered by Asia United bank is a great choice because it enables account holders to access their money anytime they require it and does not charge account holders a monthly fee for the services offered by the account. As a direct consequence of this, people who live in other countries have a lot simpler time seizing the opportunity presented here.
Final Thoughts
Consider the Asia United Bank OFW Savings Account offered by if you are seeking for a reputable financial institution to open a savings account with. People who have a permanent residence in the Philippines but work in another country are eligible to open this form of savings account in the Philippines. However, there are some restrictions to this type of account. It has functions that were developed expressly for the lifestyles and jobs of Filipinos working outside of the country (OFWs). You are still able to take advantage of all of these privileges even if you are going to be travelling outside the country. Because the bank maintains a wide number of branches not just in Metro Manila but also in other parts of the country, conducting business with you and the beneficiaries that you've designated would be quite easy for the bank.
READ NEXT: How to Apply for an Asia United Bank OFW Loan
Contact Information
Address: Joy~Nostalg Center, No. 17 ADB Avenue, Ortigas Center, Pasig City, Philippines Center, Pasig City
Tel No: +63 2 8282-8888
Email: customercare@aub.com.ph
Website: https://www.aub.com.ph/
Google Map Location: