In a Facebook SOS dated August 3, a Filipina named Corazon Vinluan appeals to fellow users to help an OFW who was hospitalized in Saudi Arabia due to severe burns on her back.
Vinluan is a Facebook user who also resides in Saudi Arabia according to her profile. In an effort to help a fellow migrant worker, she posted several photos of a Filipino woman. One of the photos shows a woman sitting on a hospital bed, while the other one shows photos of burnt skin on the back.
The post which has been gaining netizens' attention was captioned with an appeal for shares. According to the post, her Facebook SOS is an effort to seek urgent help for the burn patient identified as Jeilyn Tumalip Gavanes, an OFW from the province of Abra. While the post did not say how Gavanes sustained what appears to be third degree burns on her back, it did say that she was admitted at Dammam Central Hospital between 7 to 9 PM on August 2.
The caption reads,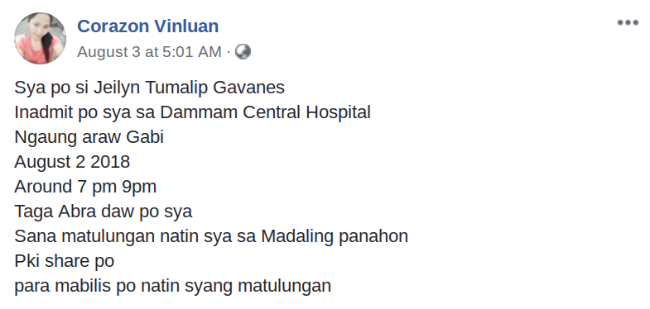 Netizens have flocked to the comments section, expressing a mixture of sympathy and curiosity about Gavanes' plight. Some netizens expressed anger and sadness, but most responded to Vinluan's request to share the story.
As of press time, the post has been shared 425 times.
While Gavanes' story is not a confirmed case of maltreatment from employers abroad, the anger expressed by the netizens towards her plight is not new for Filipinos. The Philippines, among others, has seen enough cases of tortured migrant workers in its history, that it has become almost automatic for some to assume the worst in cases like this one. Nevertheless, it is necessary to educate the people about how to treat cases like this one, in case one came across such emergencies.