We've all heard that the Philippines is entering its "Golden Age" in terms of nationwide infrastructure development. Philippine President Rodrigo Duterte has already set the vision into motion with the approval of the $1B bridge project that will link four major islands (Iloilo-Guimaras-Negros-Cebu) in Visayas starting this year and is projected to be completed within President Duterte's term or until mid-2022.
According to Secretary Mark Villar of the Department of Public Works and Highways (DPWH), the said bridge project is the "most ambitious bridge program" in the history of our nation to date, Sunstar Philippines reported.
Pres. Duterte's $1B Link Bridge Program to Start Building this Year
Secretary Villar, together with Ernesto Pernia, the Director General of the National Economic and Development Authority (NEDA), Transportation Secretary Arthur Tugade, as well as Bases Conversion and the Development Authority (BCDA) President and Chief Executive Officer Vivencio "Vince" Dizon, held a meeting with the press to unveil the nine infrastructure programs under Pres. Duterte's administration.
The infrastructure line-up aims to decongest Metro Manila and to disperse the development across various regions in the Philippines.
According to Sec. Villar, the Iloilo-Guimaras-Negros-Cebu Link Bridge Project, after its completion, will replace the San Juanico Bridge which connects Samar and Leyte, as the longest bridge in the Philippines.
Villar added that the bridges to be constructed to connect Iloilo, Guimaras, Negros, and Cebu will range from 2 to 10 kilometres. He also shared that once the project has been finished, people can easily take a road trip to Iloilo and Cebu. He added that 25 percent of the building project is allocated to the nationwide decongestion program of the current administration.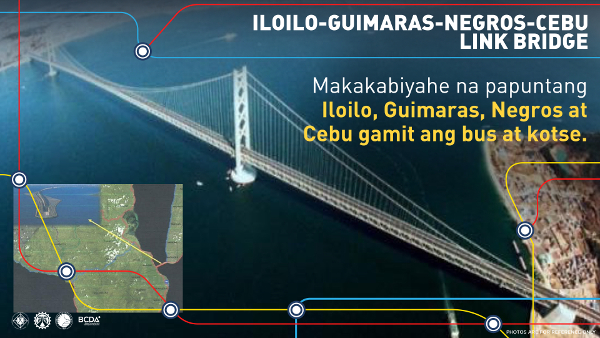 Pernia, for his part, disclosed that all the infrastructure projects, which include the Iloilo-Guimaras-Negros-Cebu link bridge, have gone through thorough review and scrutiny, and are all now ready to be implemented by involved departments and agencies within this year. He shared that the projects are already floated for tender, and are expected to bring in more jobs once construction has been started.
Likewise, Pernia mentioned that implementing a work regimen of 24/7 will hasten the construction and maximize resources for the infrastructure projects. But, as with anything new, Pernia also warned that construction could cause temporary inconvenience to the public.
Meanwhile, Tugade added that with the infrastructure projects already in the pipeline, unemployment and traffic problems in the country will be addressed, as well. "Infrastructure means connectivity and mobility, connectivity among local government units and mobility to go to one place to another," he explained.
Indeed, this billion-dollar project is bound to help ease traffic congestion and provide greater access to the Visayas region. What's more, the construction alone will provide jobs to thousands of Filipinos, addressing unemployment!