Not long after the Department of Health (DOH) reported four new COVID-19 cases, the total number of confirmed cases in the Philippines has just doubled — from 10 to 20 cases — as of Monday, 9th March 2020, based on the Department's latest press release.
The test results for the new cases were released on Monday, based on samples collected last 6th, 7th, and 8th March. At present, the DOH's Epidemiology Bureau (EB) is conducting extensive contact tracing for the latest cases. The Department is also closely coordinating with the Local Government Units (LGUs) and Centers for Health Development concerned, for localized response and implementation of containment and prevention measures.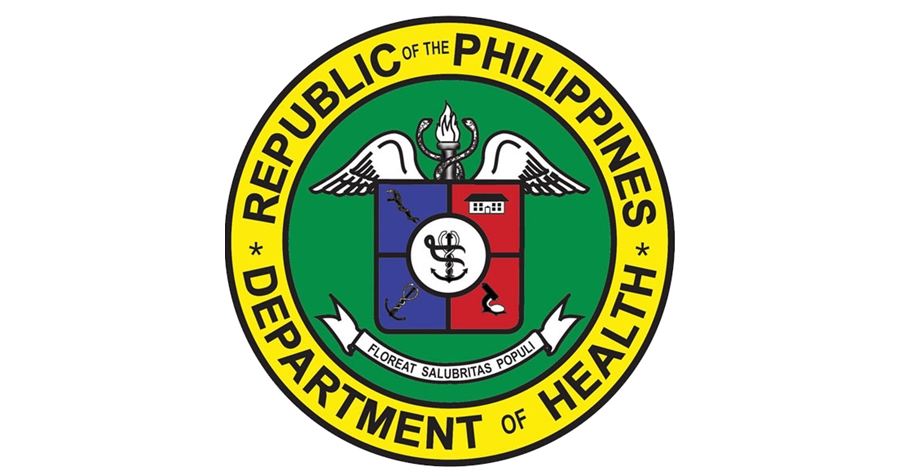 COVID-19 Cases in the Philippines Rise to 24
"DOH has deployed additional surveillance teams to expedite contact tracing of the new cases," stated Health Secretary Francisco Duque III.
"Rest assured that DOH is maximizing all channels, including coordinating with the Philippine National Police, other stakeholders and government agencies, to immediately identify, and isolate if needed, those who may have had contact with the confirmed cases," he said.
Update on the Latest Cases
The four cases reported yesterday are currently admitted at the following hospitals:
Patent 7 — Makati Medical Center;
Patient 8 — St. Luke's Medical Center – Global City;
Patient 9 — The Medical City; and
Patient 10 — St. Luke's Medical Center – Quezon City.
According to the DOH, Patient 7 is a foreign national with no residence in the Philippines, whereas Patient 8 is a resident of Pasig City. Meanwhile, Patient 9 is a foreign national residing in Marikina City, and Patient 10 is a resident of Quezon City.
Here is a table summarizing the latest COVID-19 cases, as shared by the DOH: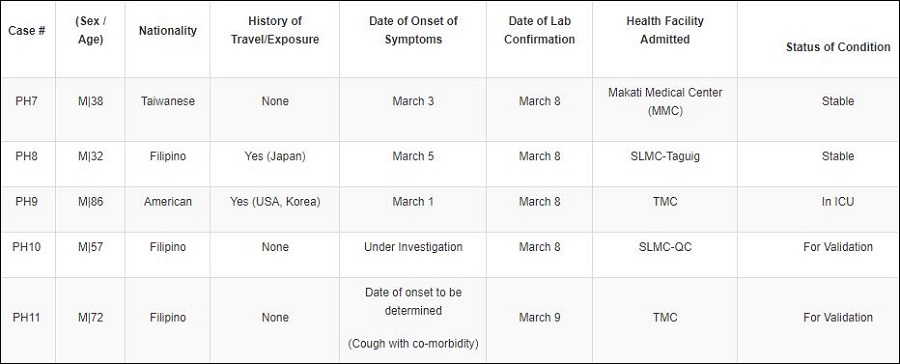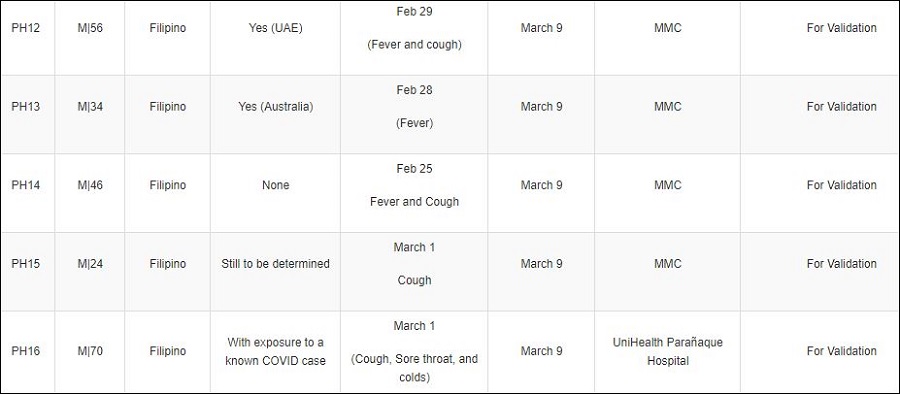 As of 12 noon on Monday, the EB has identified a total of 468 contacts for Patients 4 to 10. Of these, a total of 113 contacts have been assessed, with 107 placed under home quarantine, and 6 categorized as Patients Under Investigation (PUI). The six patients have been placed under isolation in different health facilities.
Update as of March 9, 2020 – 4 Additional Cases which Total to 24 Cases in Philippines
(UPDATE) – Philippines President Rodrigo Duterte on Monday announced that there are four more new cases of (COVID-19) in the Philippines, which brings the total number to 24. The new cases are from San Juan City, Quezon City, and Bulacan.
This announcement was made following his meeting with members of an inter-agency task force on COVID-19.
Please wait as this is a breaking story and details are not yet announced.
Advise from the DOH
In light of these recent events, the DOH urges all people who will be contacted by the surveillance teams to cooperate fully as part of contact tracing and investigation.
In particular, those who have: (a) travel history to areas with local transmission; (b) been exposed to a COVID-19 patient; and/or (c) mild symptoms like headache, dry cough, sore throat, fever, and fatigue — are advised to self-quarantine at home for 14 days.
Meanwhile, those who have severe and critical symptoms need to be admitted to health facilities immediately. They are also advised to contact the DOH by calling the designated hotline, (02) 8-651-7800 loc. 1149-1150 for appropriate action and referral.
"In light of the new confirmed cases, we reiterate that the best way to prevent getting infected is to practice personal preventive measures such as proper hand hygiene, social distancing, and cough etiquette," Secretary Duque stated.
"As much as possible let us also refrain from visiting public places and/or attending mass gatherings," he added. "We should continue to be vigilant, and I call on everyone to cooperate with DOH for us to hurdle through this crisis together."
As we continue to follow the latest COVID-19 cases in the country, let us also stay tuned for important updates, such as school suspensions and other announcements. Additionally, let us learn more about COVID-19 by reading these 10 myths and facts about the novel coronavirus.