More than 200 overseas Filipino workers (OFWs) took part in the training workshop on digital literacy held in Singapore last August 4.
The training workshop was organized by Facebook in partnership with the Philippine Embassy, Philippine Overseas Labor Office (POLO), and the Overseas Workers Welfare Administration (OWWA). Rahimah Abdulrahim, Facebook Director of Public Policy-Southeast Asia, said, Filipinos working in the host country will not only develop their digital skills but also to become better informed digital citizens.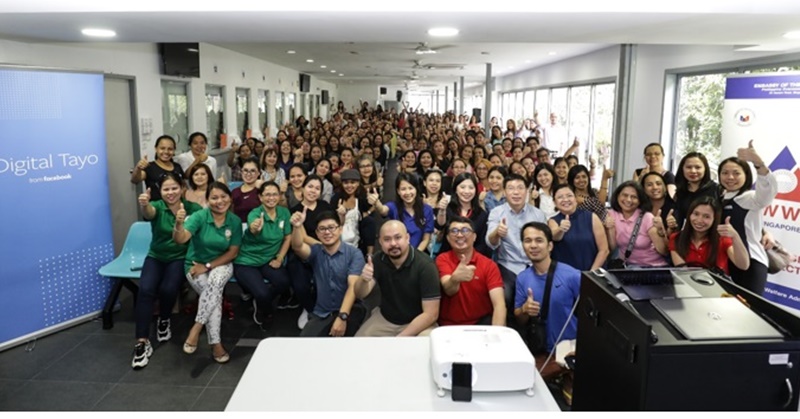 Over 200 OFWs Join Digital Literacy Training in Singapore
In a statement, Abdulrahim said, "OFWs are among the most engaged and active communities online. Together with OWWA and our partners, we want to help OFWs develop digital skills, including the ability to think critically about what they see online, so they can become better informed digital citizens and continue to have a positive and authentic experience online," as shared in a report by the PNA.
The learning modules offered in the workshop cover topics such as:
Safeguarding online privacy, safety, and security;
How to engage in respectful digital discourse; and
Being aware and responsible of digital footprint.
The event was part of Digital Tayo, a digital literacy and citizenship program that aims to reach a million Filipinos by the end of 2020.
Commenting on the event, Philippine Ambassador to Singapore Joseph Del Mar Yap said, "We are glad to be working with Facebook in empowering OFWs with knowledge and tools to help them connect with their families back home, and contribute to their communities."
"Digital literacy is an invaluable asset to our modern-day Filipino heroes. We look forward to supporting OFW organizations who will be conducting these pieces of training in the coming months in Singapore," Yap added.
The training modules under the Digital Tayo program will be incorporated into partner OFW organizations' regular training and community events in Singapore.
Those who are interested to join the training may contact the Philippine Embassy and the POLO or partner OFW organizations including the Filipino Overseas Workers in Singapore (FOWS), Pinoy Worldwide Initiative for Investment Savings and Entrepreneurship (Pinoy WISE), Financially Literate Philippines (FLPH), Center for Domestic Employees (CDE), Filipino Community (FilCom), Leadership and Social Entrepreneurship (LSE), and Aidha.
Meanwhile, those who wish to take an interactive digital literacy course can visit www.digitaltayo.fb.com or find out more about Facebook's partnership with OWWA.
Last year, there were more than 140,000 departing OFWs who have already participated in digital literacy workshops in Manila.
Of note, the organizers are looking to bring these workshops to other OFWs employed in the Middle East and Hong Kong later this year, as well.