Majority of overseas Filipino workers (OFWs), if not all, would choose to stay in their host countries even if they no longer have jobs to live on or in the event of tight political situations, at least if they could have it their way. While this sounds heartbreaking for the most part, the reality of it is that they're more scared to lose their source of income and the ability to better provide for their families, which is what coming back to the Philippines means for them.
ALSO READ: How OFWs Can Enrol in TESDA's Free Online Training Program
However, the government, too, understands the plight of our kababayans, and while it is indeed a bittersweet homecoming of sorts for most OFWs, there is now something more to look forward to other than just simply being reunited with families through the efforts of various departments concerned for the welfare of returning OFWs.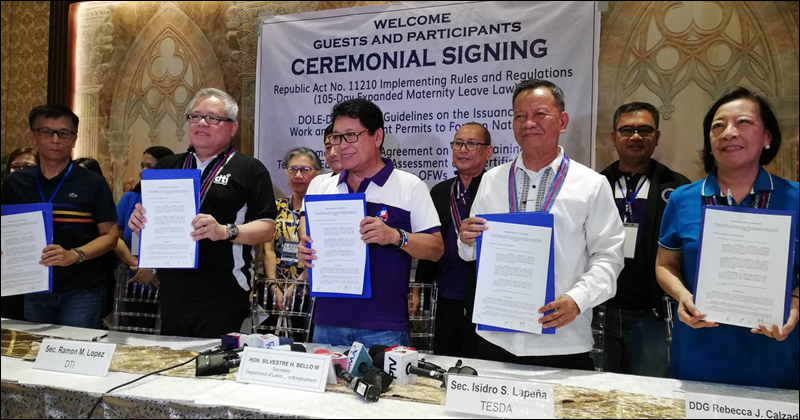 OWWA, TESDA Seek to Provide Skills Training for Returning OFWs
In line with this, the Overseas Workers Welfare Administration (OWWA) will tie up with the Technical Education and Skills Development Authority (TESDA) in providing skills training and technological education for returning Overseas Filipino Workers (OFWs), as shared in a report by the Philippine Star.
The partnership was confirmed under a memorandum of agreement (MoA) signed between OWWA and TESDA to work together in a partnership venture aimed at strengthening TESDA's purposive intervention for returning OFWs, as well as to explore the development of a joint programme on technical education and skills training, and the assessment and certification for returning overseas Filipinos through the Comprehensive OFW Reintegration Program Framework.
As per the memorandum of agreement, the primary purpose of the initiative is to formalize the partnership between the involved parties concerned with the design, provision, and implementation of skills training, technical education, and assessment and certification for returning OFWs.
The programmes provided under the OWWA-TESDA MoA will cater to OFWs as well as their families.
Also, the On-site Assessment Programme (OAP) and skills training, which both OWWA and TESDA will deliver to where OFWs are deployed, especially in countries with high numbers of distressed OFWs, will also be considered.
Furthermore, OWWA and TESDA will also handle the evaluation mechanism to be used to determine the effectivity of government measures to be carried out under the said agreement.
ALSO READ: [WATCH:] Application for TESDA's Tech-Voc Courses for OFWs Now Made Easy