The Filipino artistry and craftsmanship are second to none, even on the international stage. With our kababayans' intricate life skills and experiences, the quality of work that we produce can be said to be among the best in the world.
ALSO READ: Former Pedicab Driver, Balut Vendor Makes it Big in Ireland
And whenever the opportunity arises, we know that Filipinos are not the type to back down from a good challenge. It is for this reason that no matter what background we come from, Filipinos possess the grit and determination to outperform their best and provide quality work in everything they do.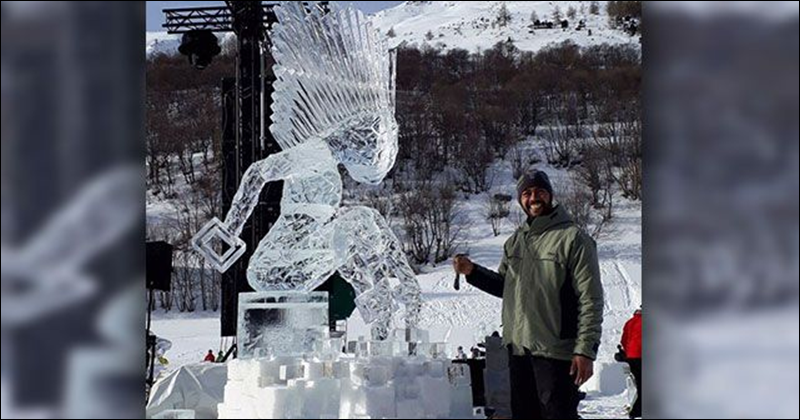 Pinoy Ice Sculptor Recognized in France as "King of Ice Carving"
Such is the case of a 46-year old Filipino artist who was hailed "King of Ice Carving" in France for his exceptional work of art featured at the 28th Valloire International Ice Sculpture Competition held in the southeastern city of Valloire Savoie back in January, as shared in a report by Yahoo! News Philippines.
The distinguished Filipino ice sculptor, Rogel Cabisidan, bested a total of 19 international sculptors with his winning piece called "Sitting," which features an abstract structure of a woman with an elaborate headdress sitting on a pile of ice blocks.
Referring to his winning piece, Cabisidan explained that his work caught the attention of the judges because the final product showed ice that was transparent and very solid, as there were visibly no cracks in any of its parts.
Cabisidan explained that the secret to his intricate work was because the temperature was ideal for this kind of complex art, noting that it was about -12 and -8 degrees, so they were able to maintain the quality of ice.
Cabisidan fondly recalled how they stayed out until 1 o' clock in the morning when the ice was sturdiest and on its best form to work on. "You can attach a piece on it and the figure wouldn't break because of the freezing temperature," he explained.
For three days from January 15 to 18, ice sculptors from all over the world, which include France, Russia, Denmark, and Mexico, among others, endured the cold temperature to design and feature their incredible art pieces to vie for the most coveted craft title "King of Ice Carving."
Cabisidan, who hailed from Paete, Laguna has been living in France for eight years already, working as a chef in a cruise restaurant in Lyon.
He also shared that he started to develop an interest in sculpting at an early age, and has worked with various types of materials including wood, vegetables, fruits, cheese, butter, and chocolates. He later on developed an interest for ice sculpting when he moved to France, and dedicates his achievement to the Philippines and his countrymen.
ALSO READ: "OFW the Movie" Hits the Cinemas this June