Migrant Filipino workers have been regarded as modern-day heroes since the start of the century, when more and more Filipinos started moving out of the country to work. The martyr-like display of love manifested by their intense desire to improve the lifestyle of the entire family despite the lonely nights in a foreign land is nothing if not admirable.
Many people may argue about them being heroic but no one can deny that the aspirations for a better life is what sends these Filipinos out. Along with it comes a number of positive change for the rest of the country.
One such negative comment about OFWs posted on social media prompted a Twitter user to react and another one to rush to the defense of OFWs in general.
Ang tindi ng tama ng pinagbabawal na gamot sa taong ito. No more hope for this one. Ulalong ulalo na.😡😡 pic.twitter.com/mLb4OZXwQL

— twilight (@rene_twilight) October 20, 2019
The original post which was made by someone on Facebook registered as Geoof Blanco reads, "OFW mga hero daw?? Pano naging hero yan mga yan e para lag sa sarili nila sahod nila samantalang kami para sa bayan silbi namin.." 
The post, which many found offensive, also tagged the migrant workers as "patay-gutom" which invited more support for the migrant workers.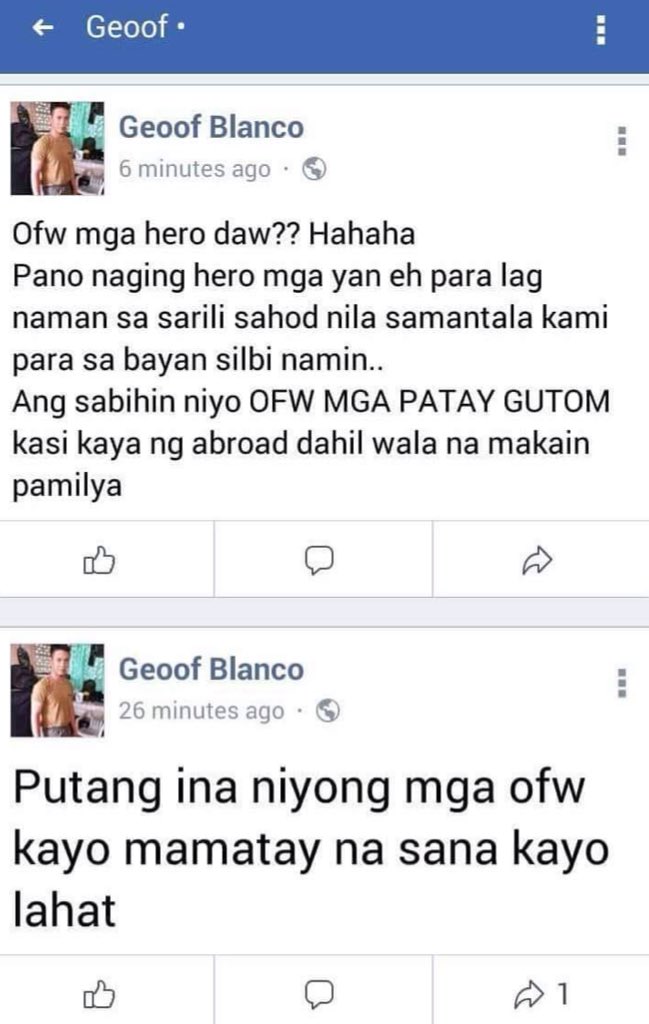 Another Twitter user,an OFW himself who is based in Thailand and uses the handle @eMCee_sadt went on and listed what he believes to be the reason for the migrant workers' 'hero' title.
As af as I can remember during my college days… A thread!
1. OFWs are modern day heroes because they contribute to the country's GDP by about 10% through money remittances. https://t.co/mqTPKUnaDw
— 😇 eMmmmm 🤓 (@eMCee_sadt) October 21, 2019
2. GDP- growth domestic product. Gross Domestic Product (GDP) is the total monetary or market value of all the finished goods and services produced within a country's borders in a specific time period.
(Investopedia)
— 😇 eMmmmm 🤓 (@eMCee_sadt) October 21, 2019
3. OFW remittances contribute to our GDP as an investment. The law of Supply and Demand of money currencies will be at play.
— 😇 eMmmmm 🤓 (@eMCee_sadt) October 21, 2019
4. OFWs are critical assets of the country. Why? We don't export much like we used to, we don't have the latest technologies, we don't have much gold reserves, we don't have the most patriotic citizens.
But we are the human resources powerhouse of the world.
— 😇 eMmmmm 🤓 (@eMCee_sadt) October 21, 2019
5. We supply human resources around the world. Kahit libutin nyo pa ang earth, may pinoy na babati sa iyo.
— 😇 eMmmmm 🤓 (@eMCee_sadt) October 21, 2019
6. We are known and well respected around the world because OFWs perform well compared to other countries. We get the job done. We have patience and sense of professionalism. We are honest and respectful.
— 😇 eMmmmm 🤓 (@eMCee_sadt) October 21, 2019
7. Other countries have technological superiorities, bountiful natural resources and precious metals but without human resources, these things cannot be utilized.
— 😇 eMmmmm 🤓 (@eMCee_sadt) October 21, 2019
8. Di kasalan ng OFWs kung kulang ang trabaho sa Pinas, mababa ang pasahod vs cost of living, too much red tape and palakasan. Di masama ang maghangad ng mas makakabuti para sa pamilya at sarili.
— 😇 eMmmmm 🤓 (@eMCee_sadt) October 21, 2019
9. Di kami maghihintay na mamatay kami sa gutom o ubusin ang panahon kaka reklamo pero wala namang ginagawa para sa bayan.
— 😇 eMmmmm 🤓 (@eMCee_sadt) October 21, 2019
No reply was posted but if only for these reasons, OFWs deserve respect. Nobody has to sing their praises but the least that we all can do for these modern-day heroes is to acknowledge the hardship – be it physical, mental, social, or  emotional – that they had to go through as they live without their families in a foreign land.