Many Filipinos go abroad and strive to be successful. They are determined to find a job and work for a living. However, due the crisis, many Filipinos globally are left with no work and no pay. During these uncertain times, a Filipina stepped up and used her time to help those in need by handing out hands out free meals to her fellow expats in the UAE.
Also Read: Video: No Work No Pay Filipinos in Riyadh Rummage Trash for Food
A Filipina housewife situated in Dubai helps OFWs by cooking meals. She expressed that this is a simple act of kindness that may help us overcome the pandemic crisis we're in. She wanted to inspire people by providing this gesture.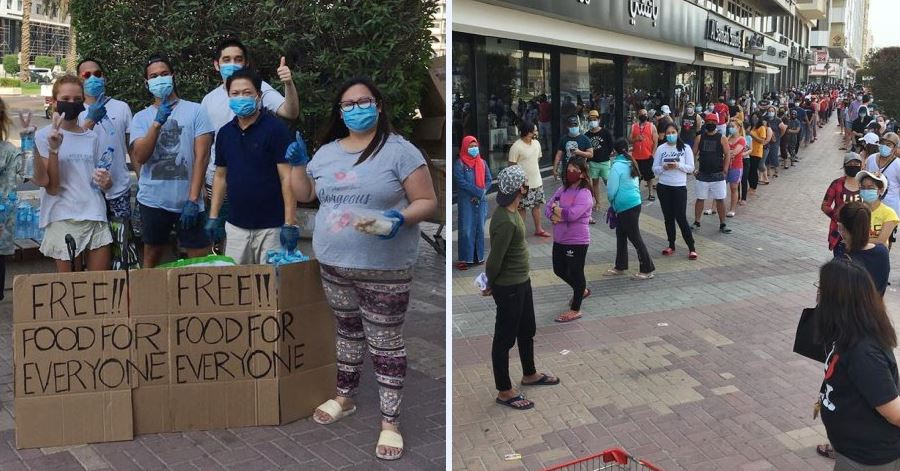 A Filipina Expat Shares Her Blessings in Times of Challenges
Most Filipinos are known for their hospitality and generosity. This Pinay living in Dubai has displayed these kinds of attributes by giving out home-cooked meals. Her goodness has spread out to everyone- not only in Dubai but to netizens too.
A video was posted on a social media website showing a Filipina housewife handing out free food to the people in her community. The kind-hearted 34-year-old mother, Feby Cacher Baguisa-Dela Peña helped many people in a day with her efforts in helping humanity.
As per Feby, she initiated this good deed to help those who needed to feast during the Eid Holidays. And she thought that the pandemic situation is going to be the same, people will need to eat.
Feby recalled during Ramadan that Filipinos were lining up for a free meal. She added "People belonging to various non-profit organizations would drop off food packets for the needy in Deira's Al Muraqqabat street. My heart broke watching my fellow countrymen and women lining up in a queue for a free meal." After witnessing this kind of struggle, she decided to make food for them.
With only her allowance, she started to cook free meals at the start of Eid. And with her generosity spread out, more people have come to ask for a hearty meal. After her husband knew that she had used up the family allowance, he supported Feby with her goodwill. And she was very happy to have that kind of encouragement.