Two OFWs in Riyadh, Saudi Arabia have gone viral after a former colleague had posted a video on a social media website. Based on the video, these Filipinos were seen picking up rotten fruits and vegetables for their consumption.
Also Read: 250,000 Jobless OFWs Expected to Return Home in the Coming Weeks
One of the hardships an Overseas Filipino Worker encounters is not being able to get enough salary to feed for themselves. With the current crisis we're in, it's even more difficult. In the video, we'll see our fellow OFWs who were abandoned by their respective company.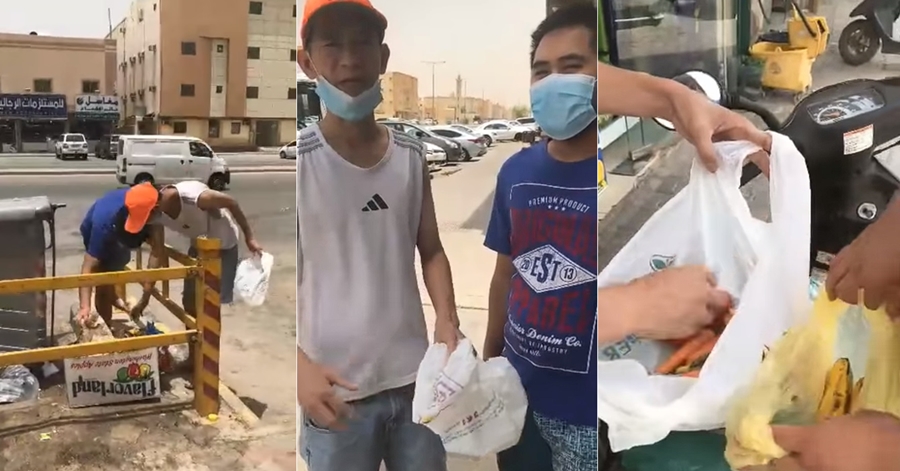 Filipinos with no Salary End up Picking Up Rejected Food in Dumpsters
In the video post by Cristop Gomez on Facebook, he expressed his sympathy and asked for help if someone can lend a hand to these two OFWs. He said that the company had only given them one-time relief goods.
He said that the company from where they worked had only given them a one-time relief good after the lockdown due to the virus. The post became viral and many netizens shared the post and had become viral. The video post reached more than 60,000 shares and was notified to the right people so that they can get help.
According to the person who took the video, He said that there are former colleagues from the company that has been forgotten and was not given any assistance. He felt sorry for these two jobless OFWs, and he suggested to make sure that they pick up food away from the garbage, and might have something just recently thrown out to avoid any stomach pains or food poison.
The person who recorded the video recommended to speak up and ask for help. The OFW in white said, "Ever since the lockdown last March 16, we were not given half of our salary… then in the month of April, we were given assistance from POLO and was not given ever since." The other OFW said, "It has been two months that we're not given an allowance and were just given promises, even our salary was not given." They have shown their suffering and are seeking any form of help.
At around 5:15 from the video, they visited a store with fruits and vegetables. And luckily, they were given enough food for the day. The OFW said, "We were given enough food… and the store owner already knew them." They have been visiting the company several times and have been just passed and ignored. They expressed their disappointment with the company's failure especially in these times of crisis.
Help from Kind-Hearted Souls
UPDATE as of June 12, 2020 – The original post of Cristop Gomez had many people extend their support and sent grocery and food items to his sibling. Cristop shared an update about the situation and thanks all those who have donated food and items for these people. We hope that the companies sponsoring these employees will provide some form of allowance since they are the ones responsible for them.
"Since I posted the video of my sibling and until now I thank you to all those who are helping and still giving help until now thank you very much always take care, God will take care Those like you with good hearts, thank you very much to all of you"