An overseas Filipino worker (OFW) who tested negative for COVID-19 before leaving the Philippines later on tested positive for the virus upon arrival in Hong Kong.
READ ALSO: COVID-19 Testing for OFWs to Remain Free
The Filipina had a certification from a hospital in the Philippines that she tested negative for COVID-19.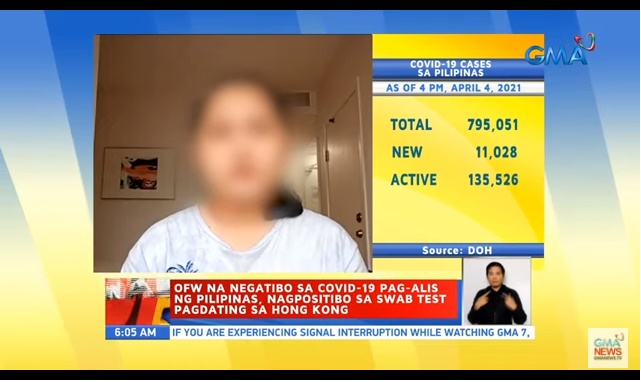 Pinay Leaves PH Negative for COVID-19, Tests Positive Upon Arrival in Hong Kong
However, her swab test in Hong Kong upon her arrival on March 13 revealed that she had contracted the virus, GMA News Online reported.
From the airport, the OFW was brought to a hospital in an ambulance. She then experienced fever and vomiting. Seven days later, her employer brought her to a hotel where she completed the quarantine period.
Her employer assumed all of the expenses. However, it was not determined where the OFW got infected.
According to a report by research group OCTA, the Philippines is at risk of recording a million confirmed COVID-19 cases before the month of April ends.
The group, on Monday, added that while it observed some slack off in new infections in few cities in Metro Manila, there were also "rapid increases" in other cities.
Meanwhile, the foreign affairs department on Sunday reported one new case of the COVID-19 among Filipinos overseas, raising the total tally to 16,406.
Here is the video clip from GMA News Online / YouTube:
READ NEXT: DOLE: Employers of OFWs should pay for testing once they return to work