Life has taken a more comfortable turn for Butch Warren M. Hojas, 32, one of the topnotchers in the October 2022 certified public accountant (CPA) licensure exam. He has come a long way from the life he knew as a child.
Butch spent many years working as a construction worker before pursuing his college education. It took him approximately 11 years to resume his studies and make the decision to attend college.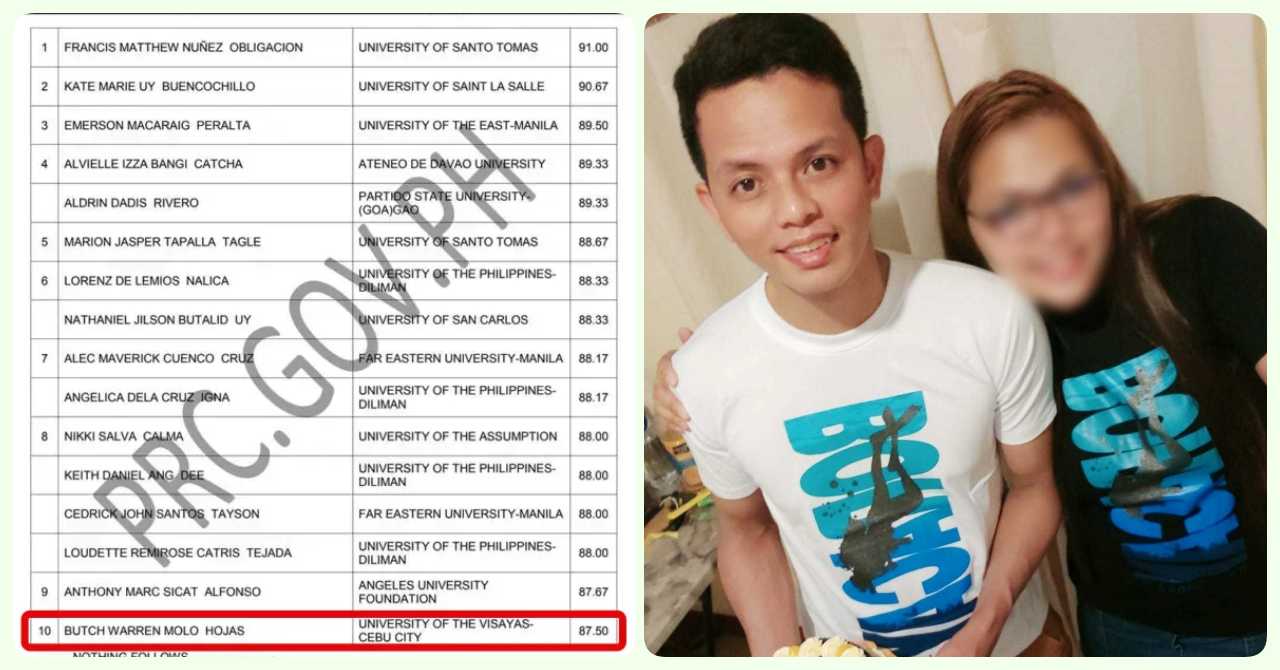 There's No Timeline for Success: Ex-Construction Worker turned CPA Top-notcher Shares Story of Hope and Perseverance
Just two months after graduating, he immediately took the board exam. He not only passed but also landed in the top 10, achieving an impressive average of 87.50, as shared in a report by PEP.ph.
"I have a pretty much stable job now, but I am still in the discovery stage of my professional career," Hojas shared.
"I haven't quite decided yet on what I really want to do as a CPA. Looking back, I can definitely say that there is a drastic change in my life. As a CPA, it feels like I can do anything I want. The moment I passed the board, it felt like the future looked brighter more than ever."
Butch emphasized that it doesn't matter to him that he is now known as a former construction worker who became a topnotcher.
"All I did was to redeem myself for all the wrong decisions I've made in the past, try not to fail again, and to make everyone who helped and believed in me proud," he revealed.
What wrong decision is he referring to?
"I just neglected my education," he replied.
Early Hardships
Butch lost his mother when he was only in Grade 5, leaving him and his siblings orphaned. "My mother passed away when I was in Grade 5. And my father never had a stable job, even when we were young," Butch shared.
Nevertheless, his father made an effort to provide for them through his various side hustles. Even Butch chose to work instead of continuing his education after high school. "After high school, I stopped. I went into construction…"
Following that, he became an overseas Filipino worker (OFW) and worked as an industrial painter in Abu Dhabi, United Arab Emirates, for four years. However, Butch felt that something was missing in his life.
"Even though I was earning quite enough money abroad, I was still not satisfied. I felt the emptiness there and was never happy. I thought that life there was not for me. So, I decided to finish college, hoping that life would be better."
He returned to the Philippines in 2018, 11 years after completing high school, and made the decision to pursue a college education. He used his savings from being an OFW to fund his own education.
Unfortunately, the pandemic hit, depleting Butch's savings. He faced tremendous difficulties during his final year in college. "I thought I would have to stop because my wife got pregnant," he added.
Butch resorted to taking out loans to continue his studies.
Finally Achieving Success
He completed his Accountancy degree at the University of the Visayas in Cebu City on August 25, 2022, and took the board exam in October 2022.
The results were announced, and Butch emerged as a topnotcher.
In addition to being employed, Butch has also paid off his debts. "By the grace of God, everything is paid off," he said.
Butch is proud to say that his three siblings have also graduated from college.
If there's one thing Butch wants to share through his story, it is that success has its own timeline. He believes,
"Maybe they can learn that success is not a race nor a competition, that whoever gets there first wins."
"I was already 32 when I became a CPA, but that does not in any way negate or lessen the impact of that success. When you have a dream, make sure to do everything you can to achieve it, no matter how hard it is to get there."
"After all, it won't be fulfilling anyway if it is too easy to make it."
Video: 22nd SOASP Champion – Butch Warren Hojas
Get to know more about Butch Warren Hojas, the champion of the 22nd Search for the Outstanding Accounting Students of the Philippines (SOASP), in this inspiring video.
Butch shares his perspective on failures, emphasizing their role as necessary stepping stones to success. He also highlights the importance of having a strong faith in God and the power of hard work in achieving our dreams.
Join us as we delve into Butch's remarkable journey and discover the lessons he has learned along the way. Prepare to be inspired and motivated by his story of resilience and determination.
—
Indeed, it had been a colorful ride for Butch and his family.
But despite the early struggles and obstacles while he was studying, his eagerness and commitment to his goal [finishing his studies], serve as an inspirational story from which the younger generations can learn a thing or two.
And while he had already experienced earning money on his own even as an OFW, this was not enough to derail him from reaching for his dreams.
From your fellow OFWs, congratulations and we are very happy with your achievements! Continue to inspire more people as you chase after your dreams for yourself and your family!
What do you think about this story? Do you know someone who has gone through a similar journey but has now achieved their goals, and are experiencing success at their own pace and on their own terms? If so, feel free to share their story or comment below what you think!
READ NEXT: Daughter of OFW and PWU Alumna Tops Nursing Board Exams