As we carefully watch the number of coronavirus infections continue to rise every day, the odds continue to grow against the entire Filipino community because aside from physical and mental health, economic challenges also pose a different set of problems that could impact society in several ways and varying degrees.
However, did you know that there are different benefits offered by the government to help Filipinos cope during this time?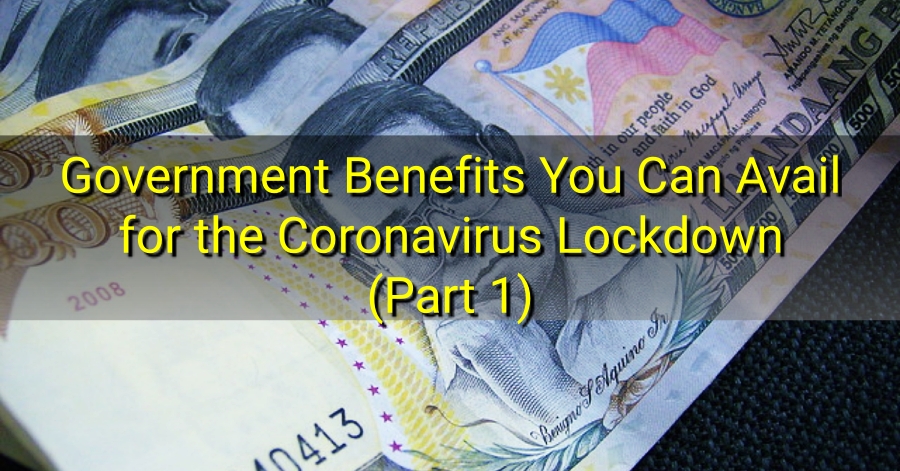 Government Benefits You Can Avail due to Coronavirus Lockdown
In this post, we have compiled various resources and guides that would be of great help to Filipinos cope and adjust to the challenges posed by the developing coronavirus situation in the country.
Free Medical Consultation
During the quarantine period, where everyone is expected to stay at home, the option to go out is only limited to getting supplies such as food, medication, and other essential needs.
 But what if you feel that you or someone in the family needs to be checked because you/they may be showing symptoms associated with the coronavirus?  
Through the initiative of the Department of Health (DOH), dedicated COVID-19 emergency hotlines have been set up to ask about your condition: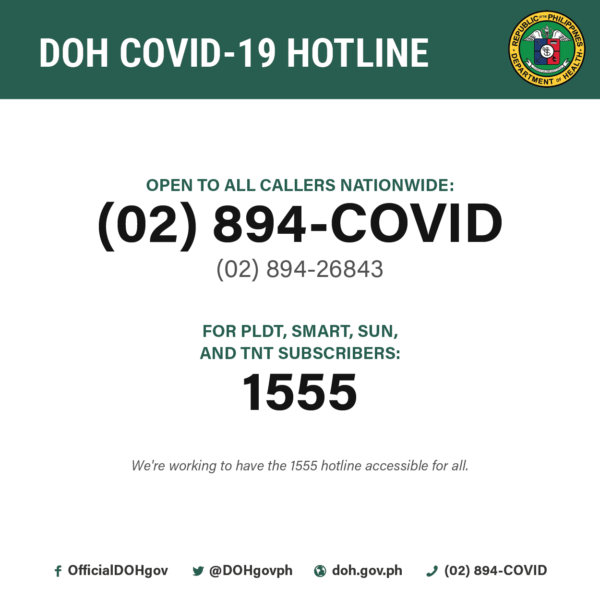 DOH COVID-19 Hotline (894-COVID):

 (02) 8 942-6843

For PLDT, Smart, Sun, and TNT subscribers:

 1555
This free service is available 24/7 for those who suspect they might be infected with COVID-19. Also, through this hotline, the DOH accommodates requests from those with symptoms and/or known exposure to positive cases and/or patients under investigation (PUIs).
Requests are then forwarded to the COVID-19 Emergency Operations Center and other relevant agencies, which will provide an immediate response.
ALSO READ: Network of 700 Doctors to Offer Free COVID-19 Consultation Online 
PhilHealth Coverage for COVID-19 Patients
Did you know that PhilHealth members do not have to pay for COVID-19 testing and hospitalization due to the coronavirus disease, as these are covered by your PhilHealth membership? This is one of the COVID-19 government assistance launched during the lockdown.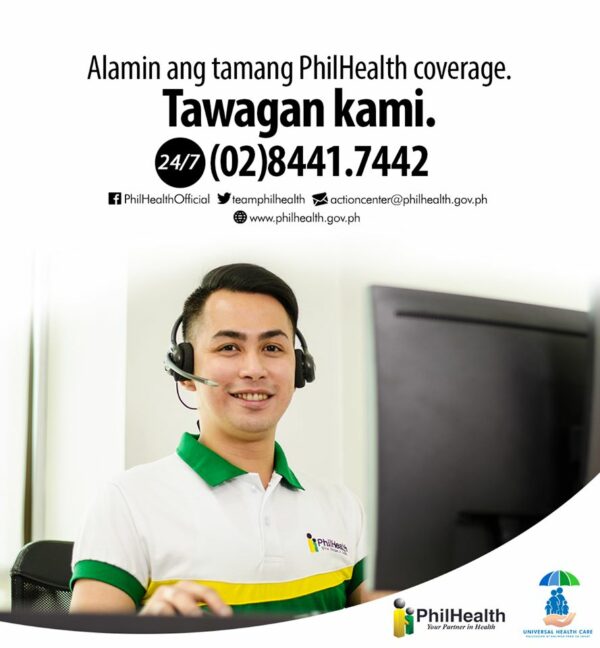 Meanwhile, non-members can also make a claim for PhilHealth benefits by submitting an accomplished PhilHealth Membership Registration Form (PMRF) in addition to the requirements for COVID-19 claims. 
A lot of working individuals got temporarily/permanently sidelined after several companies were shut down due to the enhanced community quarantine. If you're one of them, there's good news for you because you are qualified to avail of the COVID-19 government assistance through the SSS unemployment benefit.
The unemployment insurance provides cash aid to covered employees, including OFWs and house helpers (kasambahay), who are involuntarily separated from their jobs for any of the following reasons:
Redundancy

Retrenchment

Business closure or cessation of operation

Installation of labor-saving devices

Illness
Through this program, the SSS will provide qualified members with a cash benefit worth half of their average monthly salary credit for up to two months.
According to the Department of Finance (DOF), the average unemployment benefit for qualified SSS members is around PHP 11,000, and the maximum amount is PHP 20,000.
ALSO READ: How to Claim the SSS Unemployment Benefits
Due to the lockdown imposed by the government, filing of applications is done differently under these circumstances. 
Instead of transacting directly with SSS personnel, members must submit the requirements using the no-contact dropbox system in any SSS branch from Mondays to Fridays, 9 a.m. to 2 p.m. Claims can be filed within one year from the job termination.
Moreover, the SSS is planning to shift to the online filing of claims starting in April.
Requirements:
Original and photocopy of the member's primary valid ID or two secondary IDs

Certification of involuntary separation from the Department of Labor and Employment (for local workers) or Philippine Overseas Labor Office (for OFWs)
Note: To obtain a DOLE or POLO certification, applicants must present a valid ID and a copy of the notice of termination issued by the employer. Otherwise, a notarized affidavit of termination of employment can be submitted.   
Where to Get DOLE Certification
Those who have been laid off in the Philippines can apply for the DOLE certification at the DOLE field or provincial office in the area where they live or where their former employer's office is located.
Meanwhile, OFWs can apply for the certification at the Philippine Overseas Labor Office in the area where their former employers operate or reside or the DOLE field or provincial office nearest their home in the Philippines.
DOLE CAMP: Cash Assistance for Local Workers
The labor department has also set up a program to provide lump-sum cash assistance of PHP 5,000 to workers affected by the COVID-19 pandemic through the DOLE's COVID Adjustment Measures Program (CAMP).
This program caters to those employed by private establishments (micro, small, or medium enterprises) that either adopted work-from-home arrangements or closed temporarily due to the Luzon-wide lockdown.
The DOLE CAMP covers those who are displaced from the onset of the coronavirus disease in January 2020 until the lifting of the enhanced community quarantine. 
This also applies to all qualified employees affected regardless of employment status—whether new hire, probationary, permanent, or contractual. This is one of the important features of this COVID-19 government assistance program.
This financial assistance is given only to workers with temporary income reduction or loss as a result of the lockdown. Employees still receiving their full salary and benefits, even if they're working from home, are exempted.
How to Apply: 
It is worth noting that affected companies are responsible for filing an application for cash aid for their employees. Below are the requirements to prepare:
Employers should submit an 

Establishment Report on COVID-19

  and company payroll for the month before implementing work-from-home policies or temporary closure.

Requirements can be submitted through email to the DOLE regional/provincial/field office in the employer's area.

Every application will undergo evaluation. Within 

three working days

, the DOLE office will issue to the employer either a notice of approval or denial through email.
Within two weeks after issuing the notice of approval, the financial aid will be credited to the beneficiaries' payroll accounts through bank transfer.
Watch out for the second part of our guide because there are still other programs provided by the government to assist workers (local/OFWs) during this lockdown period.