In an important announcement made by President Rodrigo Duterte on April 7, just few days before the supposed lifting of the quarantine period on April 12, the rest of the Philippines will be placed on an extended period of lockdown for another two weeks until April 30, as per the recommendation of the Inter-agency Task Force or the Management of Emerging Infectious Diseases (IATF-EID), as cases in the country has yet peaked thus still far from the ideal scenario which experts refer to as "flattening of the curve".
During this period, many Filipinos are wondering if the government can support every household's needs during this crisis.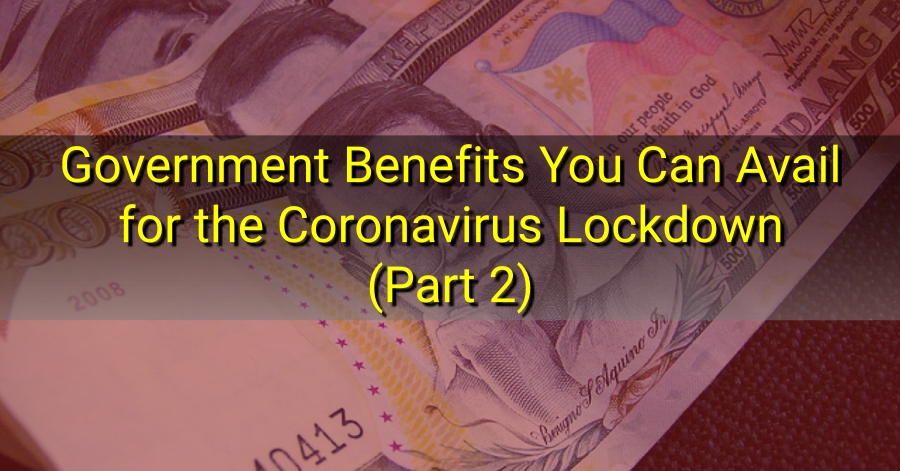 What Government Benefits Can I Avail due to Coronavirus Lockdown?
Although we leave that question up for discussion to experts, we do know, however, that the government has set up efforts and programs through various relevant social agencies to provide help in terms of financial assistance and the like to Filipinos who are greatly affected by this situation. Let's pick up from where we left off last time: 
Cash Aid and Repatriation for OFWs
Overseas Filipino Workers (OFWs) who have been laid off due to the pandemic shall also receive a $200-assistance (approx. PHP 10,000) from the government through the labor department.
Moreover, OFWs who are still abroad may make a repatriation request so that DOLE can arrange for their return to the Philippines.
How to Apply for OFW Cash Assistance:
To avail this benefit, OFWs must contact the POLO in their host country. Meanwhile, those who are currently in the Philippines must visit their nearest OWWA regional office.
OFWs simply need to submit a certificate of employment issued by their agencies, which will be used to evaluate if they're qualified for the cash assistance.
DOLE TUPAD Program
Meanwhile, the labor department has also provided alternative jobs to informal sector workers through the Tulong Pangkabuhayan sa Disadvantaged/Displaced Workers (TUPAD), the government's emergency employment program.
The program enables informal sector workers (jeepney/tricycle/taxi drivers, fruit and vegetable vendors) to work for the government for 10 days, performing tasks like disinfecting homes and roads. Beneficiaries will receive the daily minimum wage together with personal accident insurance, personal protective equipment (PPE), and cleaning kit.
To join the program, you can simply approach your barangay officials and let them know you're interested in joining the program. You will then be listed as part of the beneficiaries, which will be forwarded to the nearest DOLE regional or field office along with supporting documents.
DSWD Cash Aid for Low-Income Families
The government has also set up a PHP 200-billion aid package under the Bayanihan to Heal as One Act (Republic Act 11469) to provide aid to households belonging to vulnerable sectors affected by the enhanced community quarantine.
The social amelioration program will provide affected families cash and in-kind (food packs) worth PHP 5,000 to PHP 8,000 good for two months based on the regional minimum wage.
Those who qualify for the program include the following:
Senior citizens

Persons with disability (PWDs)

Pregnant women

Solo parents

Distressed and repatriated OFWs

Indigenous people

Homeless people

Farmers

Fisherfolk

Self-employed citizens

Informal settlers

Workers affected by the No Work, No Pay Policy (such as PUV drivers, kasambahay, construction workers, etc.)
Those who qualify in the said guidelines are to receive a DSWD-issued Social Amelioration Card (SAC) from your barangay. This card will be the government's basis in providing assistance and monitoring any duplication of delivery of aid. 
Beneficiaries may be required to present proof of status, such as senior citizen ID for senior citizens, PWD ID for PWDs, solo parent ID for single parents, or barangay certification for homeless people.
If you haven't received the SAC yet, please coordinate with your barangay officials and ask for assistance.
SSS Salary Loan
Despite the lockdown due to the coronavirus pandemic, the SSS still continues to accept and process salary loan applications from its members.
To apply for a salary loan from the SSS, you can visit your My.SSS account or by leaving your documents in any designated dropbox in SSS offices. Do note that the SSS does not accept over-the-counter loan applications in any of its offices to prevent the coronavirus spread.
SSS and GSIS Calamity Loans
During the lockdown period, SSS and GSIS members may also apply for calamity loans, which will be made available around the second week of April.
SSS members may apply for up to PHP 20,000, depending on their posted monthly contribution. Even better, those with an existing SSS salary loan can also avail of the calamity loan, as long as they've been making timely loan repayments.
Application for the SSS Calamity Loan can either be done online or through designated drop boxes in SSS branches.
The SSS shall release an official announcement regarding the availability and distribution of the calamity loan. 
Meanwhile, the GSIS will also provide an emergency or calamity loan of up to PHP 20,000 to government employees. Please keep posted for the official announcement from the GSIS regarding the calamity loan details.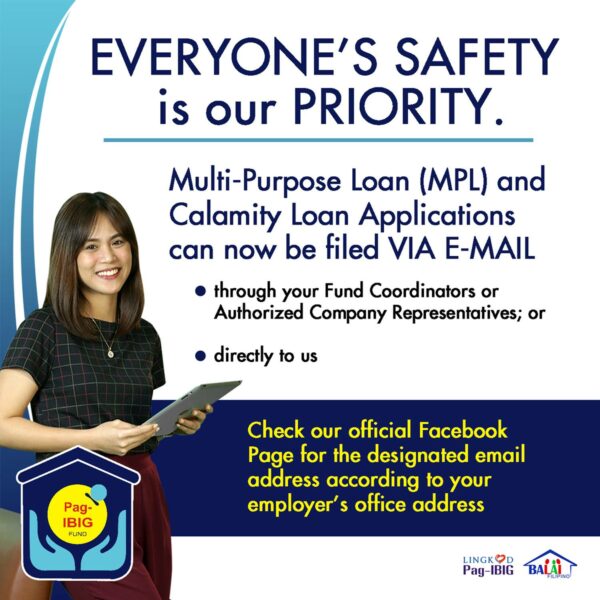 Pag-IBIG Multi-Purpose and Calamity Loans
For its part, the Pag-IBIG Fund has announced that they are still processing loan applications filed before and during the enhanced community quarantine.
Pag-IBIG members can borrow up to 80% of their total accumulated savings with the Fund through a salary or calamity loan.
Moreover, members with an existing Pag-IBIG multi-purpose loan (MPL) may still apply for another MPL if they've made at least six monthly repayments to the first MPL account.
Members can apply for a Pag-IBIG calamity loan (whether you have an existing MPL or not) if you live or work in an area placed under the enhanced community quarantine and have at least 24 posted monthly contributions.
During this period, Pag-IBIG calamity loan applications are filed via e-mail only:
Download an MPL or Calamity Loan Application Form from the Pag-IBIG Fund 

website

. 

Fill out and sign the form.

Email the PDF copy of the accomplished form to your company's HR. Your employer or HR will sign the Application Agreement form and send back the form to you via email.

Take a clear photo of your valid ID and Pag-IBIG Loyalty Card Plus or DBP/LANDBANK/UCPB cash card, whichever is available.

Email your loan application form and supporting documents (i.e. photo of your valid ID and cash card) through the corresponding Pag-IBIG Fund e-mail address to your company office's location according to this 

list

 (see pages 2 & 3) or you can request a company representative (your employer/HR manager to send the application on your behalf).
NOTE: Please be advised that the processing may take longer than usual (within seven to 20 working days) to process an MPL or calamity loan application because the Pag-IBIG Fund is currently operating with a reduced workforce during the lockdown.
Payment Deadline Extensions
SSS Contribution Remittance Deadline Extension
With the goal to assist members to cope with the ongoing lockdown and the effects it may have to one's livelihood, health and safety, the SSS has announced that it will be extending the due dates for contribution payments.
The new deadline will be on June 1, 2020, for self-employed, voluntary, and non-working spouse members (contributions for January-March 2020), as well as business employers and household employers (contributions for February-April 2020).
Also, qualified members with existing loans do not need to worry about making repayments for February to April 2020, as the SSS issued a moratorium on short-term loans. 
What this means for concerned members is that they are given the allowance to pay for their loan up to three months upon deadline without interest and penalties. This applies to all members with existing loans and covers the following:
Salary loan

Calamity loan

Emergency loan

Restructured loan under the Loan Restructuring Program (LRP)

Educational assistance loan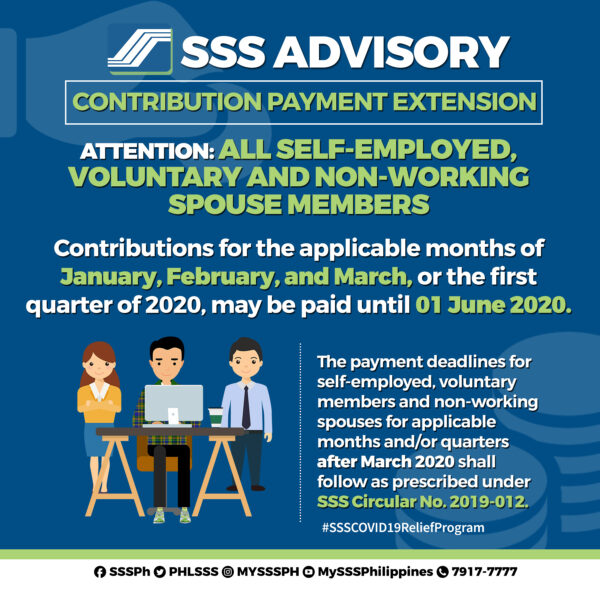 Pag-IBIG Loan Payments Moratorium
Similarly, the Pag-IBIG Fund will be offering a 3-month moratorium on all existing loans of its members.
This gives members a leeway of up to three months (starting from the last payment) to pay their loans without incurring penalties. Pag-IBIG will not charge you three months' worth of amortization in just one payment. Instead, you'll still be required to pay the same total amount due on your next payment.
This also means that your loan term will be extended to make up for the unpaid three months. 
The three-month moratorium is open to all members with existing Pag-IBIG multi-purpose loan, calamity loan, and/or housing loan due on March 16 to June 15, 2020. However, only those living in Metro Manila and the entire Luzon (where the enhanced community quarantine is taking place) can apply for the moratorium.
To apply for the moratorium, members can go to the Virtual Pag-IBIG facility until June 15, 2020. The online facility can be accessed by all members with or without a Virtual Pag-IBIG account.
Simply fill out and submit the Pag-IBIG Loan Moratorium Application Form online. Take note of the 12-digit reference number in the form. You will need this to check your application status.
Once your application has been approved, you will receive an SMS confirmation message or an email notification from the Pag-IBIG Fund to confirm the approval.
Meanwhile, those without access to the internet may apply for the moratorium at the nearest Pag-IBIG branch until June 15, 2020, once the community quarantine has been lifted.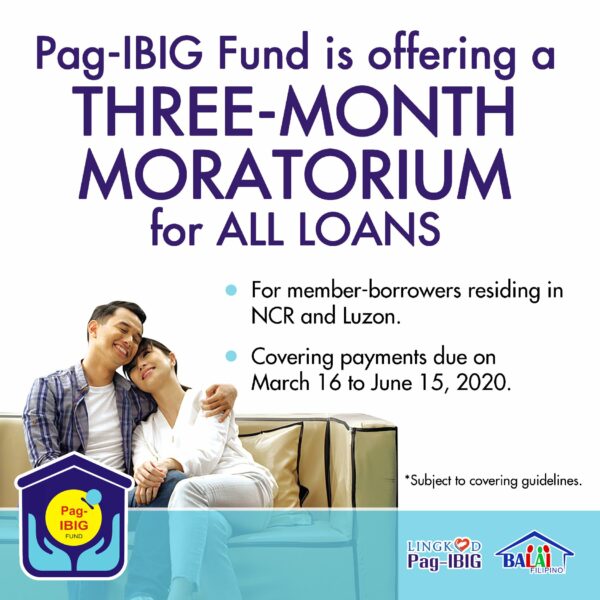 There you have it! We hope you can avail the necessary benefits that you qualify for. We are living in an extraordinary time, and it's important that we know where we can get all the help we need until everything goes back to normal. As always, stay safe and be ready to respond accordingly to every challenge that might arise from this situation. 
ALSO READ: Farmer Gives Away Vegetable Harvest to Neighbours in Need