In a previous post, we talked about OFW RISE, a free online business training program for returning OFWs. Today, we are going to discuss another program that can help repatriated OFWs and seafarers get back on their feet by exploring business opportunities here in the Philippines.
Also Read: List of OWWA Loan Programs for OFWs
This article presents the OFW HEROES program, which is an initiative of the Small Business Corporation, in coordination with the Department of Trade and Industry (DTI). Keep on reading to learn more about the program's requirements, benefits, and how you can apply for it!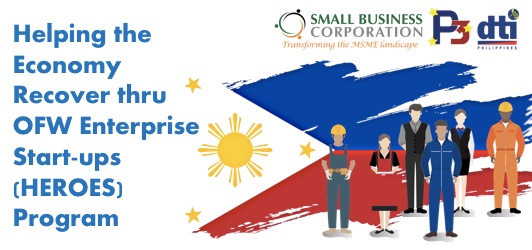 What is the OFW HEROES Program?
The acronym HEROES stands for "Helping the Economy Recover thru OFW Enterprise Start-ups." It is a component program of the Pondo sa Pagbabago at Pag-asenso (P3) fund, which is under the DTI. Basically, it is a loan facility for OFWs who have lost their jobs abroad and returned to the Philippines, as a result of the COVID-19 pandemic.
Launched in July 2020, the OFW HEROES program is carried out by the Small Business Corporation, a government financial institution that is in charge of implementing programs for micro, small, and medium enterprises (MSMEs). These programs include financial assistance, training, marketing, and related services.
What are the Benefits of OFW HEROES Program?
The main goal of the OFW HEROES program is to help our kababayans rebuild their livelihoods by providing the opportunity for them to become entrepreneurs. Applicants can expect to avail of business loans with no collateral, no interest, and a grace period of up to 12 months.
Through this program, an OFW returnee can borrow a minimum of PHP 10,000 up to a maximum of PHP 100,000 – without any interest or collateral. Nevertheless, a service fee of 6 percent will be charged to loans with a 24-month payment term, and 8 percent for those with a 36-month payment term. Both cases are inclusive of a 12-month grace period.
Qualifications to Join OFW HEROES
The program is open to repatriated and returning OFWs, land-based or sea-based, who are planning to start their own businesses in the Philippines.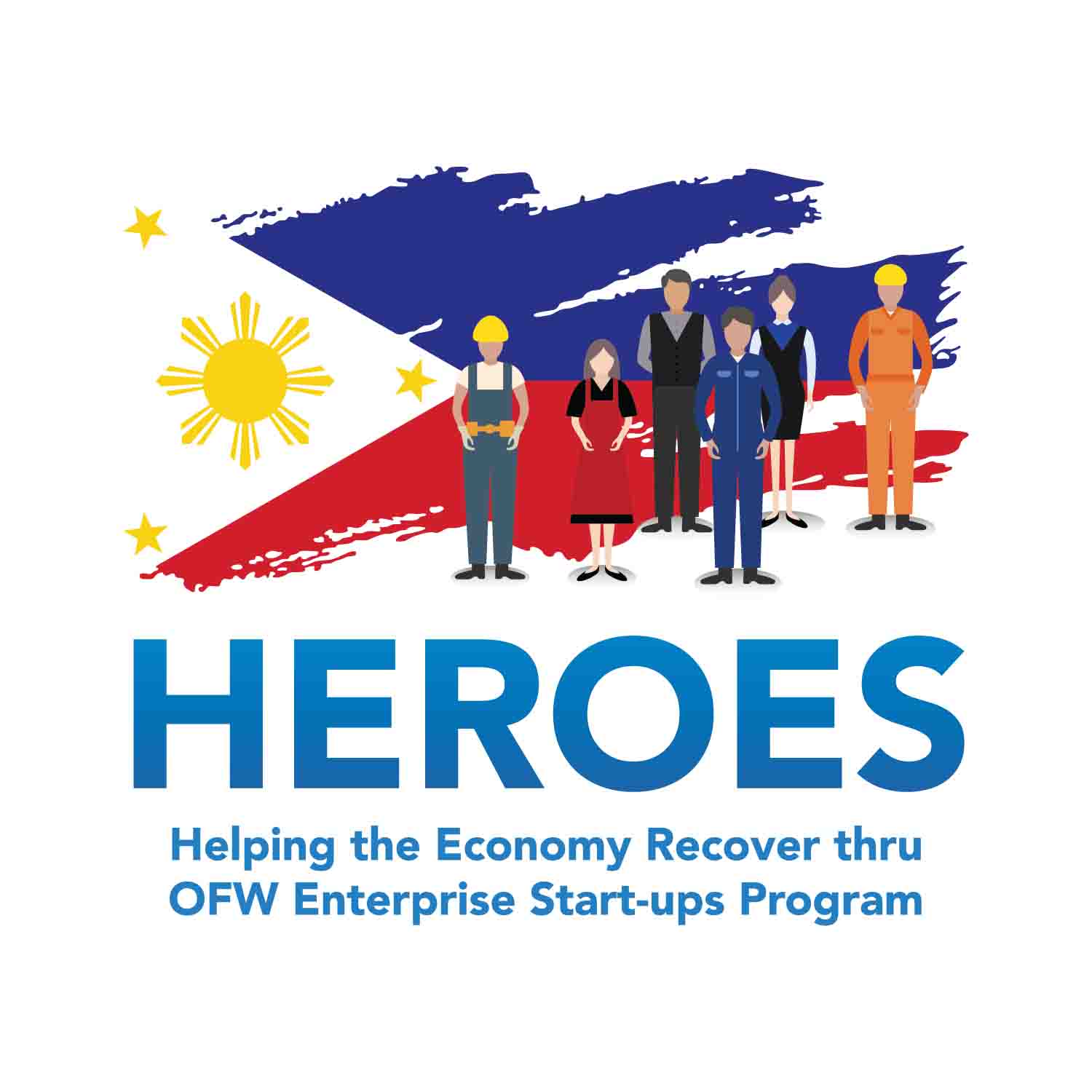 How Can I Apply for OFW HEROES?
Here is a step-by-step guide to applying for the OFW HEROES program:
Step 1. Training with PTTC
Complete a one-day training with the Philippine Trade and Training Center (PTTC), the training arm of DTI. This is free-of-charge and conducted online. You can pre-register for the training through this link: http://bit.ly/HEROESRegistrationForm.
Some of the details required for pre-registration are: the applicant's name, age, gender, address, mobile number, passport number, email address, educational attainment, occupation as an OFW, and date of return to the Philippines.
Step 2. Submission of Requirements
After completing the training, prepare the following requirements: (a) a scanned copy of your passport; (b) a video presentation; and (c) a Business Model Canvass. All of these are discussed in greater detail below.
During the PTTC training, you will be given specific guidelines and tips on making the video presentation. As part of your "business proposal," the video should contain key components about the nature of your business, as well as your product knowledge, management capability, financial understanding, market opportunity, competitive advantage, and business continuity.
As for the Business Model Canvass, this requirement applies specifically to those who are applying for loans amounting to PHP 50,000 and above.
Step 3. Loan Application
Go to this link: https://brs.sbgfc.org.ph/heroes, to proceed with your loan application.
As part of your application, the following requirements must be prepared: (a) one government-issued ID with photo; (b) Overseas Workers Welfare Administration (OWWA) certification or proof of being a repatriated OFW; (c) audio visual presentation (AVP) of business plan; (d) DTI registration; and (e) certificate of completion of online training session for start-ups conducted by PTTC.
Step 4. Submit Additional Information
If any additional information or requirements are required, Small Business Corporation will get in touch with you regarding your loan application.
As soon as your application is approved and you have received the loan, please keep in mind that the loan proceeds must be used as working capital to start and sustain business operations. The money may be used to acquire and/or create products, to purchase the necessary equipment, or to pay for initial costs such as rent, utilities, payroll, and fixed asset loans.
Latest Updates on OFW HEROES Program
Based on a Philstar.com report dated 4 April 2021, the Small Business Corporation has approved 205 loans amounting to PHP 11.8 million under the OFW HEROES program. This is equal to around 12 percent of the PHP 100 million that is allocated for the said program.
"We are not very happy with this update because if we base it on the registration of arrivals of overseas Filipinos from abroad, the numbers are high, by the thousands every day," explained Josefina Flores, Sector Head of Small Business Corporation.
According to Flores, because of the low number of applications, the Small Business Corporation will conduct focused group discussions (FGDs) with OFWs to determine how the program can be improved and made more responsive to OFWs' needs.
Flores also reiterated that the OFW HEROES program is the government's way of "paying back" OFWs for their contribution to the Philippine economy. "This is the government's way of assisting you, to help you adjust, hopefully, to the temporary change in lifestyle and source of livelihood," she shared.
Contact Information – Small Business Corporation
To learn more about the OFW HEROES program and how to apply, you can contact the Small Business Corporation through the details below. You can also visit the institution's official website and Facebook page.
Email: sbcorporation@sbgfc.org.ph / heroes@sbgfc.org.ph
Telephone: (632) 8 651-3333
Website: https://www.sbgfc.org.ph/
Facebook: https://www.facebook.com/BayanihanCARES/
VIDEO – OFW RISE vs. OFW HEROES
In case you're wondering, OFW RISE and OFW HEROES are not the same program, although they are both geared towards repatriated OFWs. To know the difference between the two, watch this video shared by OFW RISE's Facebook page:
If you are among the many OFWs who have lost their jobs due to the pandemic, don't worry because you can explore new opportunities like OFW HEROES. Aside from this program, here is a list of other OFW reintegration initiatives (link) launched by the Philippine government.