The overseas voting for the Philippine National Elections 2022 is going to happen between April 10 and May 9, 2022. Filipinos residing in Italy can vote promptly and safely by checking their identities against the list of certified overseas voters at their local Philippine Foreign Post.
Keeping this in mind, it is critical that registered overseas Filipino voters understand the protocols and circumstances for voting in their respective countries' future elections.
Also Read: How to Become an OFW and Work Abroad
Keep in mind, however, that this may vary from location to location, so make sure you follow the requirements. Before participating in the overseas voting procedure, overseas voters in Italy are asked to double-check their information on the website of their respective Philippine Foreign Post.
To start, you may utilize this guide to learn more about the step-by-step method for a smooth and trouble-free overseas voting experience from Italy.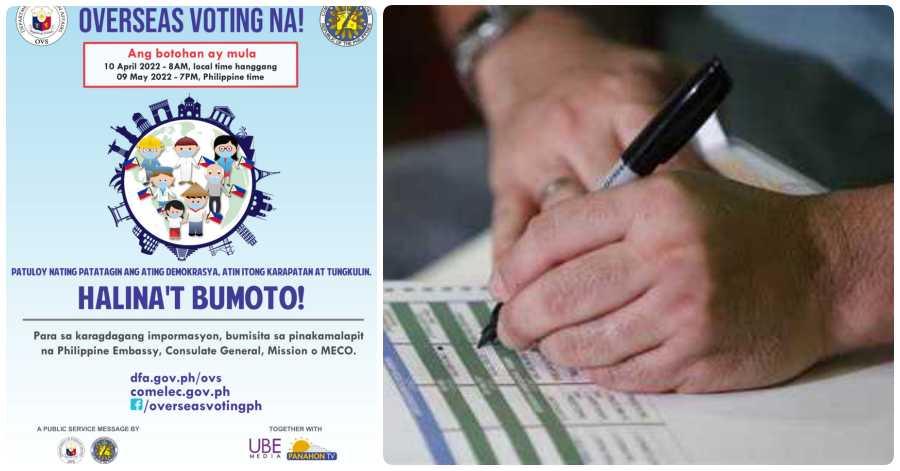 Voting Guidelines in Italy for the 2022 Philippine Elections
Filipinos in Italy who are registered to vote may now do so in a secure and simple manner. They must vote in person at the Philippine Embassy between April 10 and May 9 once their name has been validated on the country's list of certified overseas voters (CLOV).
Of course, no one likes waiting in line or having their plans disrupted on any given day. Nonetheless, this is an excellent time for overseas Filipino employees and residents of Italy to mark their calendars for the overseas voting session. Here's how to get started.
Step by Step Procedure of Voting as a Filipino in Italy
Step 1 – Check if your name is on the list of registered voters in Italy here.
Step 2 – Vote wisely.
At this point, you should know who to vote for, including the candidates' job history and political backgrounds, as well as their positions on subjects such as employment, health, foreign workers, and immigration, to name a few.
NOTICE:
In an advisory released by the Philippine Embassy in Rome, it said that it will implement the POSTAL VOTING SYSTEM. This is one way wherein voters may cast their ballots through mail, which will be distributed by post or can be personally claimed by the registered voter at the Embassy. Before you can personally claim the ballot packet, you will need to send an email requesting one at vote2022@romepcg.org on or before April 17, 2022, at 5:00 pm. Otherwise, the  Embassy will send the packets to all registered voters by post.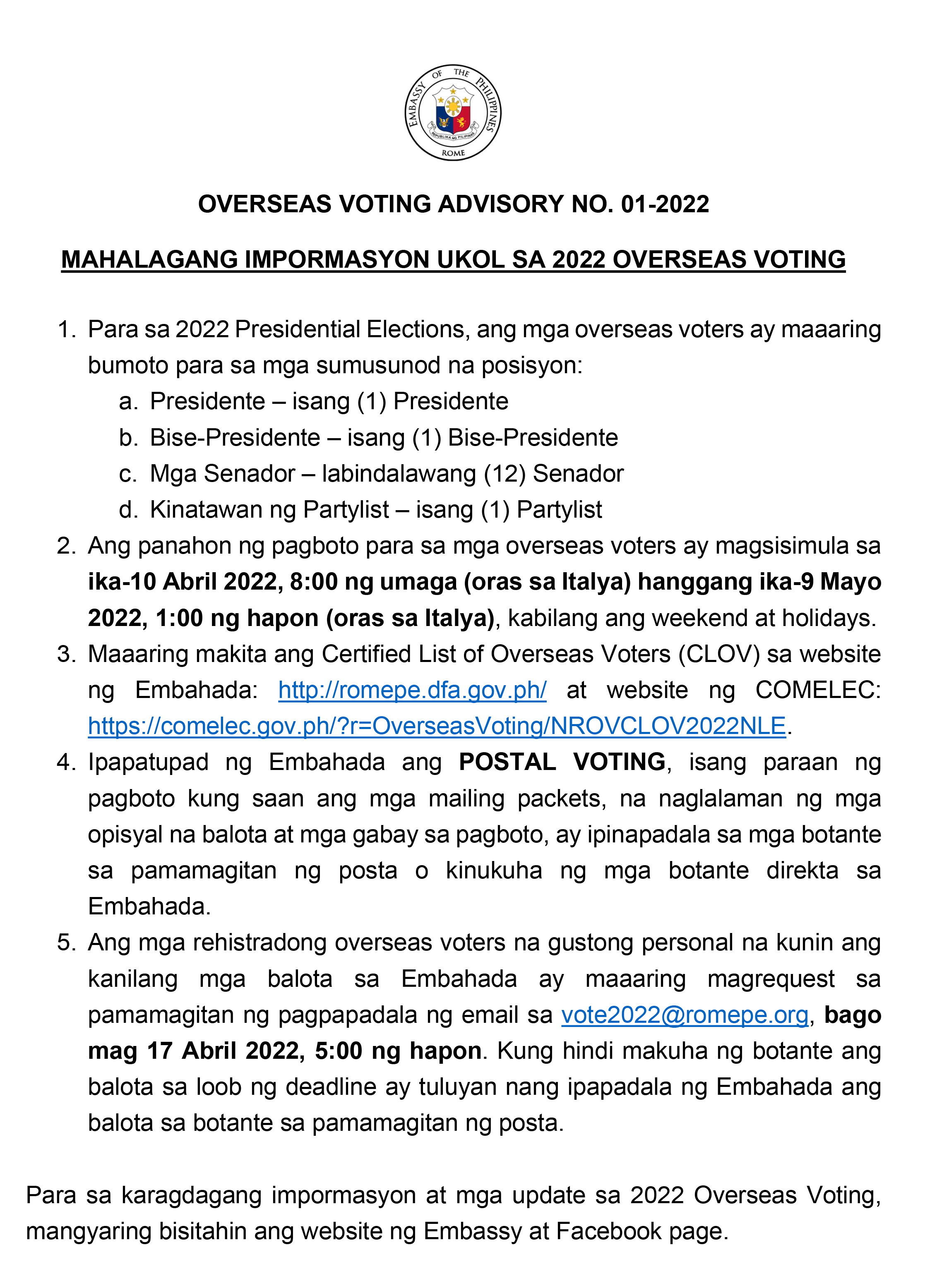 Step 3 – Cast your ballot in the vote-counting machine or VCM (formerly known as the PCOS machine).
This will allow for more efficient vote review and counting. Also, be certain that you have completed all relevant portions of the ballot so that you do not forget to vote for anyone.
Step 4 – Get the indelible ink marked on your index finger.
When you leave the Philippine Foreign Post, this will serve as proof that you have already voted. That's about it! You are now free to leave the poll and go home, work, enjoy the day with your friends, or relax alone.
Overseas Filipino Voting Schedule in Italy
Voting for the overseas elections begins from 8 a.m. to 1 p.m., (local time) from April 10, 2022, through May 9, 2022.
During this period, walk-ins are welcomed at all Philippine Foreign Posts. However, in order to vote in the ongoing overseas absentee voting, you must authenticate your details on-site.
Video: HALINA'T BUMOTO!
The Department of Foreign Affairs (DFA) has made a film on the impending abroad elections available. More information about voting from outside the Philippines may be found here.
To fulfill their right and responsibilities as Filipino citizens, every OFW and Filipino immigrant in Italy must vote.
No matter where they are on the globe, all Filipinos must educate themselves on what to do and expect on Election Day.
Overseas Filipinos have an entire month to vote. This should allow everyone plenty of time to think about and reflect on who should be elected as the country's next leader. Once they've decided, officials from the Philippine Embassy in Italy will help them vote quickly and effectively.
Frequently Asked Questions
What do I need to be able to vote in the 2022 National Elections?
During the election period, Filipino citizens are required to carry their original passports or mariners' books to the polls. Residents of Italy with dual citizenship must additionally present their ID card or permission document in order to vote.
How do I know if I am a registered voter in Italy?
The list of registered Filipino voters in Italy, as well as the list of Filipino seafarers, may be found on the Commission on Elections (COMELEC) website or at Philippine Foreign Posts around the country. In the 2022 elections, only registered Filipino voters will be eligible to vote.
How does COMELEC decide on which voter records to deactivate?
The Commission on Elections deactivated the records of voters who did not vote in at least two elections (COMELEC).
When can applicants collect their Voter's ID?
The Commission on Elections has paused the distribution and fabrication of voter identity cards across the country due to the implementation of Republic Act 11055, or the National ID System.
The Philippine Statistics Authority is working hard to implement the National ID system in the country. It is slated for implementation in all foreign service occupations by 2022.
Where can I find important information and updates on overseas voting?
Filipinos in Italy are advised to monitor the Philippine Embassy's social media outlets for election updates.
Summary
The Philippine Foreign Post in Italy attempts to make overseas voting as simple and accessible as possible for all Filipinos living in the country. As a result, they advise Filipinos around the nation to double-check the list of certified overseas voters (CLOV) before casting their ballots at the Philippine Foreign Post beginning on April 10.
READ NEXT: Updated List of Philippine Overseas Labor Offices (POLO) Branches Abroad
Contact Information
ADDRESS: Viale delle Medaglie d'Oro 112-114 00136 Roma (Rome) Italy
PHONE LOCAL: (06) 3974.6621
INTERNATIONAL: +39.06.3974.6621
FAX LOCAL: (06) 3974.0872
INTERNATIONAL: +39.06.3974.0872
EMAIL   pe.rome@dfa.gov.ph
NOTES  Jurisdiction: Albania and San Marino
Google Map Location
ADDRESS: Via Stromboli No. 1 20144 Milano (Milan) Italy
PHONE LOCAL: (02) 4398.0383
INTERNATIONAL: +39.02.4398.0383
FAX LOCAL: (02) 4391.1229
INTERNATIONAL: +39.02.4391.1229
EMAIL: pcgmilan@dfa.gov.ph
Google Map Location