A small, private plane transporting a medical team and a patient to Manila crashed in a resort area in Calamba, Laguna last Sunday (September 1), killing nine people on board including the pilot and a co-pilot, and injuring two people on the ground.
The light aircraft crashed into a resort compound in Pansol village in Laguna near the foothills of Mount Makiling. According to the police, rescuers were able to retrieve nine bodies from the wreckage, while two people on the ground were injured from the crash, and were brought to the hospital, as well.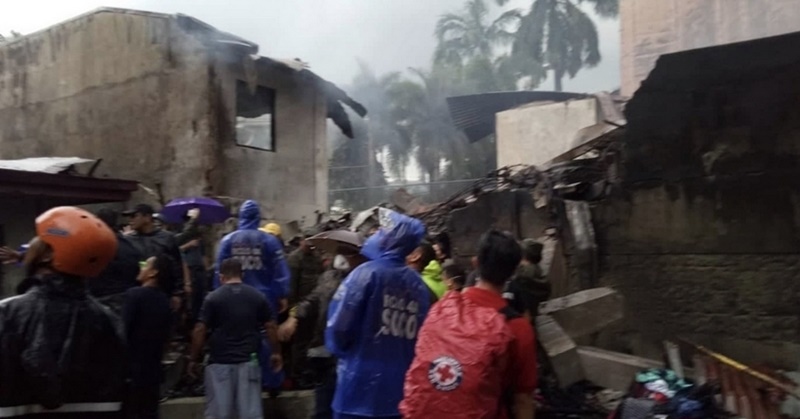 Plane on Medical Evacuation Flight Crashes, Leaving 9 Dead
According to Eric Apolonio, a spokesman of the Civil Aviation Authority of the Philippines (CAAP), the light plane was on a medical evacuation flight from southern Dipolog City in Zamboanga del Norte province and disappeared from radar for unknown reasons as it flew over Laguna, about 60 kilometers (37 miles) south of the capital, as shared in a report by the Inquirer.
According to the police, the nine people who died onboard the plane when it crashed included Capt. Jesus Hernandez (pilot) First Officer Lino Cruz, Jr. (co-pilot), Dr. Garret Garcia, Kirk Eoin Badilla (nurse), Yamato Togawa (nurse), Ryx Gil Laput, Raymond Bulacja, Tom Carr (patient), and Erma Carr (wife of the patient).
Furthermore, the plane which was bound for Manila from Dipolog City Airport plowed through the Agojo private resort and injured two civilians there.
Videos posted on social media regarding the incident showed flames and black smoke surging from the private resort compound in Pansol, a district popular for its hot springs and swimming pools.
Firefighters and an ambulance rushed to the scene of the crash as local officials managed the crowd and instructed villagers to step back to a safe distance.
According to Jeffrey Rodriguez, head of the Calamba City public order and safety office, the bodies were burned, piled on top of another when they were found.
Rodriguez added that a male patient who was also on the plane was among those who died in the crash.
Furthermore, Rodriguez shared that the plane carried King's Air medical evacuation team as confirmed by their representatives at the site.
The crash took place during the monsoon season when fewer people visit resorts in Pansol, Laguna as compared during the hot summer months that ended in June.
ALSO READ: OFW Tourist in Georgia Killed in Freak Paragliding Accident