Labor Secretary Silvestre Bello III on Monday, February 1, confirmed the death of a Filipina receptionist working in Abu Dhabi, Mary Anne Daynolo.
ALSO READ: Philippines Rejects PHP 7.5 Million Blood Money Payment to Death of Filipina OFW in Kuwait
Daynolo has reportedly been missing since March 2020.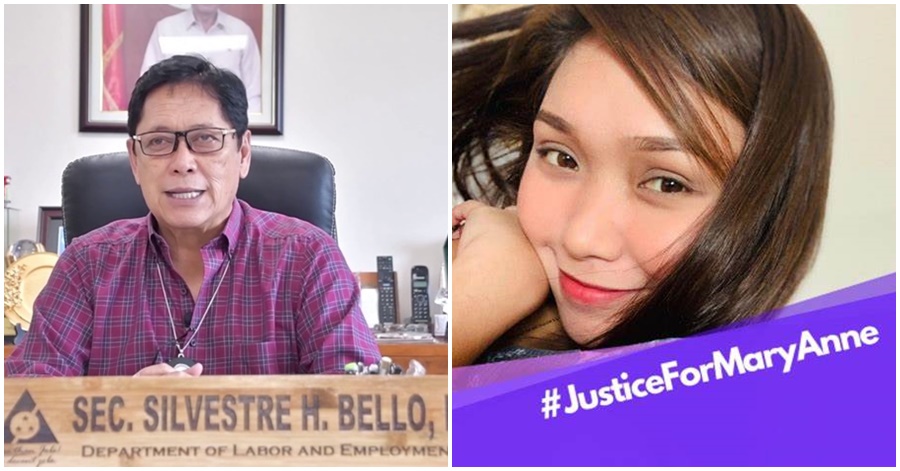 Body of Missing OFW for 10 Months Recovered in Abu Dhabi
Bello revealed that Daynolo's body has only been discovered this January and that it has already gone through the advanced stage of decomposition, the Philippine News Agency reported.
Bello also said that the self-confessed suspect, a Ugandan national identified as "Paul" has already been apprehended by the Abu Dhabi police for this case.
After admitting to the crime, "Paul" also was the one who led the investigators to where Daynolo's body was buried.
Authorities found Daynolo's body already in "advanced stage of decomposition" in one of the areas of the hotel late last month.
Bello noted that Daynolo's body, which bore a fatal knife wound in the neck, was repatriated over the weekend.
Meanwhile, the labor secretary reassured the public and the family that they will be provided with death and burial benefits from OWWA.
"If she has children, they will get educational scholarships too," he added.
Moreover, Bello said the Daynolo would also probably receive insurance benefits from the employer that was supposed to have her covered by insurance.
Otherwise, she will get insurance from the agency that recruited or employed her, Bello explained.
Meanwhile, the government is still on the hunt for two more suspects in the death of the OFW.
Bello noted that Abu Dhabi authorities said the main suspect, was with two unidentified 'accomplices' when the crime transpired.
"While the alleged killer is already behind bars, two other suspects remain at large. They should also be caught and brought to justice. Justice should be served for what they did to our beloved OFW," Bello said.
READ NEXT: PHP 20,000 Livelihood Assistance for Returning and Stranded OFWs – DOLE