Last August 30 (Thursday), a Taiwanese national at the NAIA Terminal 3 filed a complaint against two airport personnel for alleged theft after losing USD 2,600 (Php 139,000) after he passed through the security screening checkpoint at the airport where he was inspected by the two Security Screening Officers (SSO) in question. The incident was caught on CCTV footage, which the victim requested to file a complaint against the airport personnel.
Initial investigation revealed that the two officers have violated several standard security protocols. The two officers who were identified as SSO Nievel Gorpe and Reinelle Alvarez are now faced with criminal and administrative charges, as shared a report in a news report by TV Patrol.
Watch the video report here:
Video: 2 NAIA-3 Personnel Steal from Luggage of Taiwanese Passenger
The Office of Transport Security (OTS) Administrator Usec. Arturo Evangelista said, "We cannot tolerate corruption, in as much as we cannot stand having these kinds of people entrusted with the security of the riding public."
Once due investigation is done, those who will have been found guilty and involved in the crime will be sent straight to prison, Evengelista warned.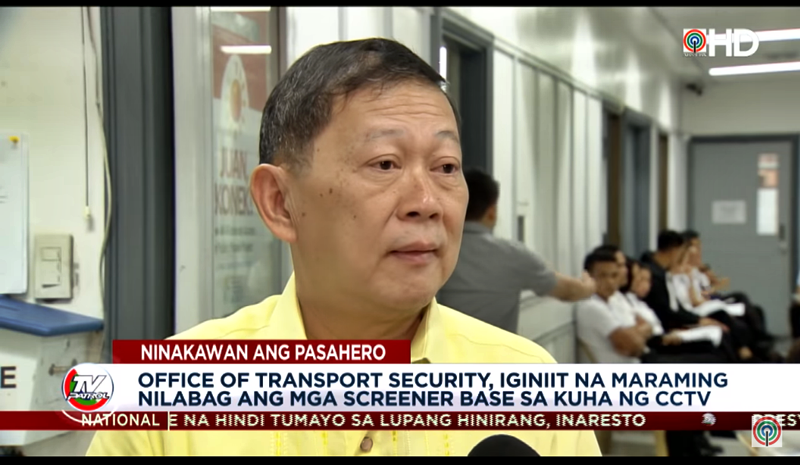 Rules When Scanning Luggage of Passengers
According to the OTS Head Executive Assistant Nap Cuaton, the two airport staff did not follow proper procedures when inspecting the bag of the passenger. Here are some of the outlined tips which he shared:
The airport personnel are not allowed to open the bags of the passenger/s.
The X-Ray operator should be the one to identify the questioned item after the scan.
If there's a suspicious item identified, the airport security should first ask the passenger what the items are inside the bag.
The passengers are the ones who should open their bag and show the item/s in question to the airport security, and surrender it (as applicable).
Based on the video shown, the airport screeners violated a number of rules.
The OTS is responsible for the training and hiring of airport security screeners. Officials are now studying alternative measures such as the prohibition of wearing pocketed uniforms, assigning "watchers" to screeners, and/or increasing the personnel's base pay to prevent this kind of situation in the future. (ALSO READ: DFA Warns Filipinos Traveling to Paris to Be Careful and Stay Vigilant)