Great news! The implementation of the extension of Philippine passport validity from 5 to 10 years will be begin on January 2018.
The motion to extend the Philippine passport validity to 10 years was approved by President Rodrigo Duterte but plenty of Filipinos were wondering when the actual implementation of this law would take place.
In a news update from the Department of Foreign Affairs site, Secretary of Foreign Affairs, Alan Peter S. Cayetano, signed the Implementing Rules and Regulations (IRR) of Republic Act No. 10928 (2017), otherwise known as "An Act Extending the Validity of Philippine Passports.
Related Post: Employers Keeping Passport of their Employees is Illegal: Holding on to your Passport is your Human Right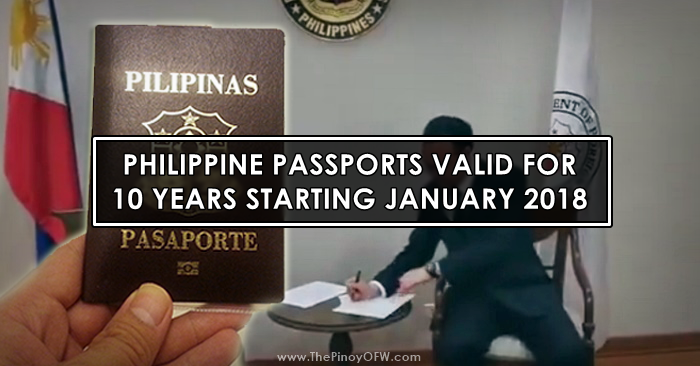 Implementation of 10-Year Validity of Phil Passports to Start on 2018 January
This extension of the validity of these passports was enacted on 02 August 2017 and this signing for the implementation was signed on 25 October 2017.
The ten-year passport will cost PHP 950.00 (regular processing) and PHP 1,200 (for express processing), which is the current price of a five-year passport. However, in accordance with the DFA's mandate to improve the passport processing system to make it seamless, convenient and pro-people, and to ensure that the production and security of passports are at par with technological advances and world standards, additional fees may be imposed in the future for passports that will have enhanced features.
Note: Be advised that the 10-year validity will be available to applicants 18 years of age and older. Minors below 18 years of age will still be given a passport with 5-year validity.
Please check the photo below from DFA for more details: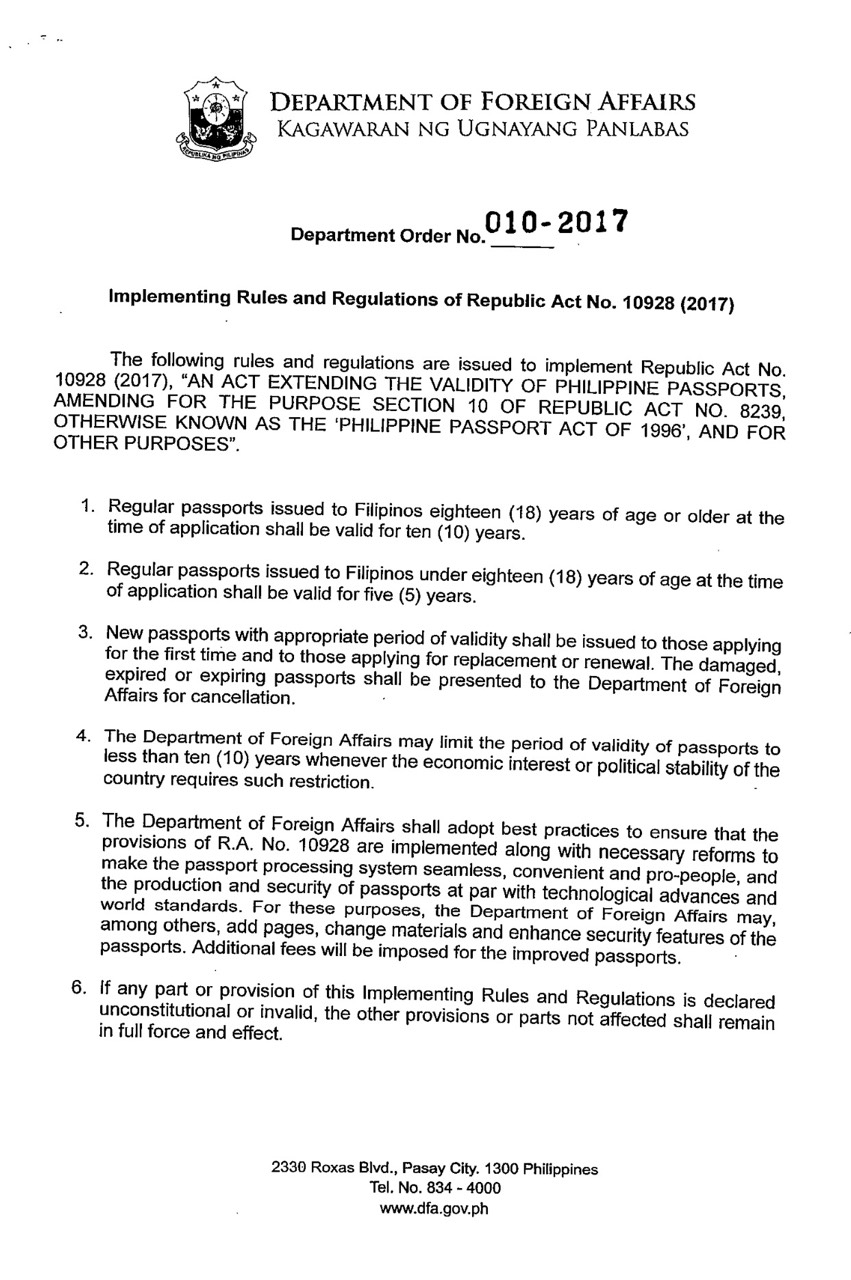 Video: Foreign Affairs Secretary Alan Peter Cayetano Signs the Implementing rules and regulations (IRR) of Republic Act 10928 which extends the validity of the Philippine passport to 10 years.
Check out the video below showing Alan Peter S. Cayetano, Secretary of Foreign Affairs,  signing the implementation of the rules and regulations on the 10 year passport validity:
For Filipino expats abroad, this has been a long wait but it's good to know that there's an update on the said implementation of this new law. We've been waiting for this for quite some time ever since the news of the said extension was approved up to this time that this news is finally updated.
It's a hassle for us to visit our respective Consular offices and Embassies just to apply for the said renewal because as OFWs, our time is very precious. So this 10-year validity is a welcome change as it is definitely more economical and practical for a lot of us.