The Philippine Consulate in Macau is ready to serve Filipinos who are in Macau. Filipinos don't have to go to the embassy of China to avail of the services they need from the embassy. The consulate is designed to help Filipinos who are in need of passport application, passport renewal, recording of birth, recording of death, recording of marriage, and so on. The consulate also caters to those who need legal advice and aid during emergencies. POLO and OWWA are available for OFWs and they are easily accessible through the Philippine consulate.
Also Read: Philippine Consulate General in Hong Kong
If you are working in Macau, it's important that you take note of the information of the Philippine consulate in the city so that in case you need help with your passport, visa, or anything related to your work, you can easily contact the government. It's also better to have an emergency contact during emergencies.
In this article, we share the essential details about the Philippine Consulate in Macau. We hope this helps you in finding the right information you are looking for. Below we listed down the history of the consulate, the services it offers, frequently asked questions, contact information, location, opening hours, and a map guide.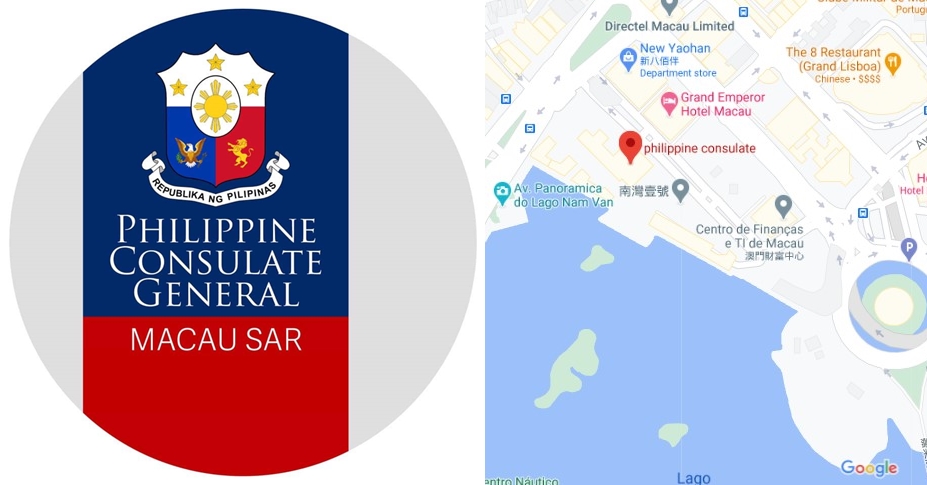 History – PCG Macau
The Philippines and China have a long-term diplomatic relation. The relationship between the two countries started on June 09, 1947, when their leaders signed a joint communique. Since then, both countries have developed steadily. It can be noted as well that both countries have a recurring exchange visit in order to keep in touch. The visits and discussions usually involve different sectors such as investments, infrastructure, and so on. Both parties also have consultations and dialogue mechanisms in order to enhance cooperation and improve the level of trust and confidence.
Bilateral agreements were signed by the two countries over the years. This includes joint trade agreement, postal agreement, scientific and technological cooperation agreement, air services agreement, cultural agreement, agreement on agricultural cooperation, investment promotion and protection agreement, tax agreement, the treaty on judicial assistance on criminal matters, extradition treaty, and agreement for joint marine seismic undertaking in certain areas of South China Sea. These are indeed indications that the Philippine and China's relationship are steady. Because of the growing Filipinos in China and Macau's special administration region, the consulate opened to serve more Filipinos who are living and working in Macau.
Services Offered
Here's the list of services offered by the Philippine Consulate in Hong Kong.
Issuance of Passport
Travel Document
Issuance of Visa
Requirements for the Retention and Re-Acquisition of Philippine Citizenship
Notarial and other Legal Services
Registration of Nationals
Report of Marriage, Birth, and Death
Collection of Income Tax
Balikbayan Stamp
Philippine Embassy and Consulates General in China
Philippine Honorary Consuls General and Consul in China
Frequently Asked Questions Regarding the Services
What are the documents I should bring during my passport renewal?
Passport renewal is a service frequently availed by Filipinos in Macau. If your passport is expiring and you need a new replacement already, just bring these documents when you apply for a new one:
Original old or expired passport.
Complete passport application form.
Photocopy of your passport's data page
Photocopy of your permanent resident card, a record of landing, and work permit.
Passport processing fee
What happens if I lost my Philippine passport?
In case you lost your passport, you need to bring the following when you visit the consulate to apply for a new one:
Police report or case certificate
Affidavit of Loss of Passport (this can be completed in the Philippine embassy but with a separate processing fee).
Birth Certificate
Marriage Certificate if applicable
A legal document showing your name, date of birth, and place of birth.
Photocopy of your lost or destroyed passport, if applicable.
Death certificate of spouse, if applicable.
Annulment/divorce, if applicable.
What are the documents needed when a minor wants to obtain a passport?
If your kids, who are minors, want to apply for a passport, they should appear personally in the consulate with both parents. You can bring the following documents as well.
Birth certificate
Report of birth form
Letter from the doctor who delivered the child attesting to the birth.
Medical record of the child from the hospital where the child was delivered, in case the doctor can't be located anymore.
Original and photocopies of the passports of the parents.
Letter of consent with the signature of both parents
Tips When Visiting the Philippine Consulate
1. Follow and visit the official website of the Philippine Consulate in Macau.
The Philippine Consulate in Macau has an official website where you can go to in case you need new updates, announcements, and news. Explore the website, navigate through each page, and learn more about how the Philippine consulate is helping every Filipino in the country.
2. Don't forget to bring the documents required.
Always make sure that your documents are complete before you leave your home. You wouldn't want to go back home to get the papers you forget once you are in the consulate already. Save yourself from the hassle by bringing all the documents you need.
3. Dress smart.
No wearing of sando or short pants is allowed. You have to adhere to the consulate's dress code as a sign of respect to the government office. Wear smart dresses such as collared shirts, dresses, blouses, jeans, and pants.
4. Follow your appointment.
Go to the consulate during the time and date of your appointment. Try not to be late because your schedule might get canceled, especially when there are a lot of clients in the consulate.
Opening Hours
9:00 AM to 5:00 PM
Contact Information
Consulate General of the Philippines in Macau
Contact Person: Consul General Lilybeth R. Deapera
Address: Units 1404-1406, 14/F AIA Tower Avenida Comercial de Macau SAR China
Telephone Number: (+853) 2875-7111
Fax Number: (+853) 28757227
Email: macau.pcg@dfa.gov.ph / pcgmacau@gmail.com
Website: https://macaupcg.dfa.gov.ph/
Facebook Page: https://www.facebook.com/PHinMacau/
Google Map Location
In case you are wondering where the Philippine Consulate in Macau is located, below is a map guide for you: