Top of President Rodrigo Duterte's priorities in his upcoming visit to Israel and Jordan this September is the signing of memorandum agreements related to labor.
The visits will be considered as a significant milestone in the decades-long diplomatic bilateral
relationship between the Philippines and the two countries.
Foreign Affairs Undersecretary Abella highlighted the key agreements that Israel and the Philippines will be signing on:
– Policies on the employment of Filipino caregivers in the said country
– Understanding between the two countries on scientific cooperation
– Agreement between the Board of Investments and Israel
The memoranda of agreements are expected to improve deployment logistics and processes, and reduce if not completely eliminate the high placement fees Filipino workers pay when they are bound for Israel.
The same memoranda of agreement on hiring and deployment of Filipino workers and the policies on labor cooperation will be included in the deal with Jordan.
The deals are also expected to improve the working conditions of Overseas Filipino workers by coming up with a standardized employment contract.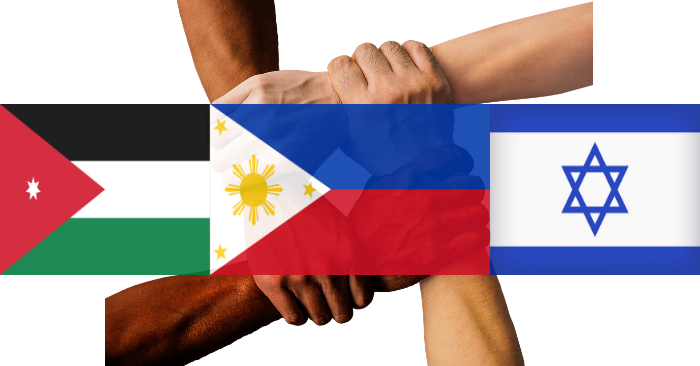 PH-Jordan and PH-Israel deals to Improve OFW Policies and Regulations
Other aspects of the Jordan deal will include items on defense cooperation, a possible investment deal with the Jordan Investment Commission, and items on foreign policy related to seafarers' welfare.
Both labor agreements follow the Kuwait labor deal which was signed sometime middle of this year.
Joining President Duterte on the trip to Israel are retired military officials, but their itinerary will focus on exposure to the latest developments in their area of expertise.
Duterte will also be visiting significant religious spots during this trip. He is set to travel to Israel on September 2 to 5, after which he will travel to Jordan on September 6 to 8.
Latest census of Overseas Filipino workers as of 2017 pegged the count at 28,300 Filipino workers deployed in Israel and 40,000 Filipino workers in Jordan.