Malacañang announced on Tuesday (August 17) that the country has its doors open to accept refugees from war-torn Afghanistan, following the takeover of the Taliban of the government.
Earlier, the Philippine government appealed to an estimated 170 Filipinos based in Afghanistan to avail of the repatriation efforts to secure their safety amid the chaos taking place in the country.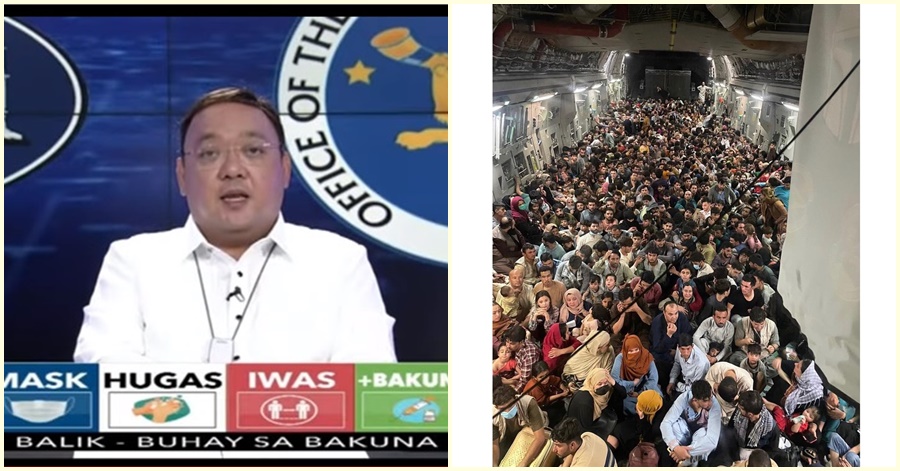 Asylum Seekers Welcome to Stay in PH – Gov't
An Alert Level 4 has been raised in Afghanistan. This means that everyone is urged to evacuate immediately. This is the highest security warning placed by the Philippine government on any country, considering the danger and instability of the country in relation to Filipino workers and travelers' safety due to armed conflict or disaster, GMA News Online reported.
"Since time immemorial, the Philippines has had jurisprudence even before the convention on refugees welcoming asylum seekers," presidential spokesperson Harry Roque said at a press briefing.
"Sabi nga po ng Korte Suprema [The Supreme Court has said it]… the Philippines will not hesitate to admit individuals fleeing their homelands because of fear of persecution," he added.
Scenes of terror and chaos, with people wanting to leave the country and swarming Kabul airport took place after the Taliban takeover. This militant group has a long history of committing violence against women and children as well as murdering political opposition.
Meanwhile, the Palace has not yet given any statement as to whether it would recognize the Taliban-led Afghan government.
READ NEXT: Gov't to Allow Filipinos in Countries on COVID-19 Travel Ban to Return Home via Repatriation Flights
Here's a post of a flight from Kabul, Afghanistan to Doha,Qatar as shared by CBS News
More than 600 Afghans trying to escape the Taliban crowded into a U.S. Air Force C-17 for evacuation from Kabul to Qatar on Sunday — nearing the record for most people ever flown in the Boeing cargo plane.
📸: Defense One pic.twitter.com/v6r0DvG8lu

— CBS News (@CBSNews) August 17, 2021
On a recent update, Philippine Daily Inquirer mentions that there were 35 Filipinos who were evacuated from Afghanistan and have arrived in the Philippines.
UPDATE: 35 evacuated Filipinos from Afghanistan arrive in the Philippines.

The DFA says they were evacuated by their companies to Doha, Qatar where they boarded a chartered plane to Manila. (📷DFA)| @CMRamosINQ pic.twitter.com/HdpFenz7ia

— Inquirer (@inquirerdotnet) August 17, 2021