Filipinos who are working and residing in Bangladesh, you can go to the embassy and complete all the documents you need. The embassy is located in Dhaka and the services offered there include passport renewal, visa-related matters, registration of birth and marriage, solemnization of marriage, and other services related to your stay in the country.
Also Read: Philippine Embassy in Manama, Bahrain
As a Filipino, it's essential that you know where to get help whenever you are abroad. If you are working in Bangladesh, you need to be aware where the Philippine embassy is located so that when you need assistance from the government, you will know where to go and who to call.
To help you in locating the embassy, we collected all the information you need including the embassy's location, services offered, tips when visiting the embassy, opening hours, Facebook page, and so on. We hope that this blog will help you in finding the right services you need from the embassy.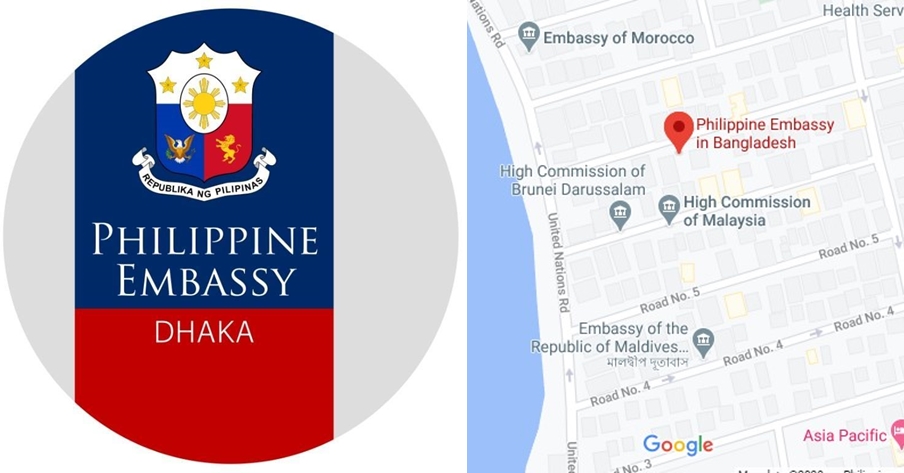 History – PH Embassy Dhaka
In 1972, the Philippines acknowledged Bangladesh as a new state. It was the first country to take Bangladesh as a new state during that time after Bangladesh became independent from Pakistan. On February 24, 1972, diplomatic relations between the two countries were established.
On September 6, 1981, Rodrigo Aragon was the first to open the resident embassy of the Philippines located in Dhaka. After a couple of months, Bangladesh then opened its own embassy in Manila with Major General Moinul Hussain Choudhury, Bir Bikram as the first Bangladesh Ambassador to the Philippines.
Today, the Philippines and Bangladesh have a good relationship not only through the embassies but also through other means such as investments and tourism. The embassy has been led by different Ambassadors with different interests in life. What's common is that all of them have experiences in foreign affairs.
Services Offered
In case you are wondering what you can expect from the embassy, here is the list of the services available in the Philippine Embassy in Bangladesh:
Consular Outreach Program
Passport

Adult New Applicant
Adult Renewal Applicant
Minor New/Renewal Applicant

Travel Document
Authenticating Documents Made Simpler by the Apostille
Civil Registry
Solemnization of Marriage
Report of Marriage
Report of Birth
Report of Death and/or Consular Mortuary Certificate
Dual Citizenship
Visa
Waiver of Exclusion Ground
Certificate of Not the Same Person
Balikbayan Program
Schedule of Consular Services and Fees

Consular Service Fees and Turnaround Time (DC applicants)

List of Other Services

Transport of Pets
NBI Clearance
Renewal of Philippine Driver's License
Securing a J1-Waiver
PH Requirements for Medical Missions
Departure Formalities
Philippine Overseas Labor Office
Issuance of Overseas Employment Certificate
OWWA Membership Program
Employment Contract Verification and Authentication
Implementation of POEA Rules on Direct Hiring
Frequently Asked Questions Regarding the Services
What are the documents needed if you renew your passport?
These are the basic requirements you need when you apply for your passport renewal:
Original old or expired passport.
Complete passport application form.
Photocopy of your passport's data page
Photocopy of your permanent resident card, a record of landing, and work permit.
Passport processing fee of US$60.00 (Tk 5,220).
What if I have dual citizenship?
You can still apply for your passport renewal with the following requirement:
Photocopy of your Bangladeshi/Sri Lankan/Maldivian passport
Photocopy of your citizenship ID
Birth certificate
Marriage certificate if applicable.
Can I ask for the replacement of my lost passport?
Yes, you can ask for the replacement of your lost passport. Just bring the following documents together with your application form:
Police report or case certificate
Affidavit of Loss of Passport (this can be completed in the Philippine embassy but with a separate processing fee).
Birth Certificate
Marriage Certificate if applicable
A legal document showing your name, date of birth, and place of birth.
Photocopy of your lost or destroyed passport, if applicable.
Death certificate of spouse, if applicable.
Annulment/divorce, if applicable.
Are authorized representatives allowed when applying for a passport?
No, the embassy doesn't allow authorized representative when applying for a new passport or renewal. You need to appear personally before the embassy to avail of this service.
Tips When Visiting the Philippine Embassy
1. Be on time.
Whenever you are visiting the Philippine Embassy in Bangladesh, you should always be on time. Getting there earlier or on your schedule will save you from a lot of stress, especially if there are a lot of people in the embassy. Be sure to check your schedule, prepare all the things you need before you leave your home, and follow the instructions of the embassy.
2. Wear proper clothes and dresses.
Also, you should wear proper clothes and dresses. The embassy will not let those who wear sando and shorts to go inside the building. You should pay respect whenever you are visiting a government office. Attires such as casual dresses, smart clothes, jeans, and a t-shirt are allowed. Dress casually and smartly, especially when you avail of passport services because most likely, your picture will be taken on the day you apply for it.
3. Book for an appointment
Some of the services offered by the embassy are appointment-based. If not, there are limitations on the time. For example, when you apply or renew your visa, the cut-off time is 11:30 AM. You need to book for an appointment every time you wish to apply for a passport, visa, and other similar services. To know if you still need a schedule, you should call the embassy through the phone number provided below.
Opening Hours
8:30 AM to 5:30 PM
Contact Information
Embassy of the Philippines in Dhaka, Bangladesh
Contact Person: H.E. (Mr.) Vicente Vivencio T. Bandillo, Ambassador Extraordinary and Plenipotentiary
Address: House No. 2F, NE(D), Road 73G, Gulshan 2, Dhaka, Bangladesh
Telephone Number: (+880-2) 9881-590 to 93
Fax Number: (+880-2) 9881-590 to 93
Hotline No.: (+880) 1915-477731
Email: dhaka.pe@dfa.gov.ph / philemb2@aknetbd.com
Website: http://dhakape.dfa.gov.ph
Facebook Page: https://www.facebook.com/PHinBangladesh/
Google Map Location
In case you are wondering where the Philippine Embassy in Dhaka is located, below is a map guide for you: