If you are in Brazil right now, particularly in Brasilia, the Philippine embassy there serves Filipinos who are in need of local services, legal assistance, and emergency assistance. Filipinos can head to the Philippine embassy to apply for a new passport, renew a passport, apply for a visa, record death, record birth, and other similar services.
The POLO can also be found within the building. POLO or the Philippine Overseas Labor & Office is made to assist Filipinos abroad who are currently having legal and emergency issues. Head to the POLO office if you need legal assistance or if there's an emergency and the government needs to come in rescue.
Also Read: Philippine Embassy in Buenos Aires, Argentina
When you are working and living in Brazil, you need to know the details of the embassy. The Philippine embassy represents the Filipino government. This is where you can always ask for help. Keep their information at all times in case of emergencies.
Below is the information we gathered for you. Here we listed the services you can get from the embassy, its opening hours, contact information, location, and a map guide. We aim to help every Filipino in Brazil, especially those who need the aid of the government. Refer below for the information.
[toa]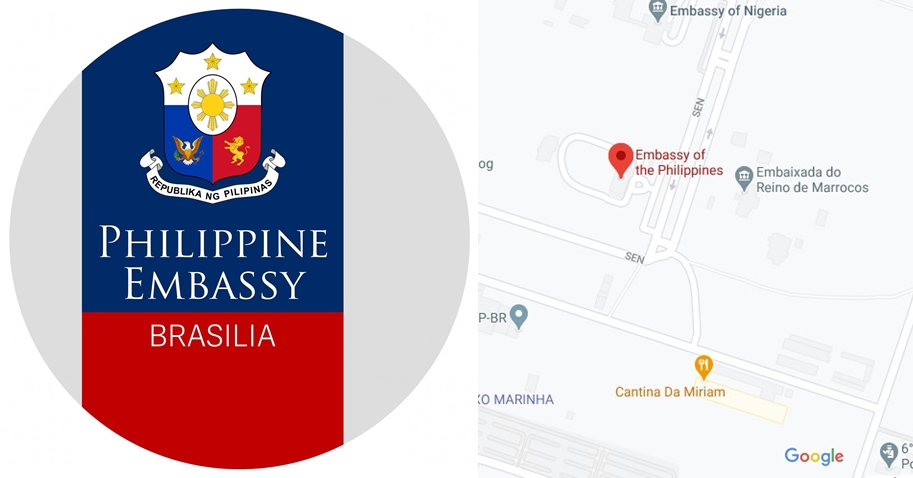 History – PH Embassy Brasilia
The diplomatic relations between the Philippine and Brazil became official in July 1946. It was established when the Philippine Independence was recognized. On July 4, 1946, during the inauguration of the embassy, Brazil sent a representative, who was Hon. Carlos Silverio Martins Ramos. His presence and the country's recognition of the presence of the Philippine government marked the official connection between Brazil and the Philippines. Before, it can be noted that Brazil was initially under the jurisdiction of the Philippine Embassy in Washington. It was later on transferred to Argentina when the Philippine Embassy opened in Buenos Aires.
On September 16, 1965, the first Philippine Embassy located in Rio de Janeiro was established, with the help of the former Ambassador Carlos S. Tan. During that time, most embassies in the country were located in Rio de Janeiro. When the capital of Brazil changed to Brasilia, embassies were all encouraged to relocate. The Brazilian Government even offered to donate their land as contributions to diplomatic missions. In September 1973, the embassy of the Philippine was transferred to Brasilia, on a property situated at the corner of the northern embassy sector.
Services Offered
If you want to know the services offered by the embassy, here's a list for you.
Consular Outreach Program
Passport

Adult New Applicant
Adult Renewal Applicant
Minor New/Renewal Applicant

Travel Document
Authenticating Documents Made Simpler by the Apostille
Civil Registry
Solemnization of Marriage
Report of Marriage
Report of Birth
Report of Death and/or Consular Mortuary Certificate
Dual Citizenship
Visa
Waiver of Exclusion Ground
Certificate of Not the Same Person
Balikbayan Program
Schedule of Consular Services and Fees

Consular Service Fees and Turnaround Time

List of Other Services
Transport of Pets
NBI Clearance
Renewal of Philippine Driver's License
Securing a J1-Waiver
PH Requirements for Medical Missions
Departure Formalities
Philippine Overseas Labor Office
Issuance of Overseas Employment Certificate
OWWA Membership Program
Employment Contract Verification and Authentication
Implementation of POEA Rules on Direct Hiring
Frequently Asked Questions Regarding the Services
What are the documents I need when renewing my passport?
Here are the following papers you need when you renew your passport:
Original old or expired passport.
Complete passport application form.
Photocopy of your passport's data page
Photocopy of your permanent resident card, a record of landing, and work permit.
Passport processing fee
In case I lost my passport, can I ask for a replacement?
Definitely, yes. Here's what you need to bring when you ask for a new passport:
Police report or case certificate
Affidavit of Loss of Passport (this can be completed in the Philippine embassy but with a separate processing fee).
Birth Certificate
Marriage Certificate if applicable
A legal document showing your name, date of birth, and place of birth.
Photocopy of your lost or destroyed passport, if applicable.
Death certificate of spouse, if applicable.
Annulment/divorce, if applicable.
Can I send a representative during my passport appointment?
No, representatives are not allowed during passport appointments. You need to be present personally because the person will verify your documents and your identity. Also, your passport photo will be taken on-site.
Tips When Visiting the Philippine Embassy
When visiting the Philippine Embassy, there are things that you need to remember and here they are:
1. Follow your schedule/appointment
There are embassy services that need an appointment first before the government personnel caters to your needs. You need to call the embassy to book your schedule or follow the instructions written on their website with regards to appointments.
2. Dress modestly.
Dressing modestly is required. You should not wear clothes with spaghetti straps or short shorts. If you can dress casually or smartly, the better so that you can enter the embassy building.
3. Do your research before you go to the embassy.
Before you go to the embassy, you should do your research first. You can head to the embassy's official website, which is listed below, and check all the things that can help you with your needs. You can also ask a family or relative who has been in the embassy.
4. Make sure you have all the documents needed.
Finally, always make sure that you don't forget the requirements you need to avail of the service. If you don't bring even one of the required documents, you won't be able to avail of the services you need. So, the night before your appointment, ensure that you put everything in your bag.
Opening Hours
9:00 AM – 6:00 PM
Contact Information
Embassy of the Philippines in Brasilia, Brazil
Contact Person: H.E. Marichu B. Mauro
Address: SEN 801, Av. das Nações, Lote 1 – Asa Norte – Brasilia/DF – Brazil  CEP: 70800-910
Telephone Number: +55 61 3224-8694
Embassy Hotline Number: +55 61 9 9389-3042
Email: info@philembassybrasilia.org
Website: http://www.philembassybrasilia.org/
Facebook Page: https://www.facebook.com/PHinBrazil/
Google Map Location
In case you are wondering where the Philippine Embassy in Brazil is located, below is a map guide for you: