Filipinos based in Argentina, you can head to the Philippine Embassy in the city of Buenos Aires should you need assistance for various services like renewing your Philippine passport, applying for NBI Clearance, getting a report of marriage, etc. You can also find POLO (Philippine Overseas Labor Office) assistance in this office in case you need legal help and emergency assistance.
Also Read: Philippine Embassy in Vienna, Austria
As a Pinoy based in Argentina, it is important that you know where our embassy is located as well as the emergency contact numbers. Because you will need this in times of crisis and emergency.
Below we have listed important information about the Argentina Philippine embassy so please be guided on the list of services, tips during your visit, opening hours, contact details and map location we have provided below.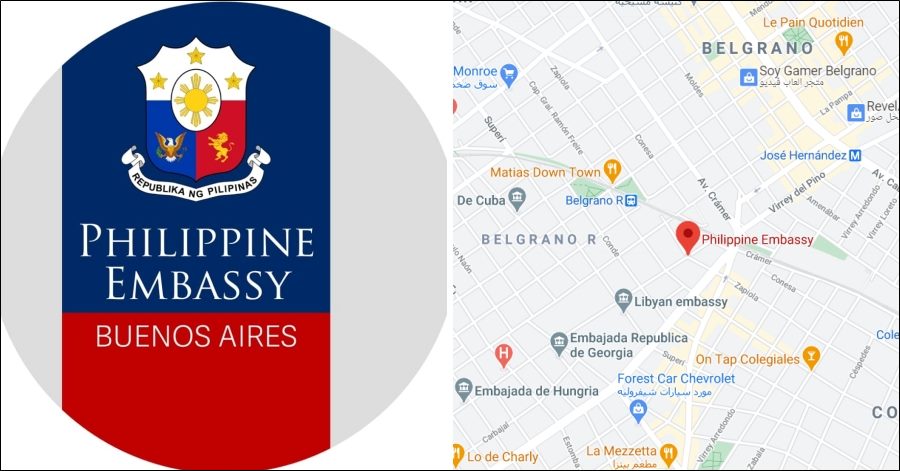 History – PH Embassy Buenos Aires
The Embassy of the Philippines in Buenos Aires, Argentina is part of the diplomatic mission of the Philippines in Argentina. The embassy's location is at Calle Zapiola 1701 and those who are near the Chinatown can visit the office easily. The embassy exists because of the existing relationship of Argentina and the Philippines. This relationship was built on August 21, 1948. Narcisco Ramos, who acted as the Secretary of Foreign Affair at that time were present during the establishment. He was appointed by President Elpidio Quirino as the minister to Argentina. Together with Philippine Legislature Manuel Escudero, who served as first secretary and consul general, a legation was conducted on April 4, 1949. It was the first mission of the Philippines in Latin America, which was initially located at Plaza Hotel, Buenos Aires.
In 1960, the Philippine mission expanded until it became an embassy. Another officers took charge, including Representative Pedro Gil and Ramon Magsaysay as minister in 1956. Pedro Gil was appointed by the successor of President Quirino during that time. The latest event that involved the Embassy of the Philippines in Buenos Aires is the protest of Argentine Workers' Central Union (CTA) against the policies of the current President Rodrigo Duterte.
Staff & Activities
The activities of the Embassy of the Philippines are led by the staff of the mission. Currently, Ambassador Linglingay F. Lacanlale serves as the head of the embassy. She was appointed by President Duterte on January 19, 2018, which was later on confirmed on February 21, 2018 by the Commission on Appointments. Before she became the Ambassador, Lancanlale had 40 years of experience as a diplomat and she was a former undersecretary of the Foreign Affairs in the current administration. She experienced to be deployed in New York City, Vienna, and Bangkok.
Many of the activities of the Embassy are geared towards the promotion of Filipino culture and of course, strengthening the strong cultural ties of the two countries. Here are some of the activities done by the Philippine Embassy in Argentina.
Promoted the practice of Arnis in Argentina in 2007.
Facilitated concerts with the University of Philippines Madrigal Singers as guests in 2011.
Organized a benefit dinner for Typhoon Yolanda's victims in 2013.
Hosted an exhibit on Philippine textile which took place at the Fondo Nacional de las Artes in 2019.
Collaborated with Argentina to promote the Southeast Asia as a whole.
Services Offered
In case you are wondering what you can expect in this embassy, below are the list of services available in the Philippine Embassy in Argentina:
Consular Outreach Program
Passport

Adult New Applicant
Adult Renewal Applicant
Minor New/Renewal Applicant

Travel Document
Authenticating Documents Made Simpler by the Apostille
Civil Registry
Solemnization of Marriage
Report of Marriage
Report of Birth
Report of Death and/or Consular Mortuary Certificate
Dual Citizenship
Visa
Waiver of Exclusion Ground
Certificate of Not the Same Person
Balikbayan Program
List of Other Services

Transport of Pets
NBI Clearance
Renewal of Philippine Driver's License
Securing a J1-Waiver
PH Requirements for Medical Missions
Departure Formalities

Philippine Overseas Labor Office

Issuance of Overseas Employment Certificate
OWWA Membership Program
Employment Contract Verification and Authentication
Implementation of POEA Rules on Direct Hiring
Tips when Visiting the Embassy
Before you visit the Embassy of the Philippines in Buenos Aires, Argentina, there are a few things you need to remember. These things will allow you to enter the embassy and access its services without inconvenience.
1. Bring all the documents you need.
Your documents are the most essential assets you need to bring when you are visiting an embassy. Your passport, identification cards, birth certificate, marriage certificate, and other important papers are needed especially when you are applying or renewing your visas. In case you don't bring these with you when you visit, you are likely to go back home and secure again what you need, which is a little hassle. So, to avoid inconvenience, make sure to check all your documents before you leave.
Also, remember to bring photocopies with you. The embassy will likely ask for the photocopies when you are submitting the requirements. Keep the original copies with you in case they look for it.
2. Dress properly.
Dressing properly is one requirement when you visit the embassy. Those who are wearing sando and short pants will not be allowed to enter the building. Dress smartly. Wear jeans, pants, dresses, and other modest clothing.
3. Look for a proper parking area.
Another thing to remember is looking for a proper parking area is case you are bringing your car with you. You are not allowed to park in front of the embassy. You are encouraged to look for the designated parking area such as in the right or left side of the street. Since there is likely a security guard who will be guiding the door, you can ask him regarding the parking slots so you won't need to spend time looking for something you are not sure of. It's better to ask questions.
4. Do your own research.
Finally, doing your own research helps a lot. You can ask a friend, family, or relative who has been in the embassy. Inquire about the usual process and the things you need. Asking for help from someone with experience inside the embassy is great. Likewise, you can visit the official page of the embassy for more information about it. There are also announcements there that might help you when you visit the building. Doing your own research will help you gather information that can be useful whenever you plan to visit the embassy. And, don't forget about its website because that's where you could find most of the useful details.
Opening Hours
9:00 AM – 5:00 PM
Contact Information
Embassy of the Philippines in Buenos Aires, Argentina
Contact Person: H.E. Linlingay F. Lacanle – Ambassador Extraordinary and Plenipotentiary
Address: Zapiola 1701, C1426AUI, Buenos Aires, Argentina
Telephone Number: (+54-11) 4554-4015; 4554-4856
Fax Number: (+54-11) 4554-9194
Duty Office Number: (+549-11) 6700-2333
Consular Mobile Hotline Number: (+549-11) 6700-5111
Email: buenosaires.pe@dfa.gov.ph
Website: www.buenosairespe.dfa.gov.ph
Facebook Page: https://www.facebook.com/PHinArgentina/
Google Map Location
In case you are wondering how to get to the PH Embassy in Argentina, below is a map guide for your guidance.