Macau – A video of a Pinoy OFW has circulated online showing him rescuing a Chinese couple from drowning. This was during the wake of a typhoon that has destructed various parts of the country.
In August 23, 2017, Wednesday, Hong Kong and Macau experienced the arrival of major typhoon "Hato". The storm sent high waves crashing into the shoreline. The flood reached knee-deep in some areas. The speed of the typhoon was around 207 kilometers/hour and flights from various airlines were cancelled.
Aside from this, there were flying debris, falling trees, collapsing scaffolding, etc. Shops and homeowners closed their windows to protect themselves from shattering of glasses. Even the popular Victoria Park was covered of strewn branches, cars covered in flood and so people all over were panicking and rushing to the rooftops. Yes the sight of the typhoon was devastating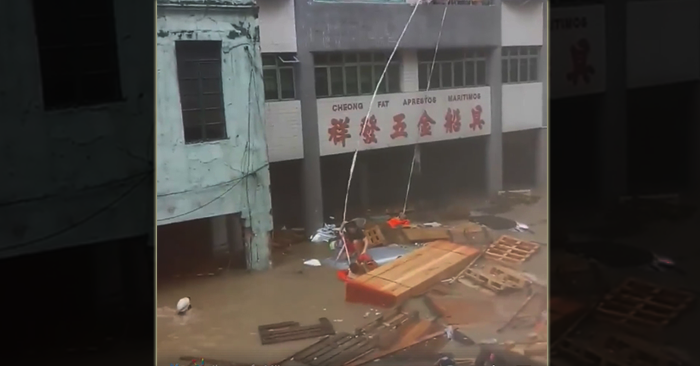 screengrab from GMA News FB Page
OFW Pinoy Saves Chinese from Drowning During Typhoon Hato
Amidst the disaster, here's a video of a Filipino who saved a couple which shows his bravery and heroism. His name is Lloreto Mijared Jr., and OFW who hails from the province of Northern Samar. He is married and has a son. He and his wife both work as a housekeeping staff from the Parisian Macao hotel.
An elderly couple were returning from the market in Macau when the water was rising fast to a dangerous level. The couple struggled in the rapid when Lloreto saw them struggling.
The Chinese couple were were screaming and struggling from the flood. But quick to his senses, Lloreto rushed down from the building and risked himself to save the couple. He managed to improvise a lifeline rope and throw it towards the couple to grab. He was standing at the top of the a car van submerged in the flood.
Video: Filipino Saves 2 Chinese in Macau During Typhoon
Below is the said video of the Filipino showing his bravery in saving 2 Chinese during the typhoon.
Video source: https://www.facebook.com/gmanews
Heorism is one of the instincts of every good man. It usually occurs naturally especially during life and death situations such as this.
Thousands have already read the Hero story of Lloreto Mijares JR. a good example of heroism. We are proud of what you've done. Despite many controversies we may have with our Chinese counterparts as shared on media, this is a good news that is definitely worth passing on to others.