Brunei is one of the countries considered by most Filipinos to find a stable job or reside permanently. If you are already working or living in the country, the Philippine Embassy is open to providing upfront services to your concerns. These include renewal or getting your new Philippine passport, visa, notarial services and certifications, civil registration, and Assistance to Nationals Unit (ANU). On top of this, all of the services provided are designed to continuously support Filipinos, even if they are miles apart from their home country.
Hence, to help you and our fellow Filipinos abroad, the following information about the Philippine Embassy may help you throughout your working career or permanent stay in Brunei. If you wish to know more, you may click this link https://bruneipe.dfa.gov.ph/.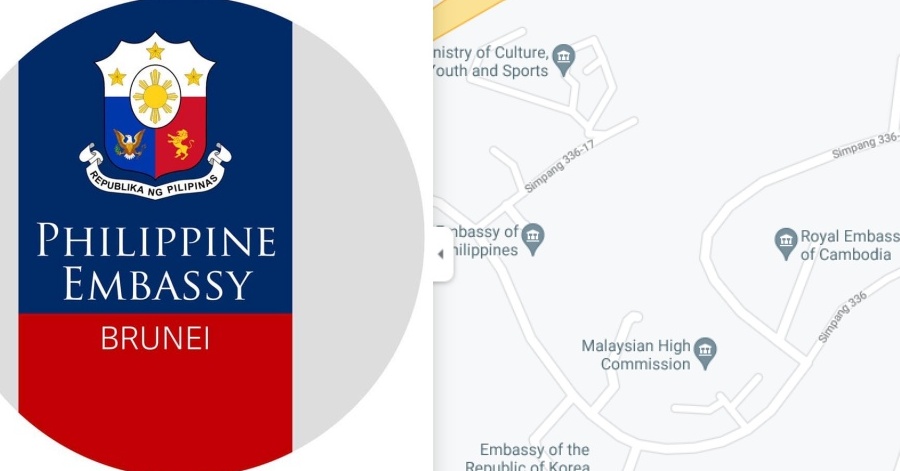 History of the Philippine Embassy in Brunei
The Philippine Embassy in Brunei was started by the Philippine Consulate-General, headed by Consul-General Tristan V. Enverga. It was established way back in August 1983 at Bandar Seri Begawan. On January 01, 1984, when Brunei Darussalam finally declared its independence, the Philippines decided to uphold its full diplomatic relations. Hence, the former Philippine Consulate-General was promoted to a Philippine Embassy. The first one who headed the Philippine Ambassador to Brunei Darussalam was Ambassador Benjamin B. Domingo. 
Services Offered
The following lists are the services offered by the Embassy of the Philippines in Brunei. If you wish to know further, please click this link https://bruneipe.dfa.gov.ph/.
E-Passport
Adult Renewal Applicant
Renewal of Green Passports, Machine Readable Passports (Maroon), and any older passports
Renewal of e-Passport
Lost VALID ePassport
Mutilated or Damaged Passports
Minor Applicant
New
Renewal
Lost Valid ePassport
Visa
Visa-Free Entry For Temporary Visits
Non-Immigrant Visas
9(a) TEMPORARY VISITOR'S VISA
9 (b) TRANSIT/TRANSIENT VISA
9 (c) SEAMEN AND CREW MEMBERS
9 (e) FOREIGN GOVERNMENT OFFICIALS
Notarial Services and Certifications 
Special Power of Attorney (SPA)
Affidavit of Support and Consent to Travel
Other Affidavits
Legal Capacity to Contract Marriage
Driver's License Certification
Civil Registration
Report of Birth
Report of Marriage
Report of Death
Solemnization of Marriage in the Embassy (for parties who are both Filipino nationals) 
Frequently Asked Questions Regarding the Services
How to book an online appointment for consular services?
The Embassy of the Philippines in Brunei has launched and implemented a Consular Service Online Appointment System that begins on November 12, 2019. Hence, this system enables all the applicants for a passport, legalizing a document, or civil registration services to book their appointment at their preferred time and date. Its primary purpose is to reduce the waiting time and hassle to the clients. On top of this, the new system aims to persevere the continuance of their efforts to provide upfront services to the Filipinos abroad. Walk-in-applicants will still be served, but those who already confirmed their online appointments will be prioritized on-site.
To help you book an appointment, please follow these steps:
Step 1: click this link  bruneipe.setmore.com/bookappointment.
Step 2: Choose your preferred service.
Step 3: Select the Consular Section as your provider.
Step 4: At this point, you will be given a chance to choose to proceed by clicking to continue or to book additional service/s to your appointment.
Step 5: Now, you may select the time and date of your preference. Take note that only available time slots will reflect on this part.
Step 6: After selecting your preferred day, you will be required to create a profile through the following choices: a.) Creating a profile on our website. b.) signing in to your Facebook account, or c.) Gmail account
Step 7: At this point, in creating your profile, please input your name, email address, and your passport for your personalized account.
Step 8: For the completeness of your profile details, you need to include your mobile number and address. Then, click continue.
Step 9: Before finalizing your appointment, please review first all the details you have included. If you are done confirming, you may now click "Book my appointment."
Step 10: Your appointment is finally confirmed and verified. Afterward, you will receive a confirmation email. You may now continue to the Information Counter of the Embassy on your scheduled date and time.
However, if you failed to come to the Embassy on your scheduled date and time, you can still refer to our guide regarding rescheduling appointments.
What are the services offered by the Assistance to Nationals Unit (ANU)?
The Assistance to Nationals Unit or ANU of the Philippine Embassy in Brunei aims to support such cases involving Filipinos in trouble abroad. Its assistance includes the following:
Filing complaints before the police or other suitable venues.
Immigration-related cases
Shipment of Remains
Filipinos facing criminal cases
Human trafficking cases
Prison visitation
Appeal for financial support
Repatriation to the Philippines
Provision of legal advice
Looking at the whereabouts of missing Filipino citizens.
Conciliation services
Monitoring and following-up of issues/complaints
To-Dos When Visiting The Embassy
If you plan to visit the Philippine Embassy in Brunei, here's what you need to consider:
Wear Formal Attire
If you want to go to the Philippine Embassy, you should wear appropriate attire as it is highly observed for passport I.D. Therefore, wearing Sandos, tube tops, strapped tops, sleeveless, spaghetti, and see-through tops are prohibited. Aside from these, colored contact lenses and earrings are also not allowed during picture taking.
Personal Appearance is a must.
All the applicants must attend during the entire process of their specific concerns, such as the renewal of their passport—some of the necessary documents like the I.D picture will be taken on-site. Thus, you are no longer required to bring with you your photo.
Bring the Official Receipts
When you claim your new passport, you must bring your official receipts and your old passport for cancellation.
Opening Hours
8:00 am – 5:00 pm (Monday-Thursday, No Noon Break)
8:00 am – 12:00 pm and 2:00 pm – 6:00 pm (Every Friday)
Contact Information
Address: Simpang 336, Diplomatic Enclave Jalan Kebangsaan Bandar Seri Begawan BA1210 Brunei Darussalam
Tel. Nos.: (+673) 2241465, 224 1466, 223 8845, 222 0781
Hotline: (+673) 871 4881 (Consular); (+673) 883 0933 (Labor)
Fax No.: (+673) 223 7707
Email: brunei.pe@dfa.gov.ph
Website: http://www.bruneipe.dfa.gov.ph
Facebook: https://www.facebook.com/PHinBrunei/