OFWs and Filipinos who are living in Indonesia, the Philippine embassy is open to provide you the local services you need. You can head to Jakarta if you need to communicate with the government and talk about the issues you are having, including your employment, visas, passports, and other documents. The Philippine Embassy in Indonesia is likewise ready to help Filipinos who have legal and emergency matters. POLO and OWWA work with the embassy to locate Filipinos who are having issues with their employment and residence in the country. Some of the services you can look forward to are passport application, passport renewal, issuance of certificates for birth, death, and marriage, and so on.
Also Read: What Are the Visa-Free Countries Filipinos Can Visit?
It's important as well that you know where to go to Indonesia in case you are caught up with situations that need the intervention of the government. The presence of the Philippine government through its embassy is a big help. You should be able to use that for your own personal wellness.
In this article, we summarized all the details we think you will need with regard to the Philippine embassy in Indonesia. Here we listed the services offered by the embassy, frequently asked questions, opening hours, contact details, location, and a map guide. We hope that this will help you in finding what you are looking for, especially in relation to the Philippine embassy.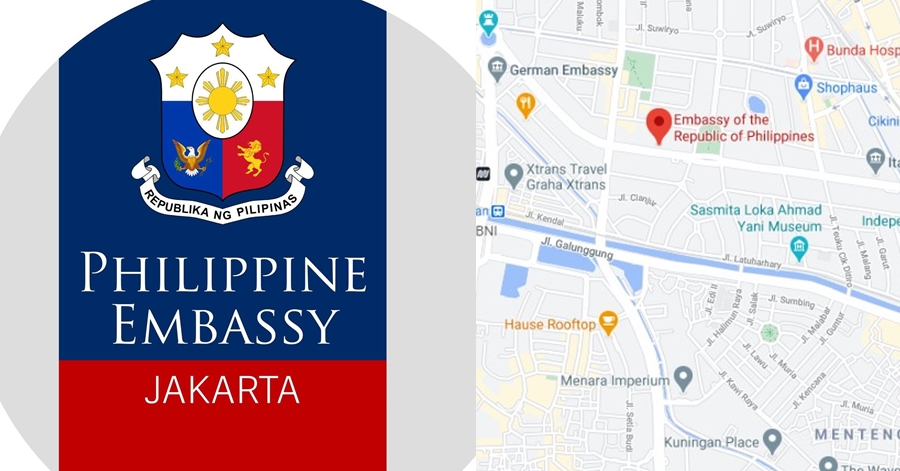 History – PH Embassy Indonesia
The Philippines and Indonesia have bilateral relations. This is evident in the embassies each country has in the Philippines and in Indonesia. Both countries have supported each other in policies, such as democracy and the rule of law involved in the South China Sea. The formal diplomatic relations between these two countries started in 1949. From then, the Philippines has built its embassy in Jakarta and Indonesia has established its embassy in Manila.
Apart from the embassies, both countries have consulates in each other's territory as well. The consulates serve as offices for those who can't directly access the embassy. Indonesia has a consulate in Davao City while the Philippines is in Manado. According to the data available, visitations of high-rank leaders have been done for years. Both countries are also founders of ASEAN. Both of them also engage in the Non-Aligned Movement and APEC. They are members of Brunei Darussalam and Malaysia and BIMP-EAGA and East ASEAN Growth Triangle.
Services Offered
If you want to know the services offered by the Embassy of Indonesia, here's the list:
Consular Outreach Program
Passport

Adult New Applicant
Adult Renewal Applicant
Minor New/Renewal Applicant

Travel Document
Authenticating Documents Made Simpler by the Apostille
Civil Registry
Solemnization of Marriage
Report of Marriage
Report of Birth
Report of Death and/or Consular Mortuary Certificate
Dual Citizenship
Visa
Waiver of Exclusion Ground
Certificate of Not the Same Person
Balikbayan Program
Schedule of Consular Services and Fees
Consular Service Fees and Turnaround Time
List of Other Services

Transport of Pets
NBI Clearance
Renewal of Philippine Driver's License
Securing a J1-Waiver
PH Requirements for Medical Missions
Departure Formalities
Philippine Overseas Labor Office
Issuance of Overseas Employment Certificate
OWWA Membership Program
Employment Contract Verification and Authentication
Implementation of POEA Rules on Direct Hiring
Frequently Asked Questions Regarding the Services
What are the documents I should bring during my passport renewal?
Passport renewal is a common service offered by the Philippine Embassy in Indonesia. If you need to renew your expiring passport, the following are needed to be presented in the embassy.
Original old or expired passport.
Complete passport application form.
Photocopy of your passport's data page
Photocopy of your permanent resident card, a record of landing, and work permit.
Passport processing fee
What are the documents needed when a minor wants to obtain a passport?
Minors can apply for their passport in case they are born in Indonesia. Together with both of the parents, minors should be present personally when applying for passports with the following documents:
Birth certificate
Report of birth form
Letter from the doctor who delivered the child attesting to the birth.
Medical record of the child from the hospital where the child was delivered, in case the doctor can't be located anymore.
Original and photocopies of the passports of the parents.
Letter of consent with the signature of both parents
What happens if I lost my Philippine passport?
In case you lost your passport, there's no need to worry about it. You can obtain a new passport with the following documents:
Police report or case certificate
Affidavit of Loss of Passport (this can be completed in the Philippine embassy but with a separate processing fee).
Birth Certificate
Marriage Certificate if applicable
A legal document showing your name, date of birth, and place of birth.
Photocopy of your lost or destroyed passport, if applicable.
Death certificate of spouse, if applicable.
Annulment/divorce, if applicable.
Tips When Visiting the Embassy
When visiting the embassy, here's what you need to consider:
1. Show respect to the government staff.
You can show your respect to the government staff by dressing modestly and greeting the officers once you reach the embassy.
2. Make sure that you have all the papers needed before you go to the embassy.
Days before your appointment in the embassy, ensure that you have all the papers already.
3. Appear personally in the embassy.
The embassy doesn't allow proxies. If you need a service, like a passport renewal, you should appear personally in the embassy.
Opening Hours
8:30 AM – 4:00 PM
Contact Information
Embassy of the Philippines in Jakarta, Indonesia
Contact Person: H.E. (Mr.) Lee Hiong Tan Wee – Ambassador Extraordinary and Plenipotentiary
Address: Jl. Imam Bonjol No. 8 Menteng, Jakarta Pusat 10310, Indonesia
Tel. No.: (+62-21) 310-0334
Fax No.: (+62-21) 315-1167
Emergency Nos.: (+62) 811 887 344 & 811 9343448
Email : jakarta.pe@dfa.gov.ph / jakartape@gmail.com
Website: www.jakartape.dfa.gov.ph / www.philembjkt.com
Facebook: https://www.facebook.com/PHLinIndonesia/
Google Map Location
In case you are wondering where the Philippine Embassy in Indonesia is located, below is a map guide for you: