If you are working or residing in Iraq and you need the help of the Philippine government, you can head to the Philippine Embassy in Baghdad. The embassy offers a variety of services exclusively for Filipinos and foreigners who want to travel in the Philippines. The existence of an embassy in Iraq is a big help for Filipinos, especially because the assistance of the government can be easily obtained with a call or appearance in the embassy. So, if you need help in relation to your passport, visa, work-related stuff, birth, death, marriage, and so on, the embassy got you covered.
Also Read: Here are the 25 Countries Where Filipinos are Not Allowed to Work
The Philippine embassy in Iraq also works with the Philippine Overseas Labor Office or POLO. POLO is the link of the Department of Labor and Employment to the word. Filipinos who are abroad can connect to POLO whenever they need something related to labor and employment. This agency works under the Office of the Secretary of Labor. It functions as the operating arm of DOLE to administer and enforce the policies and programs of the agency, which are applicable to Filipinos working overseas. As of this day, POLO has 34 branches around the world. 11 of them are in Asia, 7 in Europe, 13 in the Middle East, and 3 in America.
If you are an OFW, it makes a big difference if you have the contact information of the embassy with you. It's not easy to search for contact details especially if you are in an emergency. You need someone to call right away, especially if it involves your safety. Always keep the information of the Philippine embassy with you.
In this blog, we shared a lot of important details about the Philippine embassy in Iraq. We listed here the services offered by the embassy, frequently asked questions, location, contact numbers, emails, and so on. We hope this information helps you.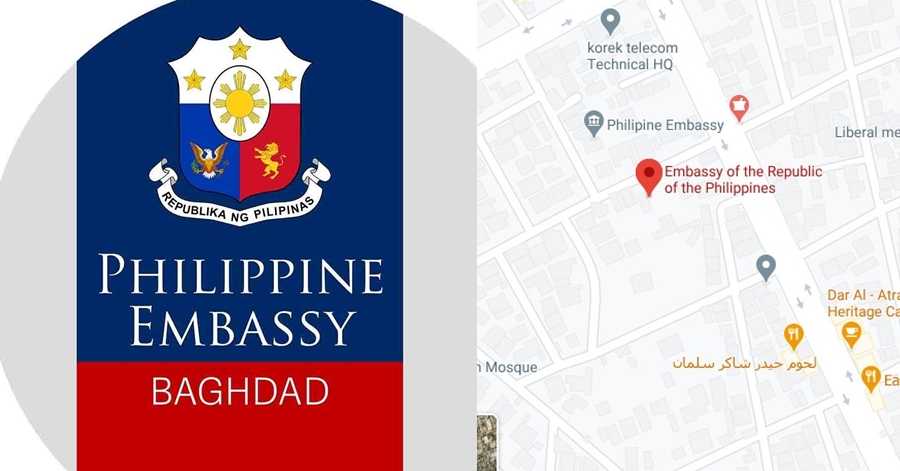 History – PH Embassy Iraq
The formal diplomatic relations of the Philippines and Iraq was established in January 1975, followed by the opening of the Embassy of Iraq in Manila. The Philippine Embassy in Baghdad then opened in September 1980. There was an instance when the Philippines had to move its embassy to Amman in Jordan due to security reasons. This happened in 2004 when Iraq closed its embassy in Manila in 2003. After that, the chancery in Baghdad reopened in November 2011. Still, the Philippines and Iraq remained good friends despite challenges in their relations.
Services Offered
If you want to know the services offered by the Embassy of Iraq, here's the list:
Consular Outreach Program
Passport

Adult New Applicant
Adult Renewal Applicant
Minor New/Renewal Applicant

Travel Document
Authenticating Documents Made Simpler by the Apostille
Civil Registry
Solemnization of Marriage
Report of Marriage
Report of Birth
Report of Death and/or Consular Mortuary Certificate
Dual Citizenship
Visa
Waiver of Exclusion Ground
Certificate of Not the Same Person
Balikbayan Program
Schedule of Consular Services and Fees
Consular Service Fees and Turnaround Time
List of Other Services

Transport of Pets
NBI Clearance
Renewal of Philippine Driver's License
Securing a J1-Waiver
PH Requirements for Medical Missions
Departure Formalities
Philippine Overseas Labor Office
Issuance of Overseas Employment Certificate
OWWA Membership Program
Employment Contract Verification and Authentication
Implementation of POEA Rules on Direct Hiring
Frequently Asked Questions Regarding the Services
What are the documents I should bring during my passport renewal?
Passport renewal is a common service offered by Philippine embassies. You can apply for your passport renewal in the Philippine embassy in Iraq provided that you bring the following documents.
Original old or expired passport.
Complete passport application form.
Photocopy of your passport's data page
Photocopy of your permanent resident card, a record of landing, and work permit.
Passport processing fee
What are the documents needed when a minor wants to obtain a passport?
For minors who want to obtain their passport from the Philippine Embassy in Iraq, you can do so by presenting the following documents. You also need to bring your parents with you.
Birth certificate
Report of birth form
Letter from the doctor who delivered the child attesting to the birth.
Medical record of the child from the hospital where the child was delivered, in case the doctor can't be located anymore.
Original and photocopies of the passports of the parents.
Letter of consent with the signature of both parents
What happens if I lost my Philippine passport?
Losing your passport is a bit inconvenient. But, you can apply for a new one with the following documents:
Police report or case certificate
Affidavit of Loss of Passport (this can be completed in the Philippine embassy but with a separate processing fee).
Birth Certificate
Marriage Certificate if applicable
A legal document showing your name, date of birth, and place of birth.
Photocopy of your lost or destroyed passport, if applicable.
Death certificate of spouse, if applicable.
Annulment/divorce, if applicable.
Is dual citizenship allowed?
Yes, dual citizenship is allowed. This is a common question asked by Filipinos who have obtained another citizenship while they are abroad. You can definitely apply for a Philippine passport after obtaining your dual citizenship recognition from the embassy.
Tips When Visiting the Embassy
When visiting the embassy, here's what you need to consider:
1. Wear the right clothes.
You need to be decent when visiting the embassy as they are not allowing visitors who are in sando and shorts.
2. Don't forget all the documents needed.
Days or a night before your appointment in the embassy, make sure that you have all the papers required. This will save you time from going back and forth to the embassy.
Opening Hours
8:00 AM – 5:00 PM
Contact Information
Philippine Embassy in Baghdad, Iraq
Contact Person: Hon. (Mr.) Edsel Barba – Ambassador Extraordinary and Plenipotentiary
Address: House No. 4 Zukak No. 22, Mahalat 915 Hay Al-Jamia, Al-Jadriyah, BAGHDAD, IRAQ
Tel. Nos.: +964-7817889761 | +964-7715187510 | +964-7712351127 | +964-7714709842 | +964-7715807201
Email: baghdad.pe@dfa.gov.ph; pe.baghdad@gmail.com; baghdadpe@gmx.com
Website: www.baghdadpe.dfa.gov.ph
Facebook: https://www.facebook.com/PHinIraq/
Google Map Location
In case you are wondering where the Philippine Embassy in Iraq is located, below is a map guide for you: