If you are wondering where you can get services for Filipinos who are in Belgium, you can go to the embassy located in Brussels. The embassy offers different services, such as passport issuance, passport renewal, visa-related services, marriage solemnization, a record of birth, a record of death, and other similar transactions. If you need any of those or you want to talk to the Philippine government while you are in Belgium, don't hesitate to go there. POLO is also located within the Philippine embassy. For emergencies and legal advice, you can go to the POLO office.
Also Read: Philippine Embassy in Vienna, Austria
When you are abroad, you need to be aware of the information about the embassy, especially because the Philippine government can only work through this office. As early as you land in Belgium, you should collect the details of the embassy so that you have contacts in case of emergency and legal matters.
Below, we collated all the details you need from the Philippine Embassy in Belgium. Included in this blog are the services offered, frequently asked questions, opening hours, contact numbers, email, and tips when visiting the embassy. We hope that this article will guide you through your OFW journey in Belgium.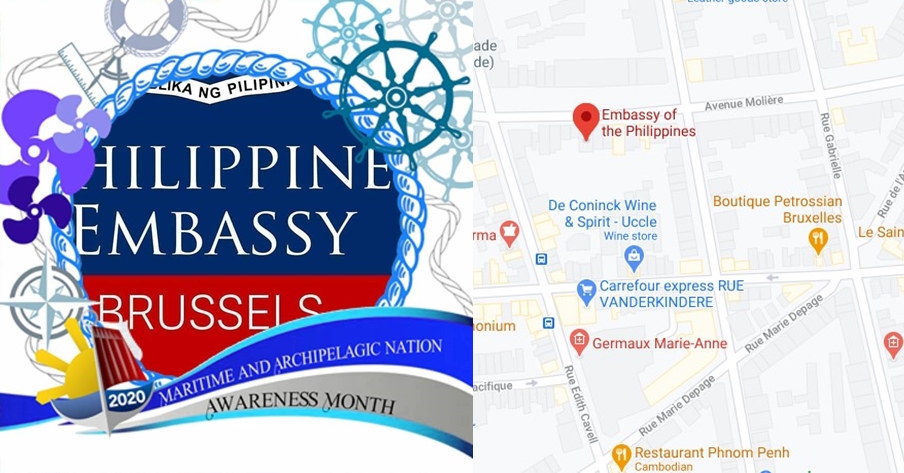 History – PH Embassy Belgium
The Philippine Embassy in Belgium leased a property in the country in 1997. The embassy chancery has an eclectic style. It has been existing even before the Philippine embassy leased the building. The style of the building has been gaining popularity in today's generation. Fernand Symons, a renowned architect, was able to design this 650-square meter lot. After the Philippine leased the building, it finally bought the chancery in 2008. Then, a renovation happened between 2009 to 2010. The style of the building was preserved and some innovations were integrated as well.
The interiors of the Philippine Embassy are easy to navigate. When you enter the gate, you will see an exterior hallway that can cater to light vehicles. From there, you will see the grand staircase through the glass doors. The ground floor of the embassy was dedicated first to domestic tasks. However, it has repurposed to be the consular section of the Embassy. The ground floor is now divided into reception areas for those who will get the services of the consular and workspaces for back-office operations. Upstairs are where visitors are received. The Green Room of the Embassy has a French style that will surely catch your attention.
Services Offered
Here is the list of services the Philippine Embassy in Belgium offers.
Consular Outreach Program
Passport

Adult New Applicant
Adult Renewal Applicant
Minor New/Renewal Applicant

Travel Document
Authenticating Documents Made Simpler by the Apostille
Civil Registry
Solemnization of Marriage
Report of Marriage
Report of Birth
Report of Death and/or Consular Mortuary Certificate
Dual Citizenship
Visa
Waiver of Exclusion Ground
Certificate of Not the Same Person
Balikbayan Program
Schedule of Consular Services and Fees

Consular Service Fees and Turnaround Time

List of Other Services

Transport of Pets
NBI Clearance
Renewal of Philippine Driver's License
Securing a J1-Waiver
PH Requirements for Medical Missions
Departure Formalities
Philippine Overseas Labor Office
Issuance of Overseas Employment Certificate
OWWA Membership Program
Employment Contract Verification and Authentication
Implementation of POEA Rules on Direct Hiring
Frequently Asked Questions
What are the documents needed when renewing my passport?
When renewing your passport, the following documents are needed:
Original old or expired passport.
Complete passport application form.
Photocopy of your passport's data page
Photocopy of your permanent resident card, a record of landing, and work permit.
Passport processing fee
Make sure to bring them all when you are scheduled for passport renewal.
What requirements do I need if I lost my passport?
When you lost your passport, you can still apply for a new one with the following requirements:
Police report or case certificate
Affidavit of Loss of Passport (this can be completed in the Philippine embassy but with a separate processing fee).
Birth Certificate
Marriage Certificate if applicable
A legal document showing your name, date of birth, and place of birth.
Photocopy of your lost or destroyed passport, if applicable.
Death certificate of spouse, if applicable.
Annulment/divorce, if applicable.
Are representatives allowed?
Whenever you are availing of the services of the Philippine embassy, you need to be personally present, especially in passport and visa services.
Tips When Visiting the Philippine Embassy
1. Complete the required documents first.
When you are going to the Philippine Embassy, make sure to complete all the necessary documents so that you won't have to go back home because of incomplete documents. Place them in your bag the night before your schedule in the embassy.
2. Go to the Embassy earlier than your schedule.
It's better to go to the embassy earlier than your schedule so you can avoid getting late or getting your appointment canceled. You don't know what you will encounter when you are on the way. It's still better if you are prepared.
3. Wear proper attire.
Dressing properly and avoiding sando and shorts when you go to the embassy are indications that you have full respect for the government. Also, wearing revealing clothes won't do you any good because you won't be allowed to enter the premises.
4. Respect the government personnel.
Finally, don't forget to respect the government personnel and your fellow Filipinos when you are in the embassy. Your respect would be appreciated a lot especially because it's seldom that you see a lot of Filipinos in one place. Also, the Philippine embassy serves as a Philippine territory where you can feel that you really belong to the same nation.
Opening Hours
9:00 AM to 1:00 PM
Contact Information
Embassy of the Philippines in Brussels, Belgium
Contact Person: H.E. (Mr.) Eduardo Jose A. De Vega – Ambassador Extraordinary and Plenipotentiary
Address: 297 Avenue Moliere, 1050, Brussels, Belgium
Telephone Number: (+32-2) 34033-77 to 78
Fax Number: (+32-2) 345-6425
Duty Office Number: (+32-4) 8860-9177
Email: brussels.pe@dfa.gov.ph; brusselspe@gmail.com
Website: www.brusselspe.dfa.gov.ph
Facebook Page: https://www.facebook.com/PHinBelgium/
Google Map Location
In case you are wondering where the Philippine Embassy in Brussels is located, below is a map guide for you: