The Philippines is part of a much wider "ring of fire" that covers islands and nations in and around the Pacific — all of which are prone to earthquakes and volcanic eruptions. Last year, a 7.2 magnitude earthquake struck off Mindanao, although no tsunami threat was recorded.
On Monday, April 22, another major earthquake hit parts of Luzon, causing the deaths of at least 11 people. The 6.1 magnitude earthquake centered on Castillejos, Zambales, but several quakes and aftershocks have hit other parts of the country — prompting cancellation of work and classes, closer inspection of buildings, and frantic searches for survivors.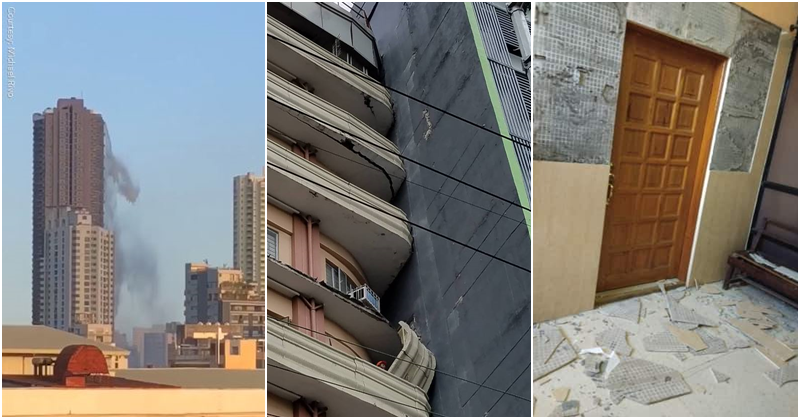 Philippine Earthquakes: Videos & Images
As of 7 am on Tuesday, the Philippine Institute of Volcanology and Seismology (Phivolcs) has recorded at least 406 aftershocks, ABS-CBN News reported. Of these, eight were "felt" while 63 where "plotted" (in other words, their epicentres had been located). The rest of the aftershocks — ranging from 1.4 to 3.4 magnitude — were too weak to be located.
Over the past couple of days, search and rescue teams have been hard at work. The Philippine Red Cross, in particular, has been conducting operations at Chuzon Supermarket in Porac, Pampanga — where a number of people have died and some are still missing:
Meanwhile, the Sangguniang Panlungsod in Catbalogan City sustained minor damages during a subsequent, magnitude 6.2 earthquake that hit Eastern Samar:
In Tacloban City, cracks were seen on the wall of ACE Medical Centre:
After the earthquake, in Manila, part of the Emilio Aguinaldo College ended up "leaning" on a neighbouring building, as shared in this photo by News5:
Up north, News5 shared this photo of the damaged boundary arch between Bataan and Pampanga:
Aside from photos, earthquake videos had been recorded and shared on social media. Here's one shared by News5, of an establishment in Catarman, Northern Samar during the quake:
In addition, here's a chilling video of water spilling over a residential building in Binondo, Manila. The video, courtesy of Michael Rivo, was shared by UNTV News & Rescue on Facebook. Witnesses described the earthquake-caused incident as an "urban waterfall:"
ALSO READ: Earthquake in Taiwan Took the Life of an OFW Filipina
As search and rescue operations continue, we can only hope and pray that more lives would be saved. And while we cannot really predict when an earthquake would happen, we can always be prepared by having emergency kits on hand, and by staying calm at all times.