Stories hold valuable meaning to people because it is through shared experiences and a focused look at the human condition that we can relate and empathize with one another.
ALSO READ: 9 Reasons OFWs are Tagged as Modern-Day Heroes
Fortunately, through social media, these stories can be easily shared with a group of people and those from far away in just a matter of a few clicks on the computer or through a smart device.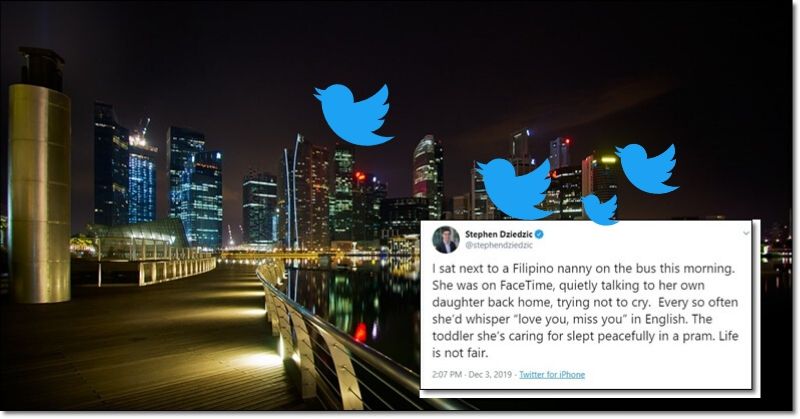 Filipina Nanny's Heartwarming Story Tweeted by Aussie Journo Goes Viral
This was the case of the Filipino domestic helper whose story has gone viral on social media after an Australian journalist noticed how she was showering her child with affectionate "I love you's" over the phone, but is taking care of someone else's child while on the bus because she needs to work for her family back home.
The tweet by Singapore-based journalist Steven Dziedzic (@stephendziedzic) of the Australian Broadcasting (ABC) Network dated November 3, read: "She was on Face Time, quietly talking to her daughter back home, trying not to cry. Every so often she'd whisper 'I love you, I miss you' in English. The toddler she's caring for slept peacefully in a pram." 
"Life is not fair, " Dziedzic wrote.
The heartbreaking tweet has now gained over 48,000 likes and nearly 8,000 retweets and has generated quite a discussion on the topic of how [Filipino] domestic helpers are treated in Singapore.
A fellow Australian netizen (@jennyweez) commented, "The treatment of domestic workers in Singapore used to break my heart. Especially the way many privileged expats took their labor for granted and never seemed to think about the heartache of these women who do so much to take care of their children."
In response, the TV journalist tweeted, "I don't pretend to be an authority on this but in my experience, there's a huge spectrum. Yes, some employers are vicious and exploitative. Others are respectful and reasonable. Either way, I agree no one should *ever* take their labor for granted."
@jennyweez agreed to Dziedzic's point but also shared that she knew some expats in Singapore who "completely took their helper for granted, hated that they had Sundays off and were outraged at any request for a raise."
Another fellow Australian netizen (@alexdonline ) also commented, "The labor laws in Singapore and other countries with similar programs are a disgrace. These domestic workers are basically exploited. Not many take the time to look under the shiny veneer of Singapore."
Meanwhile, @lotus2955 from Perth, Australia shared he also noticed the same scene in Jordan. "It's tough but they still always do a great job and with a smile," the netizen shared.
To this, Dziedzic replied, "I'm amazed by their resilience. It's lovely when you see domestic workers just gathering in the parks on Sunday, taking the opportunity to laugh and joke together."  
The Filipino nanny Dziedzic chanced upon in the bus was just one of the many overseas Filipino workers (OFWs) who have to endure being separated from their families and deal with homesickness for the sake of their family and loved ones' future.
I sat next to a Filipino nanny on the bus this morning. She was on FaceTime, quietly talking to her own daughter back home, trying not to cry. Every so often she'd whisper "love you, miss you" in English. The toddler she's caring for slept peacefully in a pram. Life is not fair.

— Stephen Dziedzic (@stephendziedzic) December 3, 2019
Unfortunate as it is, this is the reality that a lot of Filipinos choose for the benefit of their loved ones back home. 
And while it's true that the pay from work overseas is more lucrative than what we have back home, there are also many areas in the labor sector that foreign governments (not only Singapore) can look into to ensure the welfare and protection of domestic workers in their country.  
ALSO READ: Top 5 Most Common OFW Problems