The Philippine Postal Corp.'s (PHLPost's) Postal ID, a wallet-sized ID card, is no longer just another one of your "valid secondary IDs."
Also Read: List of Valid IDs Accepted for Passport Application
Since the release of the new and more durable Improved Postal ID in 2015, it has become not only a valid proof of identification acceptable even to the Department of Foreign Affairs (DFA).
What is the Improved Postal ID?
The Improved Postal ID is government-recognized identity card issued by the Philippine Postal Corporation (PHLPost). It is a wallet-sized card equipped with security features that are not provided by your typical ID card.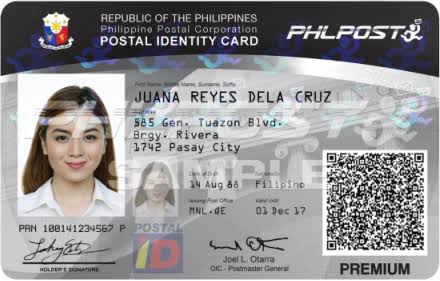 To combat the modern challenges on identity fraud and falsification of documents, the card features a ghost image of the applicant and a hologram of the running mailman. These features allow tellers and frontliners to easily verify the authenticity of the card without having to use any special equipment. In addition, it was infused with UV ink—a special ink that illuminates when subjected to ultraviolet light—to make it nore secure.
The new version if the ID card did not only become more durable when compared with the paper-based type of old. Now, it is also equipped with improved security features similar to other recently revamped government-issued IDs. This stripe encompasses certain security measures including fingerprint patterns registered in a database and compared with the Automated Fingerprint Identification System (AFIS) as well as a quick response (QR) code unique to every cardholder.
Other key features of the improved postal ID includes:
Card features a security hologram of a running mailman viewable at different angles
All information and biometrics of the ID holder are captured only at the postal office only to make sure all personal information are legit and valid.
The new postal IDs are printed at only one main location to prevent duplication.
Using the Postal ID Verification app, the embedded QR code (similar to other regular smartphone apps) can be scanned to verify the cardholder's identity
The Automated Fingerprint Identification System (AFIS) is used to verify the person's fingerprint by matching it with the one stored in the database
In addition, PHLPost now offers additional value to Filipino Postal ID cardholders under what is known as the Improved Postal ID Privilege Program.
What is the Improved Postal ID Privilege Program?
The Improved Postal ID Privilege Program is an additional service provided by PHLPost to all Improved Postal ID cardholders. Under the program, cardholders can take advantage of upfront discounts, product and/or service upgrades, freebies, and other deals exclusively offered by various merchant partners of PHLPost from across the country.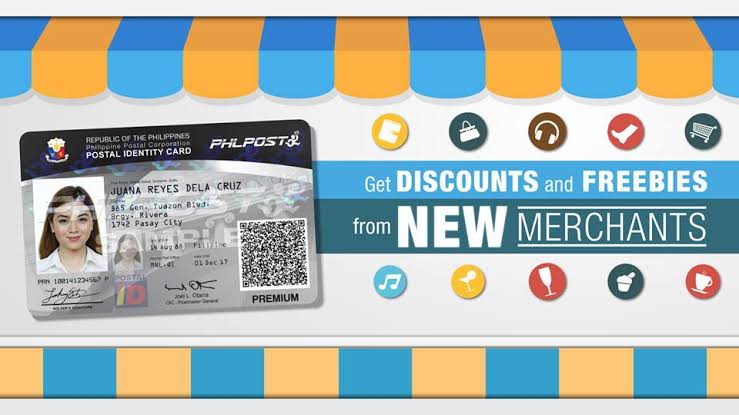 Where can I apply for the Improved Postal ID card so I can avail these benefits?
Located in various cities, towns, and provinces are almost 260 ID capture locations. Most of them are located in either the designated post offices or in selected malls nationwide. There are also numerous capture stations that offer rush processing for those who want a PHLPost Postal ID without the waiting time.
How do I use my Improved Postal ID as a privilege card?
To avail of the program privileges from any of the partner merchants under the Improved Postal ID Privilege Program, this is what you need to do:
Step 1: Visit the selected merchant partner where you want to make a purchase or avail a service.
Step 2: Present your valid Improved Postal ID and check on the list of products or services included in the program.
Step 3: Follow the mechanics and enjoy the discounts, upgrades or freebies that come with the selected product or service that you want to purchase.
Note that you will need to present the actual ID to the merchant partner so they can validate the authenticity of your card.
How do I ensure that my Postal ID is qualified for the privilege program?
For you to enjoy the privilege program, you have to make sure that the Postal ID you will present is the improved version. That means, you need to the gray PVC Postal ID card similar to the photo below). Check the Improved Postal ID's validity, which you may see printed on the face of the card. It should be within the validity period for you to be able to qualify for the privilege program. Please also ensure that the card is in good physical condition. It must not be bent, broken or vandalized in any way.
Where can I use my Improved Postal ID under the Postal ID Privilege Program?
​The cardholders can enjoy the various privileges offered by the privilege program while dining at restaurants, staying at hotels or resorts, visiting theme parks, shopping for appliances and other products, or availing services in salons, spas, clinics, fitness centers, and training schools, as long as the merchants are listed partners under the program.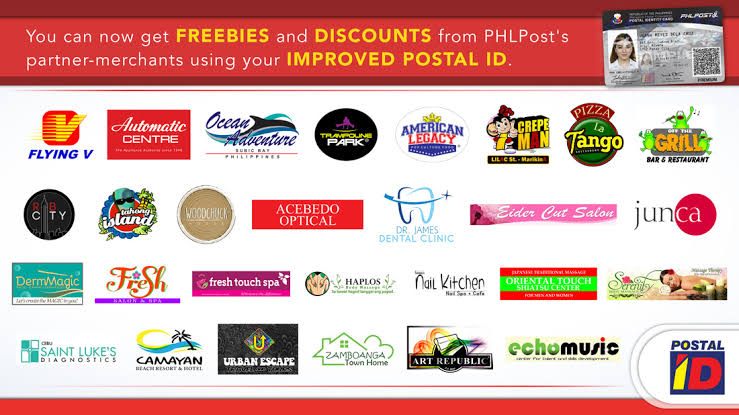 You may which merchants are listed partners under the privilege program here:
Food and Beverage
American Legacy Restaurant
ARNY-DADING Peachy Peachy
BigBoss
Brand X Burgers
Cafe De Apati
Cafe Harry Naga
Chixboy Grill
Corner Route Restobar
Crepeman Cafe
Mrs. Fields
New Asia Restaurant
Off The Grill
Pits Burger
Salad Bar (Food Cart)
Sangkalan Grill and Restaurant
Shake and Brew Cafe
​Ying Ying Tea House
Beauty, Health and Wellness
Acebedo Optical
Chemworld Fragrance Factory
Eider Cut Salon
Healthy Way Dental Avenue
Junca Salon
Kitchenails
Levana Dermatology Clinic
Magic 7 Beauty & Wellness, Inc. (Fresh
Salon, Fresh Touch Spa, Derm Magic)
Oriental Touch Shiatsu Center
Paradasia Royale Spa
Home and Living
Travel and Leisure
Continental Travel and Tours
Hotel Sogo
​Let's Go Travel Services
Naga Pilgrims Hotel
Residencia Boracay
Zamboanga Town Home (Bed & Breakfast)
Fitness and Recreation
Avilon Wildlife Conservation Foundation
​AX Fitness
Enchanted Kingdom
Laresio Lakeside Resort & Spa​
​Splash Island
​Trampoline Park
​Upside Down Museum
Petroleum
Pharmaceutical
Apparel
Others
Art Republic Print Technology (Computer Services & Souvenirs)
Great Image
Papel at Pluma
Frequently Asked Questions (FAQs)
Are my program privileges transferable?
No, all the privileges associated with the Improved Postal ID are non-transferable. The cardholder whose name and picture appears on the card must be present for every transaction. There are some merchant partners who extend the program privileges to the ID bearer's companions at the time of the transaction, though it is not a mandatory privilege and cannot be from the merchants.
Can I combine my Improved Postal ID privileges with other existing promos of the merchant partner?
No, like any other reward cards or discount promos, the privileges under the program cannot be used in conjunction with other existing promotions, offers or coupons of any merchant partner, unless otherwise stated in the mechanics. Usually, the promo that gives you more savings shall apply.
Can I combine my Improved Postal ID privileges with other government mandated discounts, such as the senior citizen or student discounts?
No, combining your Improved Postal ID privileges with government mandated discounts such as those given to senior citizens or students, is not allowed. This holds true unless otherwise stated in the merchant partner's mechanics. Nevertheless, the promo or discount program that gives you more savings shall apply.
Is there a limit to how many times I can use my Improved Postal ID in availing program privileges?
No. There is no limit to the number of times you can avail the program privileges. You may use your ID and avail the program privileges as many times as you want to.
What should I do if a merchant partner does not recognize or honor my Improved Postal ID?
All the accredited merchant partners have agreed to honor the card as long as they are authentic, in good physical condition, and within the card's validity period. However, all the merchant partners have the right to refuse the card if it is proven otherwise. In the event, however, that you experience being declined by merchant partners upon presentation of your valid ID, you may reach out to the Postal ID Customer Service Hotline numbers at 09175215373 (Globe), 09988447629 (Smart), or 09253212291 (Sun). You may also call
(02) 742­7349 or (02) 230­9875 or send a private message via Facebook at www.facebook.com/newpostalid.
I availed a program privilege using my Improved Postal ID, but I did not like the quality of the product/service I got. What do I do?
PHLPost has measures in place to ensure that the merchant partners under the privilege program will provide the best quality products/service to the cardholders. However, in case of poor product or service rendered in relation to the program, cardholders are encouraged to report it to PHLPost so they can directly raise the concern to the merchant partners. To do so, PHLpost is opening the Customer Service Hotline to ddress whatever issue the cardholder may encounter.
I am a business owner, and I am interested in the Postal ID Privilege Program. How can I join as a merchant partner?
If you are a business owner and you want your business to be ine of the merchant partners under the privilege program, the you would want to reach out to PHLPost. To do so, fill out the contact form on the Postal ID website or send a private message on Facebook, at www.facebook.com/newpostalid to inform them about your interest to become a merchant partner. Once done, one of their Account Executives should get in touch with you to discuss the details of the Postal ID Privilege Program at the soonest possible time.