The Philippine Regulatory Commission (PRC) is a government agency responsible for the regulation and supervision of certain professionals in the Philippines. It was created in 1947 to regulate the practice of professions such as architecture, engineering, forestry, and accounting, among others.
The PRC also issues licenses to qualified individuals who wish to practice their chosen profession. Aside from issuing professional licenses and certifications, it also administers board exams to aspiring professionals and processes applications for registration with its associated regulatory boards. Moreover, the PRC is tasked with monitoring the conduct of professionals within its jurisdiction in order to ensure public protection. It may issue warning letters or penalize erring individuals by canceling or suspending their respective licenses or certificates.
The PRC works collaboratively with other government agencies such as the Department of Labor and Employment (DOLE), Professional Regulation Commission (PRC), National Bureau of Investigation (NBI), and Technical Education Skills Development Authority (TESDA) in order to meet its mandates. As part of its mission, the PRC ensures that only those who possess sufficient knowledge and competence are allowed to exercise their respective professions for the protection of both consumers and practitioners alike.
If you think that the difficulties in life ended when the many sleepless nights of reviewing for the licensure examinations paid off, well, here's what we have to say. Hold off on the party hats and the celebrations because, you'll still need to get your ID or license and Certification of Board Rating and Passing from the Philippine Regulatory Commission (PRC). These are all necessary documents if you wish to start practicing your profession legally.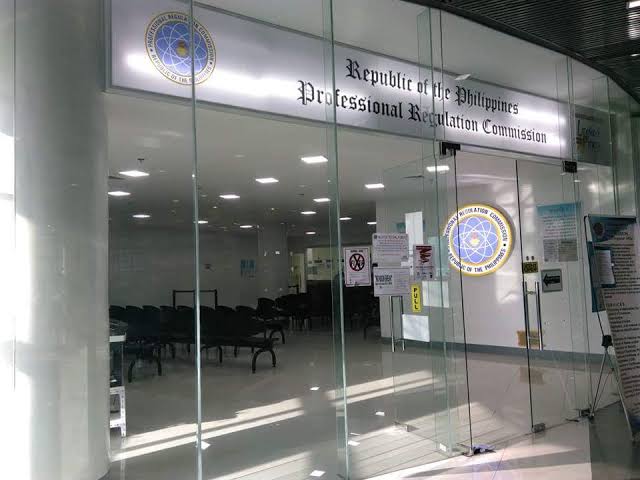 PRC: Background, Mandate, and Related Services
Thankfully, the PRC stays true to its mandate. Since it was first created as a national government agency by virtue of  Presidential Decree (P.D.) No. 223 in June 22, 1973, PRC (formerly known as the Office of the Boards of Examiners) was created by Republic Act No. 546 on June 17, 1950, under the Civil Service Commission (CSC). It started its operation in 1974, under the general supervision of the Office of the President.
The PRC has been mandated to issue certificates of registration, with both Filipino and English translation. Eventually, the database of registered professionals were computerized, with help from the National Computer Center. Later on, the PRC eventually started to register all board examination passers as civil service eligibles pursuant to R.A. 1080. Later, in 1977, the PRC started issuing registration cards with a validity period of 3 years, by virtue of the Letter of Instruction No. 567. Eventually, the Commission turned to offering most of their services online, though some still requires visiting the PRC offices.
That said, PRC makes their offices more accessible by opening branches and service centers that will ensure the continuity in the delivery of their frontline services.
PRC Manila Central Office
Professional Regulation Commission Central Office
Address: P. Paredes Street corner N. Reyes Street, Sampaloc, Manila
Office Hours: 8 am to 5 pm, Monday to Friday
PRC Regional Offices
PRC NCR Regional Office
Address: P. Paredes St. cor. N. Reyes St. Sampaloc, Manila
Email Address: ncr@prc.gov.ph
Director: Lord Louis P. Valera
PRC CAR Regional Office
Address: Pine Lake View Building, No. 09 Otek Street corner Benjamin R. Salvosa Drive, Bgy. Rizal Monument, 2600 Baguio City
Tel: (074) 661-9105
E-mail: car@prc.gov.ph
Director: Juanita L. Domogen
PRC Pangasinan Office – Region I
Address: Government Center, Pangasinan-Nueva Viscaya Road, Carmay East, 2441 Rosales, Pangasinan
Tel: (075) 649-3798
E-mail: ro1@prc.gov.ph
Officer-in-Charge: Virginia N. Martin
PRC Cagayan Office – Region II
Adrdress: Regional Government Center, Carig Sur, Tuguegarao City, Cagayan
Tele/fax: (078) 304-0701
Tele/fax: (078) 304-3703
E-mail: ro2@prc.gov.ph
Director: Rodrigo F. Balaqui, Jr.
PRC Pampanga Office – Region III
Address:2nd and 3rd Floor (New) PEO Annex Building Provincial Capitol Compound, Brgy. Santo Niño, City of San Fernando, Pampanga
Contact Number: 0956-830-5757
E-mail: ro3@prc.gov.ph
Officer-in-Charge: Paul H. Aban
PRC Lucena City Office – Region IV
Address: 2nd floor Grand Central Terminal Ilayang, Dupay, Lucena City
Tel: (042) 373-7316
E-mail: ro4a@prc.gov.ph
Officer-in-Charge: Reynaldo V. Cristobal
PRC Legaspi City Office – Region V
Address: Regional Government Center Site, Rawis, Legaspi City 4500
Tel: (052) 481-3079
Fax: (052) 481-3323
E-mail: ro5@prc.gov.ph
Director: Sharo B. Lo
PRC Iloilo City Office – Region VI
Address: 2nd Floor, Gaisano Iloilo City Center Mall, Benigno Aquino Ave., Mandurriao, Iloilo City
Tel: (033) 329-2730, (033) 329-2733
Telefax: (033) 329-2410
E-mail: ro6@prc.gov.ph
Officer-in-Charge: Romel B. Balisang
PRC Cebu Office – Region VII
Address: HVG Arcade, Subangdaku, Mandaue City, Cebu
Tel: (32) 2535330
E-mail: ro7@prc.gov.ph
Officer-in-Charge: Gina T. Emperado
PRC Tacloban City Office – Region VIII
Address: 2nd Floor, Uytingkoc Bldg., Senator Enage St., Tacloban City
Tel: (053) 323-9729, (053) 832-2519, (053) 832-2520
E-mail: ro8@prc.gov.ph
Director: Narcival Randie Z. Taquiqui
PRC Pagadian City Office – Region IX
Address: 149 F. S. Pajares Street, Pagadian City
Tele/fax: (062) 925-0080
E-mail: ro9@prc.gov.ph
Officer-in-Charge: Nora A. Siason
PRC Misamis Oriental Office – Region X
Address: Skypark, Limketkai Center, Cagayan de Oro City, Misamis Oriental
Tel: 0995-277-8672 / 0909-197-8244
E-mail: ro10@prc.gov.ph
Officer-in-Charge: Julie L. Sabalza
PRC Davao City Office – Region XI
Address: Calamansi St., corner 1st Street, Juna Subdivision 8000, Matina, Davao City
Tel: (082) 234-0006 to 07
E-mail: ro11@prc.gov.ph
Director: Raquel R. Abrantes
PRC Cotabato Office – Region XII
Address: Robinsons Place GenSan, Jose Catolico Sr. Ave, General Santos City, 9500 South Cotabato
E-mail: ro12@prc.gov.ph
Director: Raquel R. Abrantes
PRC Agusan Del Norte Office – Region XIII
Address:  Robinsons Place Butuan City, Butuan City, Agusan Del Norte
Contact Number: 09302291575
Fax number: (085) 815 0915
E-mail: ro13@prc.gov.ph
Officer-in-Charge: Rotelo B. Cabugsa
PRC Satellite Offices
The PRC satellite offices listed below are supervised by the regional locations wherein they are situated. These PRC satellite offices can assist you in the following:
Application of licensure examination;
Renewal of PRC Identification card;
Duplicate PIC issuance;
Authentication and certification of the certificate of registration;
Change of status;
Passing verification; and
Board ratings
PRC PICC – Philippine International Convention Center Satellite Office
Address: Vicente Sotto St, Pasay, Metro Manila
PRC Bacolod Satellite Office
Address: Robinsons Place Bacolod, Lacson St, Bacolod, 6100 Negros Occidental
PRC Ortigas Satellite Office
Address: Robinsons Galleria, EDSA, corner Ortigas Ave, Ortigas Center, Quezon City, Metro Manila
PRC Cebu Satellite Office
Address: Robinsons Galleria, Level 2, General Maxilom Ave Ext, Cebu City, Cebu
PRC Dasmariñas Satellite Office
Address: Robinsons Place, Dasmariñas, Cavite
PRC Dumaguete Satellite Office
Address: Robinsons Place, Dumaguete Business Park, Dumaguete, Negros Oriental
PRC Iligan Satellite Office
Address: Robinsons Place, Macapagal Ave, Iligan City, Lanao del Norte
PRC Ilocos Norte Satellite Office
Address: Robinsons Place 2nd Flr, Robinsons Place Ilocos Norte, Brgy. San Nicolas, San Nicolas, Ilocos Norte, 2901
PRC Iloilo Satellite Office
Address: Robinsons Place, Iloilo City Proper, Iloilo
PRC Las Piñas Satellite Office
Address: Robinsons Place Level 1 G-124 Robinsons Place Las Piñas 345 Alabang – Zapote Road, Brgy, Talon Uno, Las Pinas, 1747
PRC Manila Satellite Office
Address: Robinsons Place Manila Level, 2 Padre Faura Wing, Padre Faura Street, Ermita, Manila
Office Hours: 10 am – 8 pm
PRC Novaliches Satellite Office
Address: Robinson's Mall Novaliches, 1 Quirino Highway, Novaliches, Quezon City, 1118
PRC Naga Satellite Office
Address: Robinsons Place, Almeda Highway, Roxas Ave, Brgy. Triangulo, Naga, Camarines Sur
PRC Ormoc Satellite Office
Address: Robinsons Place, Palo – Carigara – Ormoc City Rd, Ormoc, Leyte
PRC Palawan Satellite Office
Address: Robinsons Place, Puerto Princesa North Road, Puerto Princesa, 5300 Palawan
PRC Pampanga Satellite Office
Address: Robinsons Starmills, San Fernando Pampanga
PRC Pangasinan Satellite Office
Address: Robinsons Place, Urdaneta–Dagupan Road, Barangay San Miguel Rd, Calasiao, Pangasinan
PRC Isabela Satellite Office
Address: Robinsons Place, Pan-Philippine Hwy, Santiago, Isabela
PRC Sta. Rosa Satellite Office
Address: Robinsons, Old National Highway, Santa Rosa, Laguna
PRC Tagum Satellite Office
Address: Robinsons Place, Tagum City, Davao del Norte
If in doubt about going to the PRC Office…
If you feel that you need more help in finding the best way to address your PRC requirements or licensing needs, feel free to reach out to PRC via the following channels:
Via the PRC Contact Us form: https://www.prc.gov.ph/public-assistance
Via email: prcpublicinfo@prc.gov.ph, technicalassistance@prc.gov.ph
Via their FB page: https://www.facebook.com/professionalregulationcommission