Working in Australia is a popular choice for many Filipinos, especially younger ones who are looking to build their careers. There are many reasons for this, including the country's strong economy and its reputation for offering good working conditions.
In recent years, the number of Filipinos working in Australia has increased significantly. This is due in part to the growing number of Filipinos who are highly skilled and qualified. Additionally, many Filipinos who work in Australia have family members who are already established in the country. This makes it easier to find work and settle into a new community.
Also Read:
Filipinos are the third largest group of Asians in Australia. According to the 2021 census, there are 400,000 Filipinos living in Australia, accounting for nearly 1.6% of the population. Across this country, Filipinos are involved in a wide range of occupations, including healthcare, business, and education. As a result of their hard work and determination, Filipinos have made a significant contribution to the Australian economy and way of life.
The country is known for its good work culture and friendly people, which makes it a great place to work. There are many reasons why you should work in Australia and here's our list of the top 10: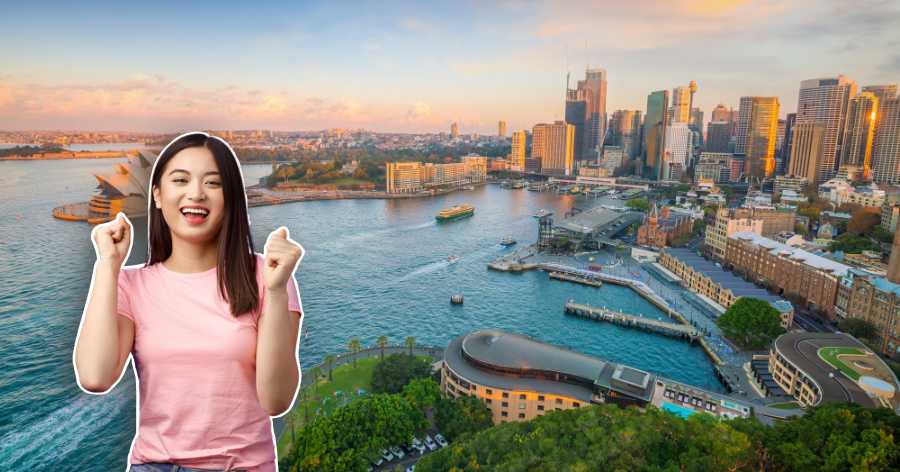 1. Australia has an economy that's attractive to foreign investments and conducive to business growth.
The first thing you need to know about Australia is that it is rich in resources. The country's natural resources include coal, copper, iron ore, gold, and uranium among other minerals. In addition to these natural resources, Australia has plenty of agricultural products that contribute to its economy, such as wheat and wool; the latter being one of the nation's biggest exports alongside beef and dairy products.
In terms of industry structure, mining accounts for 17% of GDP while agriculture adds another 3%. The manufacturing industry contributes 12% while services account for 65%. Electrical equipment manufacturing employs about 10% of workers but since this figure does not include people working abroad as expatriates or overseas Filipino workers (OFWs), it can be assumed there are more jobs available in this sector.
With businesses and investments continuously pouring in and the economy developing at a steady pace, there are more jobs available in Australia. The government has also implemented various programs to ease unemployment and encourage entrepreneurship. These could just be your ticket to finding a job in Australia. The government is also actively recruiting skilled workers from overseas to fill the gap in specific industries and occupations.
2. High-Paying Jobs
The average salary in Australia is $52,000 per year. The minimum wage is $18.29 per hour. Filipinos can expect to earn much more than this amount. The average salary for a Filipino worker in Australia is $32,000 per year. This is much higher than the average salary in the Philippines, which is only $7,000 per year. It's also higher than what most Filipino workers earn in other countries like Singapore and Hong Kong.
Another factor that makes Australian working opportunities so attractive is that most companies will pay your relocation costs if you are willing to move there permanently. These costs could include airfare or expenses associated with shipping your belongings out there as well as finding housing once you arrive at your new destination. This means that even before you start earning money from work, it's possible that all of your expenses will be covered by the company that hires you because they'll be responsible for paying them upfront on your behalf!
If you're interested to know which industries offer the best jobs in Australia, then it's worth looking into the following:
Information Technology and Software Development – With a booming technology sector and a growing population, there are plenty of opportunities for software developers in this country.
Education and Training – Australia has a strong education system, and there are plenty of opportunities for teachers to work in both the public and private sectors.
Healthcare – The health care industry is growing rapidly in Australia, especially as more people move to the country and need access to medical care.
Construction – The construction industry is booming in Australia, thanks to an influx of immigrants and a growing population.
Government Jobs – Government jobs are often some of the best-paying positions available in any country.
Think you've got the skills and qualifications to work in Australia? You'll find plenty of opportunities for teachers, accountants, doctors, nurses and more.
3. High demand for skilled workers and strong opportunities for permanent residency
With a shortage of skilled workers, Australia offers attractive employment conditions to attract more foreign talent to fill the gaps in its workforce. Furthermore, Australia's economy has been growing steadily over the years as it remains an attractive destination for job seekers looking to work overseas.
Here are some of the highly common and available skilled jobs for Filipinos looking to work in this country:
A. Welding, Fabrication and Metal Works
Welders, fabricators and metal workers cut, join and repair metals for structures such as pipes, boilers and ships. They study blueprints to ensure proper alignment before cutting any materials; once completed they will finish iron or metal goods through sandblasting or painting.
Jobs under Welding, Fabrication and Metal Works
Industrial Welders
Solderers and Brazzers
Cutters
Welding Machine Operators
Welding Inspectors
Fabrication Welders
Pipeline Welders and Pipefitters
Structural Iron and Steel Workers
Oil Rig Welder
Sheet Metal Workers
Boilermakers
Auto Body Welder/Technician
Tool and Dye Maker
Manufacturing Welders
Average Salary: The average salary for metal Workers in Australia is between AU$35.73 and AU$50.06 per hour
B. Automotive Service Technicians and Mechanics
Automotive mechanics and electricians are skilled workers who repair, install, maintain, or diagnose a wide variety of vehicles. Automotive mechanics work on mechanical systems such as engines and tires, while automotive electricians diagnose and repair the vehicle's many electrical systems.
Jobs under Automotive Service Technicians and Mechanics:
Vehicle inspector
Metal Machine Setter
Auto body repair technician
Quality testing engineer
Truck driver
Car salesperson
Car detailer
Average Salary: Automotive Mechanics and Electricians are paid an average of AU$32.57 for every hour worked.
C. Machinists and Metal Fitters
Machinists use milling, drilling, grinding and lathe machines to make tools and components. On the other hand, a mechanical fitter works on heavy machinery. They operate tools and equipment to grind, mill and shape raw materials into the necessary form—all while working to set of precise requirements
Jobs under Metal Fitters & Machinists
Mechanical Technician
Plastic Technician
Electronic Technician
Maintenance Technician
General Fitter
Machinist Fitter
Turner Fitter
Mechanical Fitter
Average Salary:  The average salary for this kind of work is between $35.27 and $ 35.76 per hour
D. Car Bodyworkers & Auto Body Technicians
Vehicle painters and panel beaters work mostly on the exterior bodies of huge and small motors. Panel beaters repair damaged panels, while auto painters might discard hard-to-reach places like car roofs or fenders before re-painting them to make them look trendy again.
Jobs under Vehicle Painters & Panel Beaters
Panel Beater
Body Vehicle Builder
Automotive Painter
Auto Spray Painter
Vehicle Spray Painter
Average Salary: The salary for this type of job can range from AU$30.01 to AU$37.45 per hour, depending on the company and position held by an employee.
E. Skilled Meat Workers
Meat industry workers, such as meat slicers or slaughterers, are responsible for converting farm animals into meat. They use machinery and equipment to separate fat from tissues; scrape off the skins of slaughtered animals; clean away blood clots after an animal has been butchered.
Jobs under Skilled Meat Workers:
Meat Slicers
Meat Boners
Meat Slaughterers
Butcher
Average Salary: The average hourly pay rate for people in this line of work ranges from $21.38 to $22.79
4. Filipino health workers can work in Australia.
Filipino nurses are in high demand. According to the Australian Nursing and Midwifery Board, there is a shortage of nurses in Australia, and Filipino nurses are often highly regarded for their skills. Because of this, Filipino health workers can work in Australia on a 457 visa.
It's important to note that not all occupations require advanced training or education; some jobs have lower requirements just as long as you have experience and qualifications from your home country. These include:
Registered Nurses (RN)
General Practitioners (GP)
The Philippines, for the longest time, has been one of the top places of origin for nurses and doctors. Filipino health workers are known to be well-trained, hardworking and compassionate. They have helped fill the gap in Australia's healthcare system by providing essential services to many Australians.
If you have the necessary qualifications and experience, you can be assured of finding a job in Australia as a nurse or doctor.
5. Filipinos have good English proficiency.
Filipinos have good English proficiency. This is a significant advantage for a Filipino worker in Australia, especially because the locals speak English there.
Filipinos have a positive reputation in Australia. Because of this factor alone, many companies prefer hiring them over other nationalities since there will be no issues at work for their company when hiring Filipino staff members to handle their daily operations.
Filipinos work hard and are efficient in their jobs. They also have excellent communication skills and are easy to train, making them the perfect candidates for any job. These reasons, along with many others, are why many employers prefer hiring Filipinos over other nationalities.
6. Australians regard Filipino workers as smart, kind and dedicated.
Filipinos are known for their hard work, friendliness and dedication to family. These are the qualities that Australians look for in a worker. Filipinos prove to be an asset to Australian businesses because of these characteristics.
Filipinos are also known for their love of family and their willingness to take care of their loved ones back home in the Philippines. As such, they can be relied upon to work hard and long hours. They also have a good sense of humor, which makes them easy to get along with. Filipinos are incredibly kind and respectful people who are willing to learn new things and adapt quickly. And with a solid community behind them, Filipinos have the support they need to succeed in Australia. The Filipino community is one big family; everyone looks out for each other!
7. Free Insurance and Medical Coverage
Free health care. This applies to everyone, including those who are not working and not permanent residents. You can access free medical care through Medicare if you're in Australia. The government runs the Medicare system, so you don't need to worry about being charged for any of your services or medications; everything is covered!
Free dental care. If you have teeth or gum problems, this is good news for you because all general dental services are covered under Medicare (except for some cosmetic procedures). You can even get check-ups and preventive treatments done at no cost! For those who want pearly whites, many dentists around Australia offer low-cost teeth whitening treatments too! Just remember that most clinics only have drop-in hours, so make sure they're open before heading over there with your mouth wide open.
Free vision care & glasses/contact lenses prescription reimbursement program. Suppose ever there's something wrong with how well our eyes see things around us (like blurred vision). In that case, we'll probably need glasses at some point in our lives–whether it's just temporary like after reading too much text on the computer screen, or constant, like when we've got cataracts preventing light from getting into our eyesight properly.
Free insurance coverage only applies, however, to permanent residents, but this shouldn't be a problem, since applying for PR status in Australia is a relatively simple process, requiring only an application form and the relevant supporting documents. Once that's done, you'll be eligible to apply for an Australian passport (and all its benefits).
8. Vibrant Filipino Community
One of the great things about Australia is that the Filipino community is vibrant and growing. Filipinos have been a big part of Australian society since the late 1800s, when thousands of them arrived as laborers to work on sugar cane plantations. As time went on, many more Filipinos immigrated to Australia for various reasons — some came to study, some came as refugees and asylum seekers fleeing conflict in their home country (such as those who fled during Ferdinand Marcos' dictatorship), and others were brought over by their families to get married or because someone asked them to come over for a holiday!
Today there are more than 500,000 Filipinos living in Australia who are proud members of this vibrant community with its own traditions, like Philippine Independence Day celebrations each year on June 12th all across Australia! This means that wherever you are in Australia, there will be a Filipino community nearby and you can find Filipino events happening. You might even meet other Filipinos who are interested in the same things as you! This is a good way to make new friends and find out about the local Filipino community. If you want to meet other Filipinos who are interested in music, arts or sports, then there will be a Filipino Association near you that can help!
9. The number of Filipinos migrating to Australia has increased over the last decade.
The number of Filipinos migrating to Australia has increased over the last decade. This is a good sign for you! The more opportunities there are, the better your chances are of finding a job that suits your needs and skills.
Given a handful of excellent benefits of working in Australia, you can expect that this number would continue to grow for Filipinos and other nationalities.
You might be looking for jobs initially, but once you see the complete package of living in Australia, it might be hard to leave. You will find that there are some jobs you can do while taking care of your family, and others require full-time dedication. This will entirely depend on your personal preferences and what you want to do with your life. If you're looking for a job that allows you to work from home, there are plenty of positions available in Australia to help you achieve this goal. You might be surprised by how many online jobs allow you to work remotely or at home.
10. The Australian government is supportive of workers in the country.
The Australian government is supportive of workers in the country. This means that they have created employment programs specifically designed for foreign nationals who wish to work in Australia! There are also various visa options available for migrants, as well as other types of legal documentation that may apply to you as well.
There are a lot of opportunities for Filipinos in Australia if they're willing to work for it.
If you're a Filipino, you have plenty of opportunities in Australia. The Australian economy is thriving, and the country's multicultural society offers more opportunities for Filipino workers than in most other countries. There are already numerous Filipinos working in Australia, and it's easy to meet them if you decide to move there too.
The Australian government offers many incentives for Filipinos to immigrate, including the Skilled Independent visa. If you have a bachelor's degree and some work experience, this visa will allow you to live and work in Australia indefinitely.
Final Thoughts
So there you have it—9 reasons why Filipinos should work in Australia. We've talked about how the economy is attractive to foreign investments, how high-paying jobs can be found here, and even how Filipino health workers can get jobs here too! And let's not forget that these opportunities aren't just limited to skilled workers: there are plenty of positions available for unskilled laborers as well. If you're a Filipino who's looking for a better life, then there's no better place than Australia. You can find work opportunities that will enable you to send money back home to help your family out, while still being able to live comfortably in one of the world's most beautiful places!
READ NEXT: How to Migrate to Australia as a Teacher