International travellers who have been properly vaccinated in the Philippines will have a shorter quarantine period and will be permitted to use "green lanes" in seaports and airports when they arrive.
Presidential spokesman Harry Roque emphasized the importance of "strict enforcement" of current testing and quarantine measures for inbound international tourists — independent of any specific rules issued by local government entities to the contrary.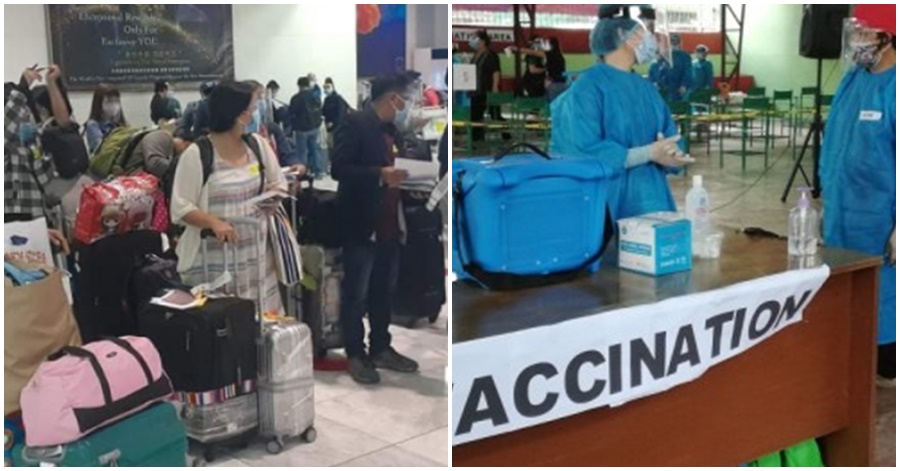 7-Day Quarantine Period for Returning Fully Vaccinated Filipinos
If fully vaccinated Filipinos exhibit COVID-19 symptoms during the seven-day quarantine period, they would be subjected to an RT-PCR or swab test, according to the revised criteria, the Inquirer reported.
Once the quarantine time is over, the returnees will be given a quarantine certificate stating their immunization status.
According to the task force, a person is deemed completely vaccinated two weeks after receiving the second dosage of a two-dose series, or two weeks after receiving a single-shot vaccination. It was also stated that the vaccination used must have an emergency use authorization or compassionate special approval from the Food and Drug Administration (FDA).
The completely vaccinated individual must also keep his or her vaccination card with him or her at all times and have it checked before travel. The card must be given to a Bureau of Quarantine (BOQ) representative upon arrival in the Philippines for reverification.
The passengers will be given a BOQ certificate verifying their vaccination status once they have cleared quarantine, according to the IATF.
However, the regulation only applies to Filipinos who have been immunized in the country and does not apply to foreign citizens or overseas Filipino employees who have been immunized elsewhere. The government is still debating how the new seven-day quarantine policy will apply to Filipinos who received both vaccines abroad.
Previously, on June 4, the Philippines lowered the quarantine time for returning Filipinos who were completely vaccinated against COVID-19 from 10 days to seven days.
The shorter quarantine will not apply to foreign nationals, overseas Filipino workers (OFWs), or Filipinos who were properly vaccinated abroad, according to Presidential Spokesperson Harry Roque.
"They would still have to undergo the regular quarantine and testing protocols, which is, to complete a 10-day facility-based quarantine," Roque said.
The IATF has asked the Departments of Health (DOH), Finance, Trade and Industry, Foreign Affairs, and the National Economic and Development Authority to provide suggestions to further reduce testing and quarantine standards for specific kinds of travelers.
In line with this, the DOH also stated on Friday that it is investigating the potential of establishing green lanes in seaports and airports as part of "liberal incentives" for visitors who have been vaccinated in the Philippines.
READ NEXT: Philippines to Require Foreign Employers to Cover COVID-19 Vaccination for OFWs