It's 2019, and the world has become as progressive as it can get. Gone were the rigid concept of raising a family with both a father and a mother, and today the government is even considering passing a law on divorce; a concept that has long been non-existent in religious Filipino society.
Also Read: How to Apply for DSWD Solo Parent Cash Assistance
Given the changes in the times, the good thing that has come out of it is that the government has recognized the challenges of being a solo parent, and has come up with an initiative – the solo parent ID — to provide them economic and social support with child-rearing, even as they do it all by themselves.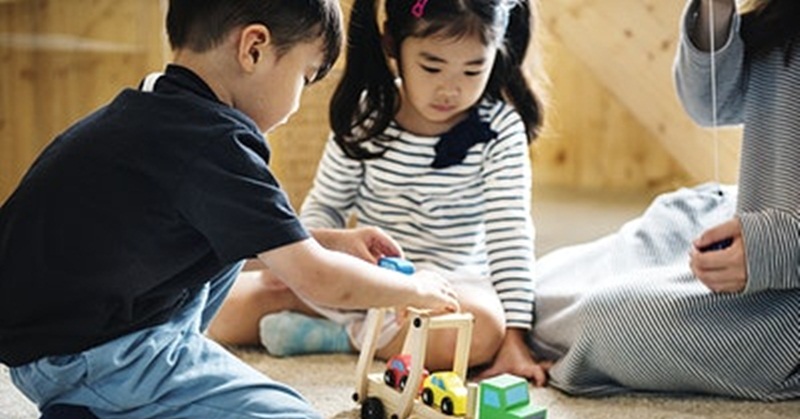 In this post, we will share some basic information on how solo parents can avail this government-issued privilege ID card as per the provisions set by the Department of Social Welfare and Development (DSWD).
Who are Qualified for the Solo Parent ID Card?
According to Section 3 of R.A. 8972, a "solo parent" is a person who has been left with the child's responsibility or care under any of the following qualifications:
A woman who gives birth as a result of rape and other crimes against chastity even without a final conviction of the offender, granting that mother keeps and raises the child.
A mother or father abandoned or left alone with the responsibility of parenthood due to the following circumstances:

Due to death of spouse
Spouse is detained or is serving sentence for a criminal conviction for at least one (1) year
Physical and/or mental incapacity of spouse as certified by a public medical practitioner
Legal separation or de facto separation from spouse for at least one (1) year, as long as he/she is entrusted with the custody of the children
Declaration of nullity or annulment of marriage as decreed by a court or by a church as long as he/she is entrusted with the custody of the children

Unmarried mother/father who has preferred to keep and rear her/his child/children instead of having others care for them or give them up to a welfare institution
Any other person who solely provides parental care and support to a child or children
Any family member who assumes the responsibility of head of family as a result of the death, abandonment, disappearance or prolonged absence of the parents or solo parent
Any change in the above qualifications or status of the solo parent claiming benefits under R.A. 8972 such as when they no longer support the child on their own or have sole responsibility over the child will terminate the said benefits.
In the same way, the eligibility and solo parent privileges will also be cancelled when there is a new status of marriage or when the single parent gets married.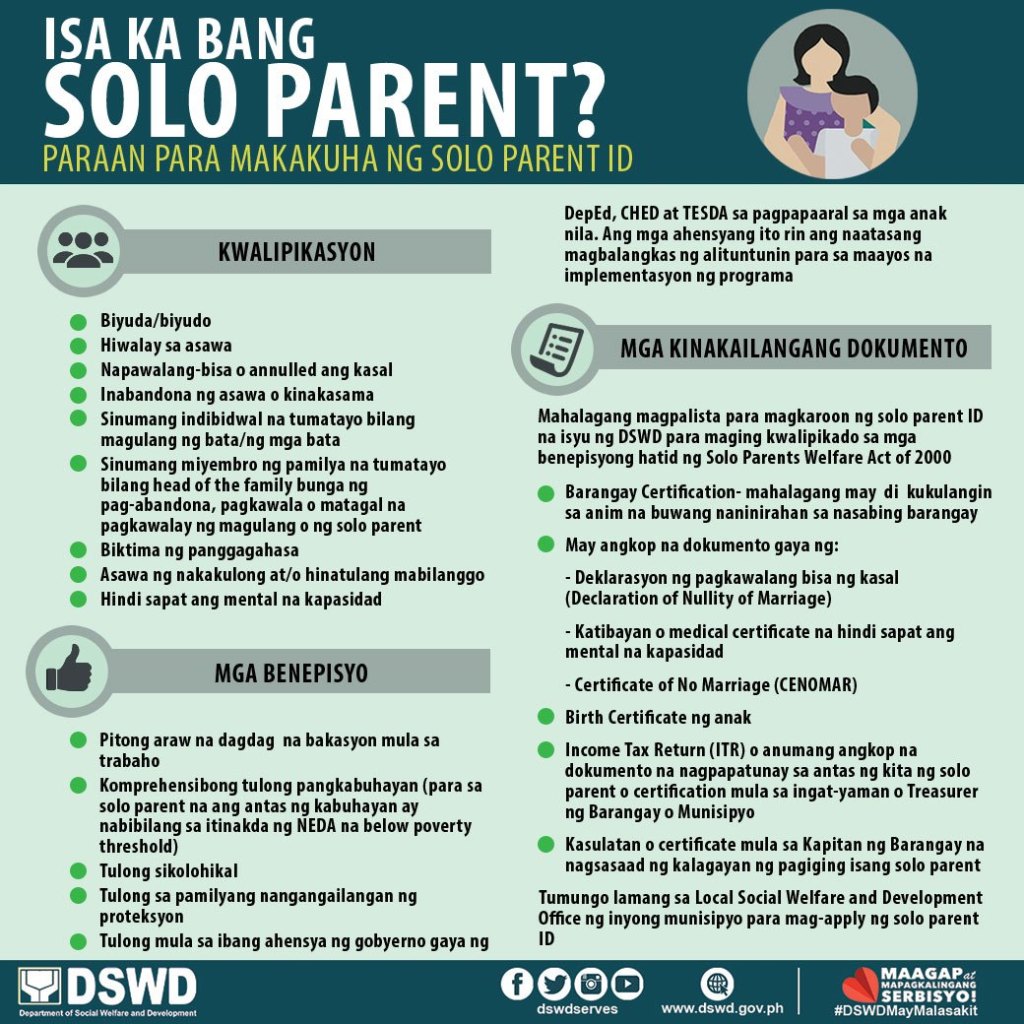 Requirements to Apply for a Solo Parent ID
You will need to provide the following documents to apply for a Solo Parent ID Card at the DSWD office in your municipal or LGU office.
Barangay Certification – this document can be requested at your Barangay Hall. It is a proof that you are a resident of your barangay for at least 6 months;
PSA Birth Certificate of the child
Income Tax Return (ITR) for employed and self-employed single parent or any necessary document as a proof of your financial status and capacity. You may also request for certification from your Barangay Treasurer or Municipal Treasurer to guarantee your income
Certification from Barangay Captain indicating your status as a solo parent
Application Form provided by the DSWD
Supporting documents such as Declaration of Nullity of Marriage, Certificate of No Marriage (CENOMAR), death certificate of spouse, or medical certificate as a proof of mental capacity if incapacitated, whichever applies to your case as a solo parent.
Steps to Process the DSWD Solo Parent ID
Please check the following procedure below on how to apply for the Solo Parent ID in DSWD office:
Get the application form from the DSWD office or website.
Fill out the form completely.
Upload all required documents with your application.
Wait for the social worker's evaluation.
If your application is accepted, receive your ID from the DSWD office.
Frequently Asked Questions (FAQs)
1. How long do I have to wait until my Solo Parent ID gets released?
As per the DSWD, you will have to wait up to 30 days or a month from the date of your application because a social worker has to complete the assessment and evaluation of the solo parent application.
2. What is the ID card's validity period?
The ID card is valid for one year and so are the benefits that come along with it.
3. How do I renew my Solo Parent ID?
After a year from the card's issuance, you can renew your solo parent ID at the DSWD office in your municipal or LGU office. Just be sure to have all the required documents and fill out the application form correctly.
Disclaimer: The article only serves as a general guide and may be used as reference for information sharing only. To know more about updates on the provisions of the Solo Parent ID, you may check out the official website of the DSWD or get in touch with a social worker at your municipal DSWD office.
ALSO READ: How to Obtain a DSWD Travel Clearance for Minors