After the Philippine government enforced a temporary deployment ban to the Middle Eastern country, some stranded overseas Filipino workers (OFWs) heading for the Kingdom of Saudi Arabia (KSA) have opted to return to their provinces.
Overseas Workers' Welfare Administration (OWWA) head Hans Leo Cacdac told Super Radyo dzBB that the agency has helped around 400 stranded OFWs affected by the deployment ban with food, transportation, and lodging.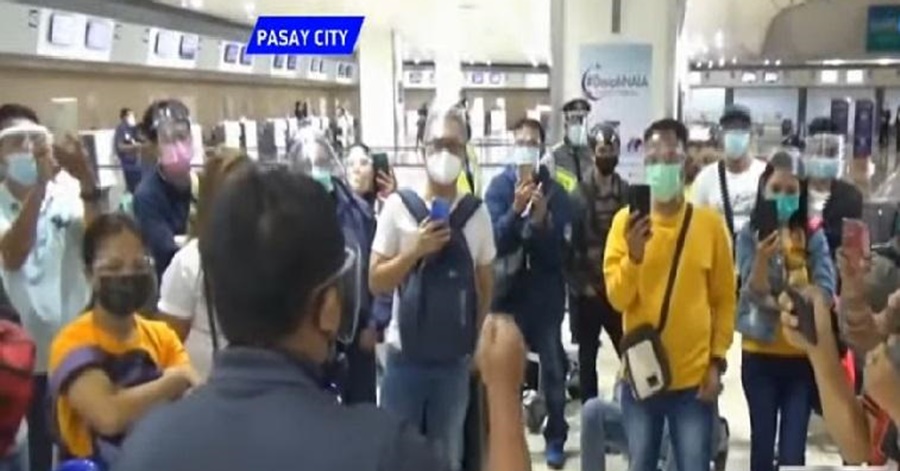 With Announcement of Saudi Deployment Ban, Stranded OFWs Decide to Return to their Hometowns
OWWA's shuttle service was used to send some OFWs back to their homes in Metro Manila and nearby provinces. Those who came from Visayas and Mindanao, on the other hand, will be returning home while their airline rebooking is processed, GMA News Online reported.
"May mga nai-transport katulad nang mga taga-[National Capital Region] at karatig lugar ay naisakay sa ating shuttles at inuwi muna (We provided shuttle services for some OFWs from NCR and nearby provinces)," he said.
Meanwhile, in a separate report by the Philippine News Agency, Philippine Overseas Employment Administration (POEA) chief Bernard Olalia said that the Overseas Workers Welfare Administration (OWWA) will assist around 403 stranded OFWs at the Ninoy Aquino International Airport (NAIA) after they were barred from boarding their flights on Friday.
The POEA chief stated that they are working with their counterparts in the host country to clarify reports that OFWs assigned to the host country are being forced to pay for Covid-19 health and safety protocols by their employers/foreign recruitment agencies.
According to him, the issue will be resolved if Saudi Arabia issues an official declaration that employers will bear such costs.
The OFWs were also denied boarding on two flights from Manila to Saudi Arabia, according to Philippine Airlines (PAL).
"They were not accepted for boarding because they were declined by the (Bureau of) Immigration," PAL spokesperson Cielo Villaluna told the Philippine News Agency.
283 OFWs were affected by PAL's non-inclusion on the Manila-Riyadh flight, according to Villaluna, while 120 OFWs were not accepted on the Manila-Dammam flight on Friday.
DOLE Secretary Silvestre Bello III issued a memorandum to the POEA on Thursday requesting that the deployment to the Arab state be temporarily suspended.
"In the interest of the service, you are hereby instructed to effect the temporary suspension of deployment of Overseas Filipino Workers (OFWs) to the Kingdom of Saudi Arabia effective immediately and until further notice. The Department received reports that departing OFWs are being required by their employers/foreign recruitment agencies to shoulder the costs of the health and safety protocol for Covid-19 and insurance coverage premium upon their entry in the Kingdom," the Order added.
After the matter has been clarified, Bello said he will issue an official statement on the resumption of migrant worker deployments to Riyadh.
The cost of institutional quarantine and insurance has been estimated to be 3,500 Saudi riyals or $1,000 (around PHP 47,000).
READ NEXT: Monthly Salary of a Nurse in Saudi Arabia