Are you wondering what a good course is to study in your free time? Well, the answer to this really depends on what you're good at and what you want to do. Suppose you enjoy pampering yourself and others and are quite creative with your hands. If that's the case, perhaps it's worth checking out the kind of skills you can get from TESDA Beauty Care Services NC II Course.
Why beauty care services or cosmetology, you might ask. When you go to YouTube, you'll find hundreds (if not thousands) of content about this topic. For one, this shows that there's huge interest in this subject matter. And these are practical skills you can have or personal improvement, even as a career option. Keep reading 'til the end of this guide to see success stories and other tips to help you get started on your training or a career as a beautician or beauty care specialist – which in fact, is a lucrative job overseas!
You might think of just learning these skills on YouTube or other free online platforms. Sure, there might be tons of tutorials you can get on with, but without certification, the skills you gain out of this could only go so far. But the good news is that TESDA has got you covered.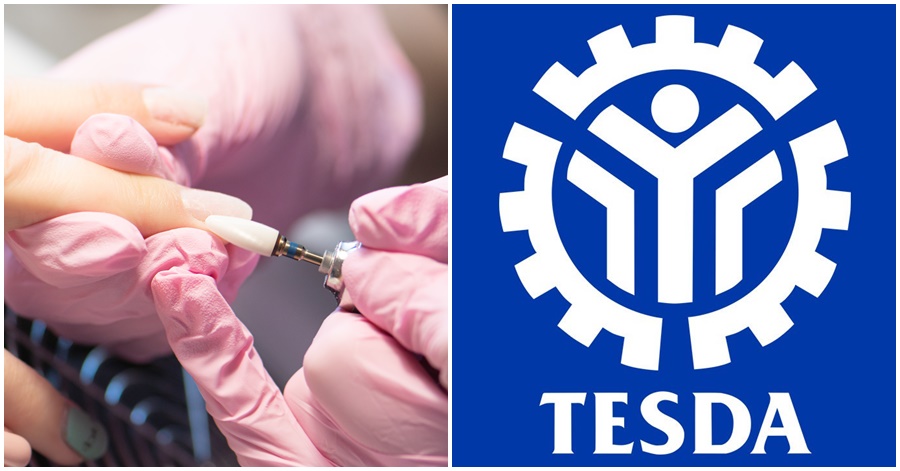 Cosmetology Course in TESDA to Become a Beauty Specialist
The beauty and cosmetics industry offers a variety of products and services to make our skin look and feel good. Maybe you've told yourself this line: When you look good, you feel good. And when you feel good, you like the person you become. You get to enjoy life more as well as the relationships and experiences around you. Now imagine how many people believe in this, too. And one way they can live this out as their reality is through the services they get from experts, such as skin care, hair and nails treatment, and make-up.
All these are considered essential in this generation where almost everyone likes to be seen – thanks to the digitalization of services, our socials, networks, and even our jobs – a large part of which, was due to the pandemic.
That said, you can just imagine how many people are willing to pay to make themselves look good and feel good, especially during these times, right? There's definitely a huge market for this. So now, it's up to you to decide whether you want to gain skills and technical expertise in this field to cater to this obvious demand in the market.
One good way to get started is by enrolling in TESDA's free Beauty Care Services NC II Course. This short course is offered by various schools and training centers all over the country. In this guide, you will learn what you need, what to do, and how to get into this course, and ultimately, apply it for your benefit in the future. Keep on reading to learn more.
Course Overview: Beauty Care Services NC II Course
The TESDA Beauty Care Services NC II Course takes 1098 hours to finish. This will also depend on the school you enrol in.
This course is designed to improve the knowledge and skills of beauticians in accordance with industry standards.
This course offers technical skills training as divided in these competencies:
Basic Competencies
Participate in workplace communication
Work in a team environment
Practice career professionalism
Practice occupational health and safety procedures
Common Competencies
Maintain an effective relationship with clients/customers
Manage own performance
Apply quality standards
Maintain a safe, clean and efficient environment
Core Competencies
Perform pre and post beauty care services
Perform manicure and pedicure
Perform hand spa
Perform body massage
Perform body scrub
Perform facial treatment
Perform foot spa
Apply facial make-up
The Beauty Care Services NC II program is a TESDA-accredited course that prepares individuals for entry-level positions in the health, wellness, and beauty industry. It includes training in the various aspects of nail care, spa services, and client management.
The goal of this short course is to develop graduates who are ready to work in health and wellness centers or other beauty-related establishments.
Qualifications
Trainees or students who want to join in this course should have the following credentials to qualify for Bread and Pastry Production NC II training:
A Filipino citizen
Has completed the Alternative Learning System (ALS) equivalent or at least ten years of basic education.
Can communicate in basic English either oral and written
Physically and mentally fit
With good moral character
Can perform basic mathematical computation
With pleasing personality
Requirements
Aside from the eligibility criteria listed above, anyone can enrol in a TESDA Bread and Pastry Production NC II course if they can provide the following requirements:
Academic Record (at least a High School Diploma)
Good Moral Character Certificate or Honorable Dismissal Certificate
ID picture with white background (1×1 or 2×2), for record purposes
Medical Certification
NBI, Police and Barangay Clearance
NC Certification (if needed)
PSA Birth Certificate
Steps to Enroll for TESDA Beauty Care Services NC II Course
Now that you've completed your documentary requirements, you're ready to enroll in TESDA's Beauty Care Services NC II Course. The steps you should take are as follows:
Step 1: Visit the TESDA training facility that is closest to you and provides the course you want to take. Make an inquiry about the program. Before you begin the program, this is the time to ask any questions you may have. If you can't think of any questions right away, there are some topics in the FAQs section that you can ask as you read through this guide.
Step 2: Take the admissions test.
Step 3: Complete all prerequisites (as listed above).
Step 4: Make sure to provide them with your phone number so that you can be contacted if your schedule changes, specifically the start date of your training.
Salary of Beautician from TESDA
The average income of an entry-level beautician is Php 170,468. On the other hand, a senior level beautician makes an average of Php 271,554. With this data, a full-time beautician can earn up to Php 14,000.  This can be much higher if you decide to look for jobs abroad.
The average pay for a beautician in the US is $40,745 (Php 2,043,158) per year. They also get a bonus of $4,946 (Php 248,017). A Beauty Therapist in Singapore can expect to make roughly per month on average. Salaries range from 3,310 SGD (lowest) to 9,990 SGD (highest).
Benefits of Working as a Beautician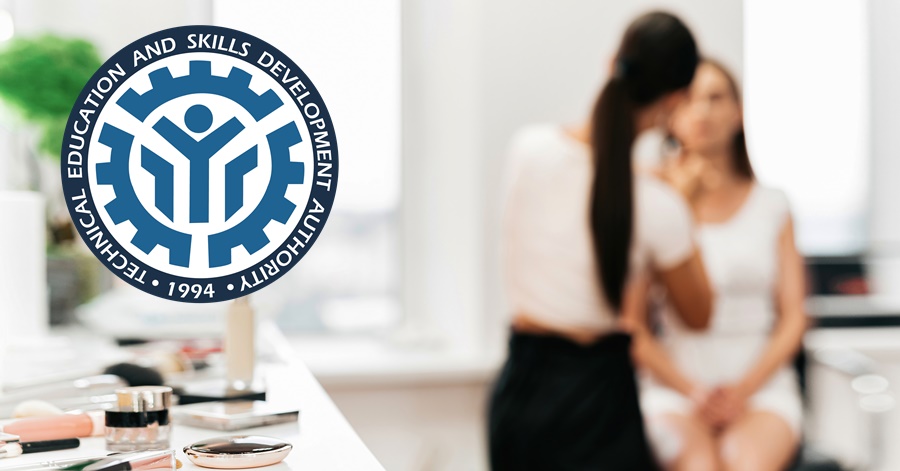 It's our natural desire to look good. Being a successful beauty professional helps people feel good about themselves. Being able to provide these benefits boosts self-esteem and helps build strong relationships. There are many benefits of being a beautician. Listed below are some of them:
Building Relationships with Clients
Establishing a strong client base is one of the most challenging parts of running a successful business. Doing so requires a lot of hard work and patience. While it can be very beneficial to build a regular client base, it is also important to maintain a friendly atmosphere.
Fashion-forward
The beauty industry is full of opportunities for individuals with a passion for creativity and experimenting. This profession can provide you with an opportunity to work with celebrities and become a part of the fashion world.
Offer Psychological Support
Professional beauticians help clients achieve a more positive body image by delivering a variety of services that can improve their appearance. They can also help clients with various conditions to feel better about themselves.
Possess Advanced Skills
Beauty schools provide training that's specific to become a beautician. This ensures that you have the skills needed to effectively work with clients.
Professionally Grooming
With the proper training, make-up artists can transform clients' looks by covering up their flaws. This technique has helped them achieve a more professional appearance.
Room for Growth
Hardworking beauticians can start their own salons and provide various services to their customers. They can also work from home as a private contractor.
Social Interactions
Beauty professionals are social and friendly individuals who have a responsibility to make others feel good about themselves. They work in the show business to help individuals achieve their desired look.
What Services Do Beauticians Provide?
A beautician is typically a person who works in a hair salon. Sometimes, they also provide various other types of beauty and personal care products. The types of services that a beautician can provide will depend on the licenses they have.
The duties of a beauty professional include recommending treatments and managing client appointments. Aside from hair removal, they should also be well-versed in various beauty treatments.
When you attend a training program such as TESDA, you'll learn about the various types of services that a beautician can offer to their clients. There are also sanitation procedures that will help keep their clients safe.
Hair Treatments
As a hair treatment specialist, you'd offer a wide range of services to your clients. Some of these include but are not limited to: haircuts, styling, conditioning, and hair color.
Nail Treatments
As nail technicians, they provide services such as manicures and pedicures. They may also apply artificial nails or buff them using chemicals.
Skin Care
As a skin care specialist, you would provide a variety of services to keep the skin looking its best. Some of these include but are not limited to: facials, hair removal, and cosmetic procedures.
Business Roles
As a beautician, you could be employed by a salon or lease a workspace from a nearby establishment. You'll be taking on the responsibilities of running a business while avoiding paying taxes.
How to Land a Job After Graduating from Cosmetology Training in TESDA
There are many job opportunities in various establishments that require Beauty training skills. Many of these establishments offer good wages.
The increasing popularity of cosmetology has also created job opportunities for individuals with expertise in this field.
If you're looking for work abroad, then look no further than the job boards of POEA. Here are some of the steps, you can do to get started:
Step 1: Visit the POEA website at poea.gov.ph.
When you get to the website's homepage, scroll down a bit until you find the orange box labelled "Approved Job Orders of Licensed Recruitment Agencies."
This is located directly below the red box where you may check the status of recruitment agencies and just above the Philippine transparency circle seal.
Alternatively, scroll down to the bottom of the page until you reach the "Job Opportunities" area. Select "Job Orders Through Licensed Recruitment Agencies" from the drop-down box.
The third alternative is to go to the "Online Services" section of the homepage's footer. Select "Verification of Agency Job Orders" from the drop-down menu.
This selection will take you to a new page where you can find the most recent job orders.
Step 2: Begin your search by looking through available job orders by position.
You can also look for available opportunities based on your position or work experience. Ignore the other two selections if you are looking for a job that is linked to your prior position.
Step 3: Enter the job title (beautician) or other relevant keywords (beauty therapist, beauty specialist, cosmetologist, etc)
You can now enter the details of the position in the search box below. Simply enter the job title or keyword you're looking for in the box. You can, for example, type in "Beautician," "Beauty therapist," "Beauty specialist," "cosmetologist" or any other relevant keyword. Then press the Enter key or click "Submit."
Step 4: Examine the POEA-approved job orders that are currently accessible.
The following page will display all of the job openings that contain the keyword you entered, such as beautician, beauty therapist, beauty specialist, and cosmetologist and so on.
You will also find information about the job orders, such as the date they were issued, as well as information about the hiring agencies.
Make a list of everything you'll need, such as:
Job role,
Recruitment agency, and
Place of work (country)
Video: What It's Like to Work As a Beautician Abroad
In this video, the vlogger, who is based in Canada, introduces her friend who's studying to become a licensed practical nurse in Calgary, and shares her side-line as a make-up artist. The friend is a professional nurse from Saudi Arabia and took the permanent residency route to get to Canada and does several jobs on the side, including doing make-up and working as a Zumba instructor. It's interesting to know that your skills, which the friend here claims, are just her hobbies, can actually help you thrive abroad as you build your life whether as a skilled worker or a professional from an entirely different field,  such as her case, being a nurse by profession. We hope this gives you some insight into the kind of job you can do with your skills training from TESDA or other accredited training centers.
Frequently Asked Questions
What is beauty care NC II in the Philippines?
This training is intended to improve beauticians' knowledge, abilities, and attitudes in compliance with industry standards. NC II training covers basic, common, and core competencies.
What are the careers I can get into after pursuing Beauty Care Services NC II training?
The beauty industry has been growing at a fast pace and is widely recognized. If you are good at what you do, then you can work in this field at any time. Here are some jobs you can get into in this industry:
Hairdresser/Hair Stylist
Beautician / Cosmetologist
Aesthetician
Beauty Therapist
Makeup Artist
What are the basic tasks of a beautician?
Apply makeup and skin treatments according to their skin type.
Design and cut hair.
Do manicures and pedicures for customers.
Rebonding, hair strengthening, and any other hair enhancement procedures are performed according to the customer's desire.
Advise good products and provide styling options.
Assist the customers with their needs once they enter the salon.
Assuring that the client gets excellent service.
Where do beauticians/cosmetologists work?
Cosmetology School: Some people in the beauty industry want to pass on the tricks they learned while working in the industry. They love teaching and are passionate about helping others.
Fashion Industry: You will be styling the hair of models for photoshoots and runway shows. This role requires a passion for hair and makeup.
Hotel or Resort: Being a cosmetologist in a hotel or resort is different from being a salon worker. You will be working with a different type of clientele.
Mobile Stylist: Mobile hair stylists can work from home or on-site. They provide hair and makeup services for weddings and events.
Platform Artist: As a platform artist, you'll be teaching attendees the latest techniques in cutting and coloring.
Salon Owner: If you enjoy working in a hair salon, but prefer to do something different, then maybe opening your own salon is for you. As a manager or owner, you'll be able to offer the same services and products that you're used to, and maybe even more.
Salon Sales Representative: If you love a particular product line, you might be able to work for a company that sells it. Sales Representatives go around to salons and educate the stylists on how to properly use the products.
Salon: Many beauty professionals choose to work in a salon while studying. This line of work allows them to develop their skills and socialize with clients.
Theatre: Similar to working on a film or TV production, hiring a hairstylist for stage work is also necessary. This job involves styling the actors' hair and makeup, as well as ensuring that the stage props are in place.
TV/film: While working on film and TV shows, you'll be styling the hair of the actors and actresses to make them look their best. You'll also make sure that the hair color and style matches the look of the time.
As you know by now, the beauty industry is full of opportunities for people who want to pursue a career in cosmetology. This career path can be easily pursued by those who have a degree in cosmetology or proper training offered by accredited organizations such as TESDA in the Philippines.
Do I need to get certification after I complete my Beauty Care Service training?
Students in the Beauty Care NC Il program may be required to take a Competency Assessment before they graduate. This assessment will help them secure their National Certificate.
A National Certificate is a document that shows that you've met all of the requirements for the course that you're pursuing. It can also be used to prove that you're satisfied with your work.
Having a national certificate from TESDA is highly beneficial for everyone. It provides them with high-quality assurance and competitiveness in the job market.
Final Thoughts
Indeed, there's plenty of opportunities for those who work hard and possess the right skills to succeed, wherever you may be in the world. Through the help of TESDDA, you can turn your passion for beauty and making others feel good about themselves into a profitable career, regardless of your location and educational background. Nowadays, it's not enough to be smart but it pays more to be skilled. Well-rounded is the term we're looking for. And if you don't know where to begin, perhaps the first step is to look into your innate skills, talents, and passions. Then from there, you can supplement it with the skills and training you need to make your passion into a profitable career.
And Filipinos nowadays couldn't be any luckier since TESDA offers a wide variety of practical courses, including the Beauty Care Service NC II Course to train Filipinos on how to become world-class beauticians or cosmetologists. However, you must take the first step, which always begins with a decision. "Should I take the risk?" We hope that after reading this guide, you have some, if not all, of the answers to any concerns or reservations you may have. Simply have a copy of this guide on hand for easy reference. Best of luck!
READ NEXT: How to Apply TESDA Massage Therapy Course Online
Contact Information
TESDA (Technical Education and Skills Development Authority) Central Office
Address: E Service Rd, Taguig, 1630 Metro Manila
Contact Number:  +63288885641
Google Map Location: