Imagine a single identification system that would simplify all your public and private transactions in the Philippines. Government services would be faster and easier, while banking would be safe, paperless, "cashless," and more convenient. This is the idea behind the PhilSys ID , which is also known as the "Philippine National ID."
The PhilSys ID is part of a single, national identification system that covers all Filipino citizens and resident aliens (foreign residents) of the Philippines. It falls under Republic Act No. 11055, also known as the "Philippine Identification System Act," which was signed on August 6, 2018, by President Rodrigo Roa Duterte.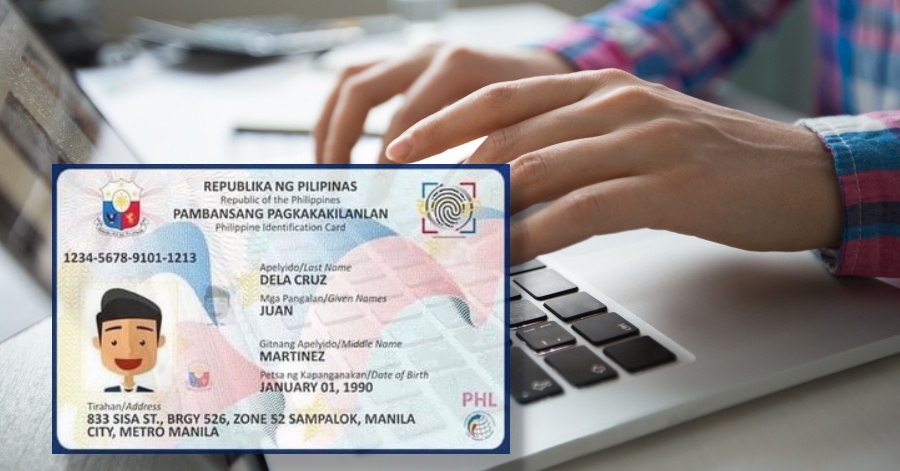 What is a PhilSys ID?
Basically, the PhilSys ID is a physical card that will be assigned to every Filipino citizen and resident alien of the Philippines, as part of a single identification system. Each card contains a unique, randomly-generated, and permanent 12-digit number — the PhilSys Number or PSN — which will be given to every registered applicant.
The PhilSys ID is non-transferable, and may be used as a proof of identity as well as for public and private transactions. For Filipino citizens, the PhilSys ID will have no expiration date; they will only need to renew it for updating demographic information and biometrics (as in the case of children who reach their teenage years). For resident aliens, however, the PhilSys ID will only be valid for one (1) year, after which they would need to renew it annually.
What is the Use of the National ID?
In a nutshell, the PhilSys ID or Philippine National ID aims to achieve the following goals:
Establish a single Philippine Identification System that would include all Filipino citizens and resident aliens of the Philippines;
Make it easier for people to access and avail of social welfare programs, government services, and other benefits; AND
Provide a trusted and verifiable identification system that would make it easier for everyone to engage in the formal financial sector, access job opportunities, and many other services.
As you can see, the Philippine National ID would definitely be useful for Filipinos and resident aliens in the country, both in the public and private sectors.
Will the PhilSys ID Replace Other IDs?
The answer to this question is NO, the PhilSys ID will NOT be replacing other IDs, including government-issued IDs that serve particular purposes. When you travel abroad, for instance, you are still going to need a Philippine passport issued by the Department of Foreign Affairs (DFA). Similarly, whenever you drive a car or any other vehicle, you have to carry a driver's license at all times — a license issued by the Land Transportation Office (LTO).

PhilSys ID Application Form Registration
The PhilSys ID registration process involves three major steps: STEP 1 – the submission of demographic information and setting an appointment for the next step; STEP 2 – the validation of demographic information and capturing of biometrics; and STEP 3 – the issuance of the PhilSys Number (PSN) and PhilSys ID.
The first step includes filling up the PhilSys Application Form with your demographic information, which includes the following:
Full Name;
Sex;
Date of Birth;
Place of Birth;
Blood Type;
Permanent Address;
Nationality (Filipino or resident alien); AND
Marital Status (single, married, widowed, divorced, legally separated, annulled, or nullified).
The above details will be printed on the PhilSys card itself. Meanwhile, the following information will be gathered for processing purposes only:
Present Address (if applicable or if it's not the same as the permanent address);
Mobile Number;
Email Address;
Supporting Document(s) presented; AND
Mode of PhilSys ID Delivery (whether to your permanent address or to your present address).
Sample of PhilSys Registration Form 1A
Here is a sample copy of the PhilSys Registration Form 1A for your reference. It shows the details that an applicant must fill out and also instructions on how to fill out the document. While there are hardcopies available, it is best to fill out the information online by going to the website right away as there is an online link where you can just enter your data online.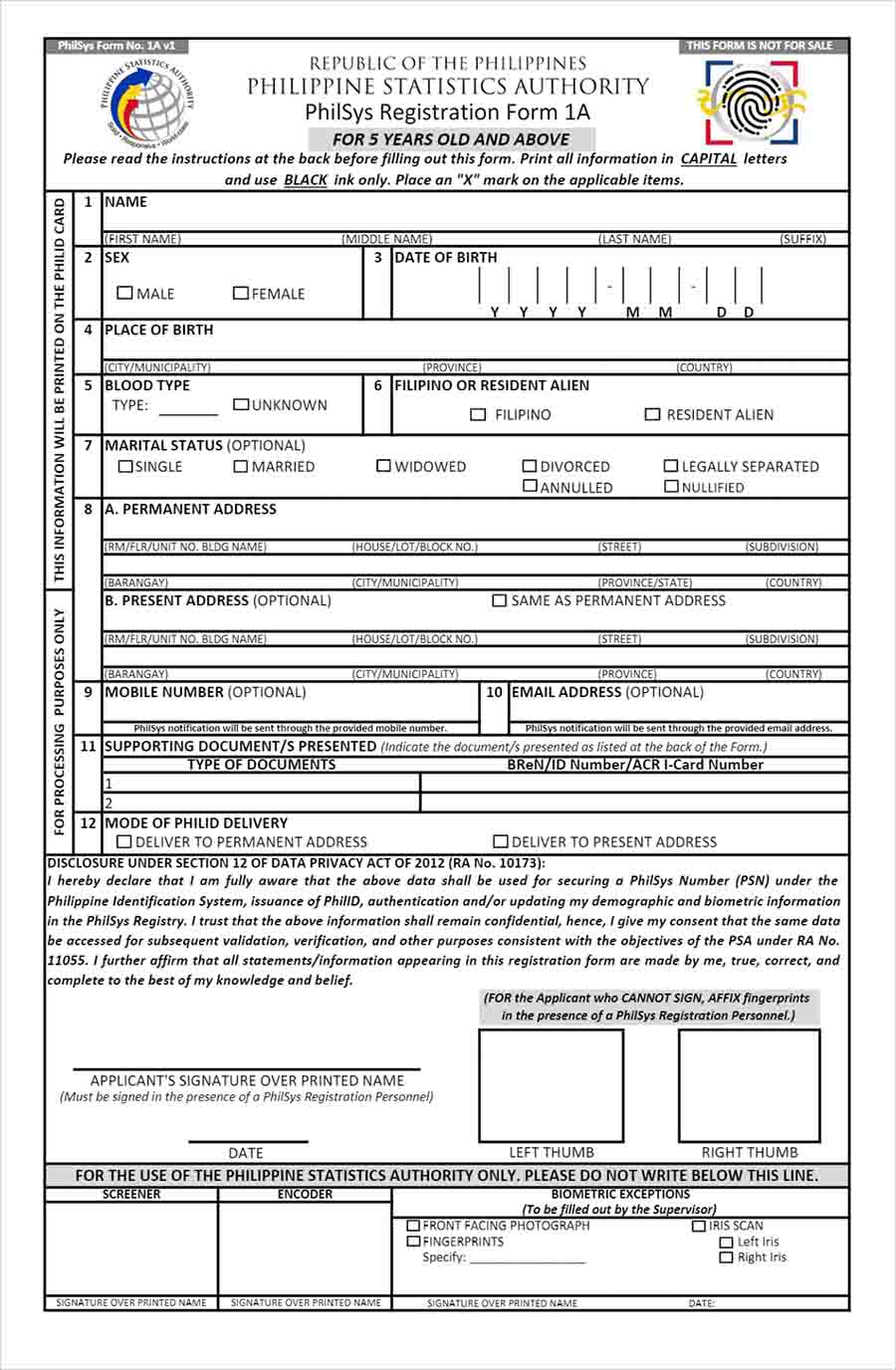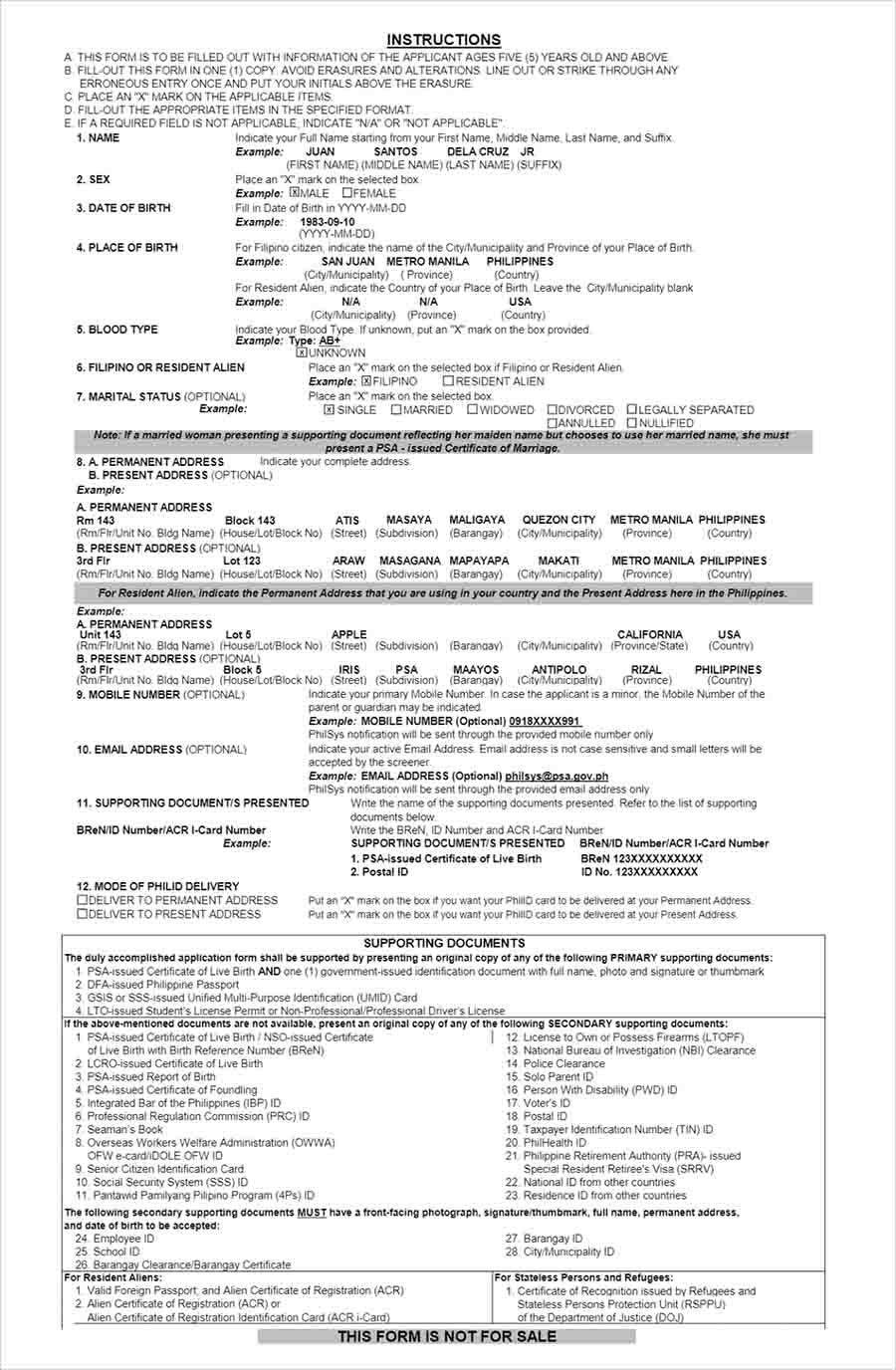 How to Download PhilSys Online Registration Form 1A
There are two ways in which a person can apply for a PhilSys ID: through a registration center or online.
At present, there are numerous PhilSys Registration Teams going around the country, gathering people's demographic information and capturing their biometrics. Each team is comprised of a Supervisor, a Screener, an Assistant, and three Encoders. Typically, the PhilSys Registration Team conducts STEP 1 and STEP 2 of the registration process.
On the other hand, people can also register online, although this would involve STEP 1 registration (submission of demographic information) only. For STEP 2 registration, they would still need to go to a registration center for the validation of demographic information and for biometrics capturing.
If you are planning to apply through a registration center, visit the Philippine Statistic Authority's (PSA) website and Facebook page for the latest schedules and locations. On the other hand, if you are planning to apply online, simply follow these steps:
Log in to the PhilSys Web Portal at https://register.philsys.gov.ph/#/eng and enter all the required information.
Book your preferred schedule of appointment for STEP 2 registration. Be sure to save a copy of your Application Reference Number (ARN) and/or QR Code.
On the day of your appointment, go to the designated registration center. Don't forget to bring your supporting document(s), plus your ARN and/or QR Code. At the center, you will undergo validation of demographic information and biometrics capturing.
Wait for your PhilSys Number (PSN) and PhilSys ID to be delivered to your address. Simply present your valid ID or transaction slip to the courier. That's it!
PhilSys ID Application Form Download
As mentioned earlier, PhilSys application may be done at registration centers or online. The application form is distributed in the centers, although you can also fill up the form via the PhilSys Web Portal at https://register.philsys.gov.ph/#/eng.
Contact Information
To know more about how to apply for your PhilSys ID, you can get in touch with the Philippine Statistics Authority (PSA) through the following contact details:
Address: 2nd Floor TAM Building, PSA Complex, 1101 Quezon City, Philippines
Telephone: 1388 (hotline)
Email: info@philsys.gov.ph
Website: https://www.philsys.gov.ph/
Facebook: https://www.facebook.com/PSAPhilSysOfficial/

Whether you are a Filipino citizen or a foreign resident in the Philippines, be sure to apply for a PhilSys ID. Not only will it serve as a valid proof of your identity, but also as quick, easy, and convenient way to access government transactions and other services.
DISCLAIMER: The above guide is presented for information-sharing purposes only. For more details about the PhilSys ID registration process, please visit the official PhilSys Web Portal at https://www.philsys.gov.ph/.